MADAGASCAR TODAY
ISLAND OF MANY POLITICOS!
Monita Pesumal dives into the economic and political waters of the world's fourth largest island
On 7 November, Madagascar's eligible voters went to the polls to elect their new president. Since no candidate received over 50 percent of the vote in the first round, a runoff between Mare Ravalomanana and Andry Rajoelina has been scheduled for 19 December.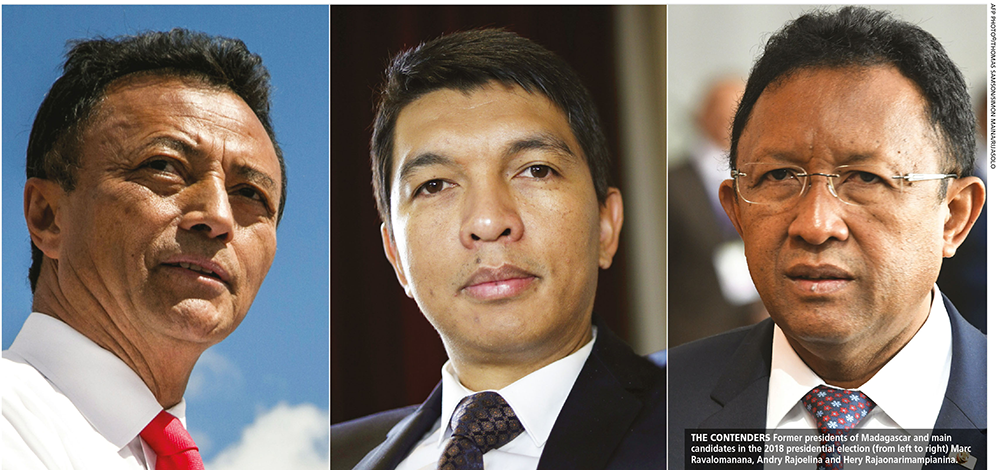 Alright, so there's nothing too remarkable about these facts. Nations vote for presidents all the time. So what?
Well, what is remarkable is that in something of a record for the nation and perhaps even the Guinness World Records, there were 36 candidates vying for the prestigious title!
While the incumbent President Hery Rajaonarimampianina sought reelection, three former presidents (Didier Ratsiraka, Madagascar's dictator from 1975 to 1993; and again from 1997 to 2002; Ravalomanana, the country's elected leader from 2002 until his overthrow in 2009; and Rajoelina, the man behind the 2009 coup that prompted an exodus of foreign investors from the island) also eagerly sought another term in office.
The former presidents ran alongside other politicians, military personnel, business leaders and notable public figures. Five women were also on the nominations list. Three former prime ministers – Jean Ravelonarivo, Omer Beriziky and Olivier Mahafaly Solonandrasana – as well as pop star Dama and pastor André Mailhol also submitted their candidatures in the hope of being elected.
According to a report published by the website AllAfrica.com, the large number of candidates was in keeping with Madagascar's electoral culture. The report adds that many nominees run for office with the defeated candidates from the first round offering their backing to the two finalists in return for political favours and ministerial positions if elected.
In December 2013, when 33 candidates competed in Madagascar's presidential elections, confusion reigned.
For example, the sheer logistics of having so many nominees run for office posed a nightmare for election officials. How would 33 names fit on a single ballot paper? Would electoral posters and boards litter the streets of Antananarivo in addition to a helicopter or two? And would voters be able to be acquainted with and briefed on the programmes and pledges of so many candidates?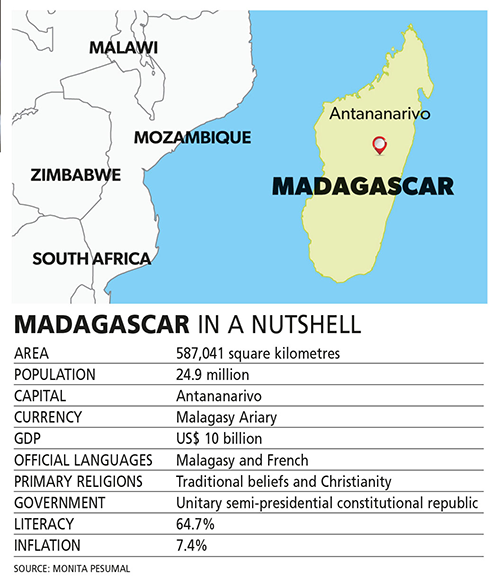 While Madagascar is one of the poorest countries in the world, its elections have proven time and again to rank among the most expensive.
In the countdown to the election, there was a likelihood of it swinging either way as Madagascar's troubled economy would be a major deciding factor for the citizenry.
In April, there were protests in Antananarivo's main square over proposed reforms introduced by Rajaonarimampianina to amend electoral laws that opponents said were in favour of his party.
The proposals were overturned by the courts but not before the protests turned into a full-blown movement to oust the 59-year-old politician. Clashes between activists and the security forces claimed two lives, and left over a dozen injured. Coupled with other factors such as rampant corruption and economic mismanagement, Rajaonarimampianina was an unpopular figure.
Despite reserves of nickel, cobalt, gold, uranium and other minerals, 75 percent of the Malagasy live on less than US$ 2 a day. Although economic growth is on the rise and forecast to reach five percent this year, the former French colony is vulnerable in the face of external shocks – be they inflation, disease or natural disasters.
Nearly 47 percent of children under the age of five suffer from chronic malnutrition, placing their growth and development at risk. Last year, over 200 people died from bubonic and pneumonic plague epidemics. Moreover, only 15 percent of the population has access to electricity in Madagascar.
Traditionally, the island economy has been sustained by farming. The cultivation of cassava, rice, coffee, vanilla and cloves is the backbone of the agricultural sector. Did you know that Madagascan vanilla (at US$ 600 a kilo) is one of the most expensive spices in the world?
Nicknamed 'Madagascan gold,' it is not uncommon to find them being haggled in the grey market while the pods are officially exported.
Famed for its wildlife, Madagascar has been described as a paradise for animal and nature lovers. According to the World Wide Fund for Nature (WWF), the island is home to five percent of all the animal and plant species on Earth. National parks such as Andasibe-Mantadia, Isalo and Amber Mountain offer visitors the opportunity to witness unique species of chameleons, frogs, snakes, lemurs and iconic baobab trees. But sorry, no real penguins can be spotted here!
According to the World Travel and Tourism Council (WTTC), the direct contribution of tourism to the Indian Ocean island's GDP was 6.3 percent in 2017 and is forecast to rise by 2.6 percent this year. The industry provides almost 300,000 jobs, which represents five percent of all employment in the country.
And in what promises to be a ray of hope for the Malagasy, Pope Francis is scheduled to visit the African nation next year.