INSURANCE SECTOR
TECH FOCUS
Compiled by Yamini Sequeira
THE RISE OF TECHNOLOGY
Sanjeev Jha is confident that the insurance sector can ride out the pandemic
COVID-19 will have far-reaching consequences for the global economy over the coming years. While it is difficult to predict the eventual impact on Sri Lanka's insurance sector, the fact remains that the adverse effect on travel, tourism and vehicle imports, and in terms of business interruption, lockdowns, weak economic growth and so on could have a knock on effect.
Commenting on the task ahead, Sanjeev Jha notes that "businesses large and small are adapting to the evolving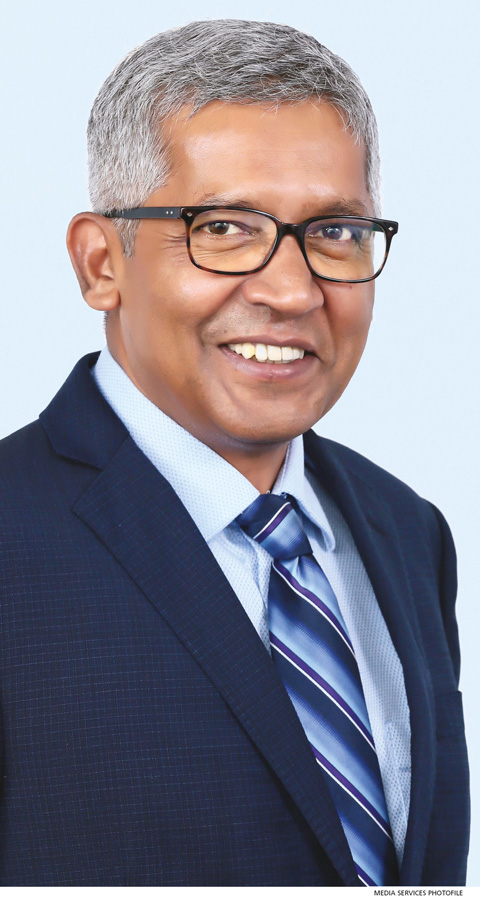 realities due to the impact of the pandemic."
"Insurance firms that have invested in digital technology products and services will find it easier to navigate this crisis, and the work from home (WFH) directive to serve customers remotely. The sector seems to be relatively stable at this point," he maintains.
UNCHARTED TERRITORY A KPMG report notes that the potential impact of COVID-19 is unlike any other faced by the country and the economy is likely to experience a contraction in 2020 due to many sectors being at a standstill.
According to Fitch Ratings, tax reforms announced prior to the COVID-19 outbreak are expected to result in a loss of government revenue for the year amounting to approximately two percent of GDP. Prior to the outbreak, the government expected this to be compensated by improved economic activity led by the reforms. However, reduced economic and business activity during and after the COVID-19 outbreak is bound to result in lower direct and indirect taxes.
The challenge ahead will be enormous, considering that the preceding financial year witnessed subdued growth due to the impact of the Easter Sunday attacks in April, as a result of which economic growth was seriously compromised. Although 2020 displayed signs of promise with an uptick of the economy, the pandemic is expected to reverse any gains.
THE NEW NORMAL "I have no doubt that we will witness unprecedented change in the foreseeable future as people grow accustomed to a world where they coexist with COVID-19 until a cure is found," Jha asserts.
He adds: "The encouraging factor is that insurance is always needed – more so in times of a global pandemic."
"Industries and sectors such as tourism and retail will be worst hit as consumer behaviour veers towards greater caution. Work from home could become the norm while new segments such as cyber-risk insurance might become more popular," he asserts. Jha maintains that WFH is not a major challenge for companies that have invested in digital capacity and those who were already practising it in some measure prior to the pandemic.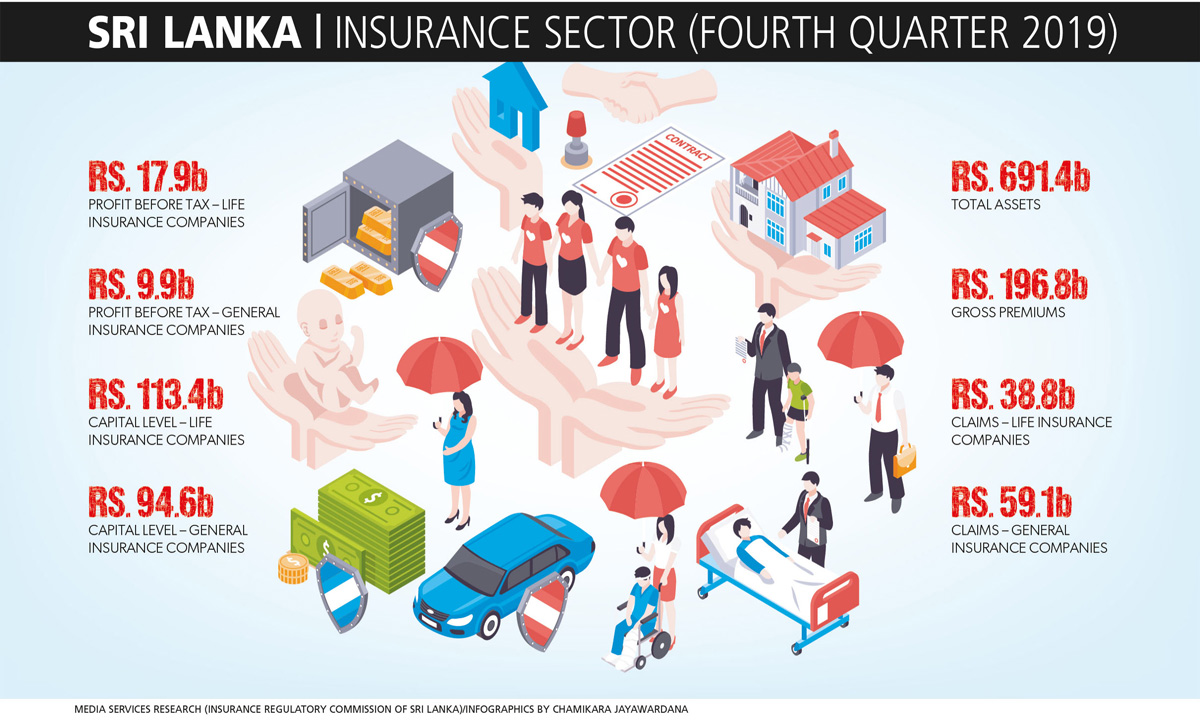 SECTOR REGULATION Assessing the relative strengths and weaknesses of the insurance sector, Jha commends the regulator for being pragmatic and forward-looking, and taking into consideration the needs of the local insurance sector.
The regulator is in the process of working with the insurance sector to balance its response to the insured and intermediaries while maintaining necessary regulatory prudence.
In addition, the Act governing insurance has been amended many times to strengthen the sector. Moreover, 100 percent foreign direct investment (FDI) is permitted in the local insurance sector with all insurers in Sri Lanka required to be listed on a licensed stock exchange.

Jha opines: "The sector is quite prepared to meet the future challenges. Overall, greater emphasis could be placed on enhancing technical knowledge and skills in underwriting, and other technical aspects of the insurance business. I observe immense potential for attracting young blood into the sector by ramping up investment in 'insurtech,' product innovation and data analytics."
"With new technology such as robotics and AI coming to the fore – and strong capability in big data and analytics being harnessed to identify fraud behaviour – the insurance sector offers exciting opportunities for youth," he asserts.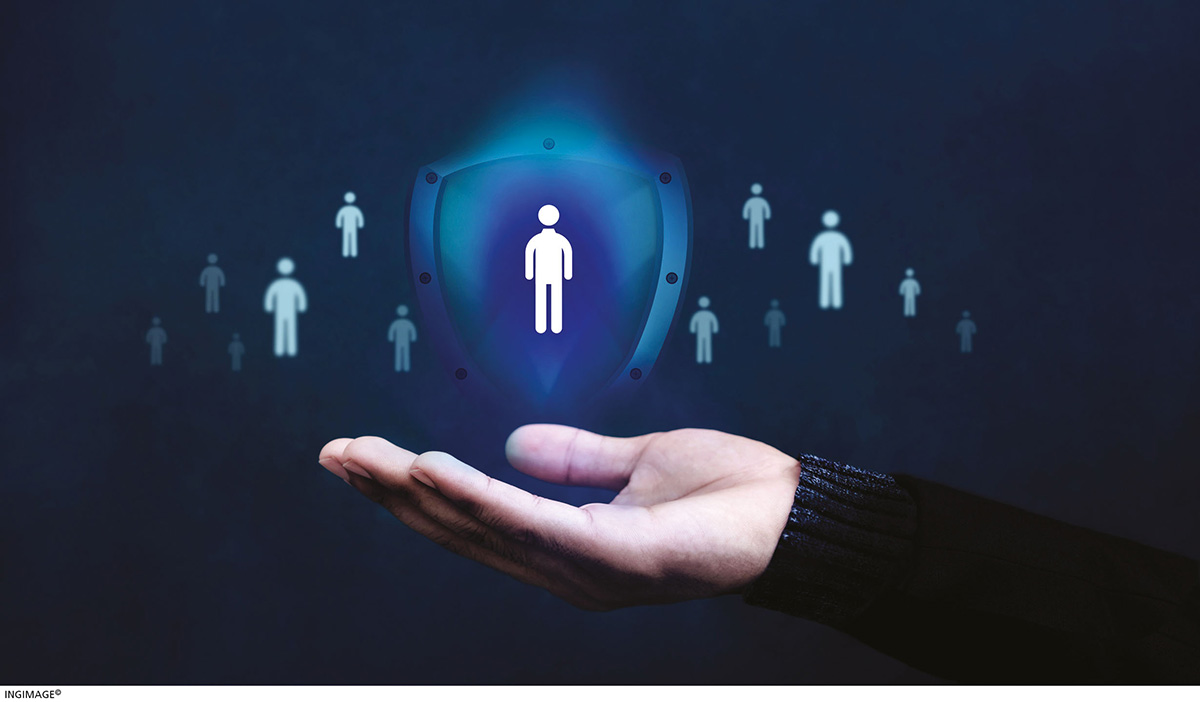 And he believes that Sri Lanka has a rich legacy of engineering, and analytical skills and talent, which will come in good use in the insurance sector."
STRONG FOOTING Insurance Regulatory Commission of Sri Lanka (IRCSL) data reveals that insurance penetration, which is reflected by the insurance premium as a share of GDP, amounted to 1.3 percent in 2018.
Although insurance penetration increased slightly in 2018 compared to 1.2 percent in 2017, it is low in comparison with other countries in the Asian region.
Penetration of the

long-term insurance business stood at 0.6 percent in 2018 (0.5% in 2017) while for general insurance, this was 0.7 percent (0.7% in 2017) – there was a slight increase in the long-term insurance business compared to the penetration ratio recorded in 2017.
The level of disposable income has a direct impact on insurance penetration. Insurance density reflects insurance premium income for each member of the population and this increased to Rs. 8.4 billion in 2018 compared to the 7.7 billion rupees recorded in 2017, reflecting an increment of 8.9 percent.
INSURTECH FUTURE Sri Lankan insurers have adopted technology in various forms, partnering with telecom companies to enable the purchase of insurance policies through mobile phones.
In Jha's view, the sector might witness a degree of rationalisation as witnessed in the last five years with some companies exiting and new players entering. "Some players might find it challenging to meet capital requirements and the level of innovation required," he muses.
Fitch Ratings, in an economic impact report, predicts that Sri Lanka's insurance sector expansion is likely to moderate in the near term based on its expectations of slower motor insurance premium growth due to sustained tax rises on imported vehicles, intense price competition in the non-life market and a slower recovery in economic activity.
However, the rating agency notes that long-term momentum should be helped by Sri Lanka's low insurance penetration, rising awareness of insurance, and a gradual increase in the contribution from non-motor lines such as property, health and micro insurance.
In conclusion, Jha says he expects the insurance sector to forge ahead and continue its growth momentum by widening distribution channels, and coming up with innovative products backed by digital technology, consumer insights and data analytics.
Eventually, insurance will be more customised to each policyholder's precise needs, he concludes.
The interviewee is the Managing Director and CEO of Fairfirst Insurance