INSURANCE SECTOR
Ravi Liyanage
INSURE THE WIDER ECONOMY
The insurance sector will bounce back when an economy recovery is underway
Overview of the insurance sector today
It accounts for around two percent of GDP, and comprises life and general categories.
Its sectoral composition
The long-term insurance business is operated by 13 insurers while general insurance has 12 and two are composite insurers.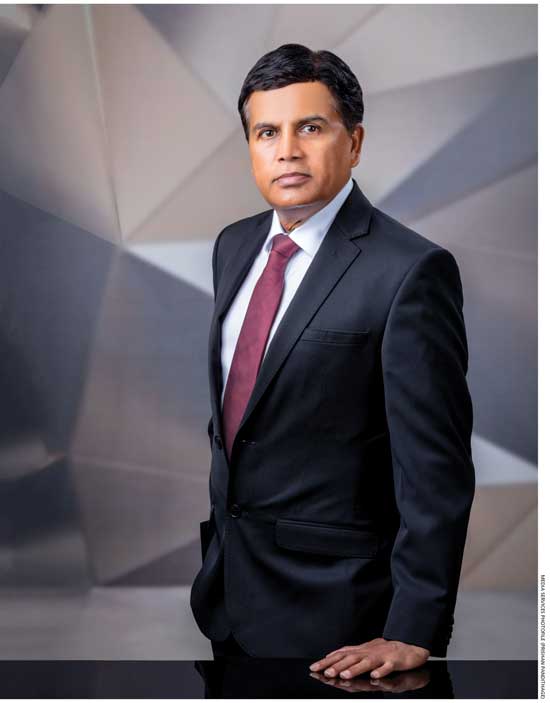 And its core strength
Unlike other sectors, insurance is overarching – with more than 1,200 branches, 21,000 employees and 45,000 advisors.
Financial big picture
The total life fund at the end of 2020 was Rs. 398 billion. This has placed insurance at the top, making it a major source of funding for national development.
Obstacles to the growth of life insurance
Lack of awareness, inflation and erosion of disposable incomes.
And general insurance
Slow economic growth and infrastructure development, and import restrictions on vehicles. Social unrest leads to protection of property and assets.
Hindrances
Relative absence of business friendly policyholder macroeconomic policies, and initiatives by the government and authorities, in keeping with international counterparts.
Future of the local insurance sector
Forecasting is a challenge today as the insurance sector may not reach the desired GDP penetration levels as in the case of neighbouring countries.
Steps to tackle this
After the macroeconomic challenges are overcome, the insurance sector can enjoy its usual growth momentum.
Role of insurance in economic recovery
Contributing substantial sums directly invested with the government as security funds, which provide essential cash flows for local economic activities.
Its economic contribution
The insurance sector pays a hefty tax bill – it was Rs. 5 billion in 2020 – that contributes a sizeable income to the government.
Key benefit of the above
This will boost the economic recovery process with the changes in the new tax structure.
Penetration will…
Further penetration in the healthcare segment will lessen the government's burden on medical expenditure.
Initiatives to ensure customer satisfaction in challenging times
Technology enables 100 percent customer onboarding, engagement, payment of claims and services.
Benefits
All these activities are carried out 24/7 to achieve efficiencies in cost, time and convenience.
Impact of digitalisation on the insurance sector
The customer experience is seamless from being a prospect first and subsequently receiving all services.
Trends in the sector
Mobile technology has influenced it to be ultra-efficient, using customer portals and various user-friendly seamless software applications to increase engagement.
Areas of improvement for insurance professionals
The continuous process of recruitment and selection must progress with training, and a professional mindset must be developed among the field sales force.
Competition drives innovation
I am a strong believer in innovation led growth. When competing in a fragmented sector such as insurance with many players, there is no other way to forge ahead.
Long-term benefits of competition
Stiff competition always fuels innovation.
Corruption is affecting industrial and economic growth
Corruption will always affect any situation irrespective of the entity's size. It doesn't promote meritocracy but hinders economic growth instead.
Qualities one needs to pursue a career in insurance
A strong vision and winning mindset – irrespective of how big the task is! People in this sector also need the resilience to bounce back and not be deterred by constraints.
Insurance sector in five years
The insurance sector's contribution to GDP will double in size (from 2% to 4%) – if there's a successful economic recovery.
Your vision for the country
Sri Lanka is a resilient nation by nature – political and economic stability must be reached through the current restructuring of economic reforms.
How else
By changing the economic model and becoming a self-sufficient nation – at least in terms of essential goods and services.
Your mantra for success
Think 'extraordinarily larger' than the opportunity. Be accountable for your goals and strong enough to bounce back without comprise.
Ravi Liyanage is a Director and the Chief Executive Officer of Janashakthi Insurance