DIPLOMATIC MISSION
Compiled by Savithri Rodrigo 
FREEDOM UNDER SIEGE
James Dauris is concerned by the retreat in liberty across the world
It's been four years since James Dauris presented his credentials as British High Commissioner to Sri Lanka and Ambassador to the Maldives. Ambassador in Peru immediately prior to his arrival in this country, he has much affection for South Asia.
Dauris spent time teaching in India and made his maiden visit to Sri Lanka in 1984. The island's inherent beauty, sincere warmth and sense of the exotic captured his heart even then.
Having obtained a degree in law from the University of Cambridge after which he worked as a solicitor in London, Dauris joined the Foreign and Commonwealth Office in 1995. He has also served in Colombia and Russia.
He enjoys early morning walks and travelling around the countryside – and he's an enthusiastic concert-goer, having performed with various choirs in Colombo.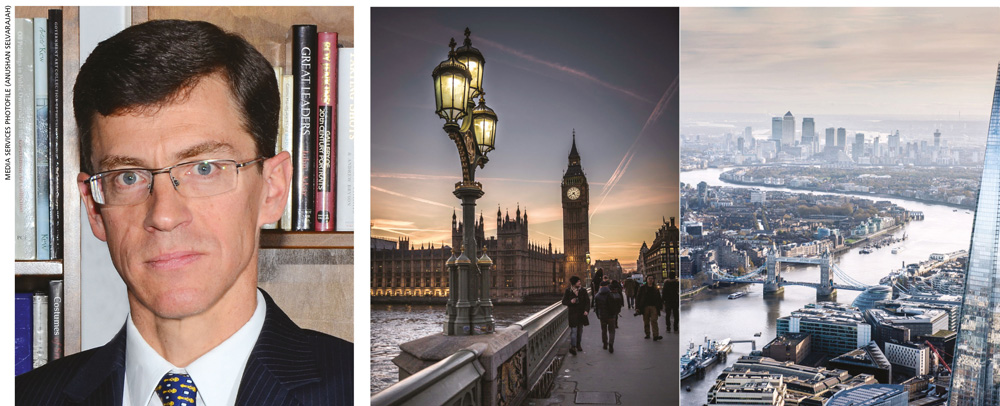 Q: How do you view Sri Lanka since taking up your posting?
A: It's been a very interesting time to be in this beautiful country. The UK's relationship with Sri Lanka touches on almost every aspect of life from education to sports, business and tourism. I've enjoyed contributing to growth in all of these areas throughout my four years here.
From a business perspective, I've witnessed the government take determined steps to improve the environment for companies and investors but more needs to be done. Sri Lanka's ambition to attract more direct investment features as a regular topic in my conversations with the government. Ensuring that it is easier for companies to do business will make it possible for Sri Lanka to optimise its strengths.
Q: Where would you like to see Sri Lanka in a few years' time?
A: As a friend of this country, I envision a Sri Lanka that prospers economically, retains and attracts talented people, and develops successful businesses. I'd like to see a country that is tolerant where different communities are at ease with each other and celebrated along with community leaders taking the required responsibility in shaping healthy public discourse.
I hope that sufficient importance and attention will be given to protecting the natural environment that makes Sri Lanka so special for future generations.

Q: What new developments have materialised between Sri Lanka and the UK in your time here?
A: Two highlights for me in our relationship last year were the England cricket tour, which brought thousands of Sri Lankan and English fans together for some great sport, and the visit by the Earl and Countess of Wessex for Sri Lanka's national day celebrations.
I've enjoyed seeing more British universities establishing relationships with local partners and ever greater numbers of Sri Lankan students studying for British university degrees.

Q: And what further plans do you have for Sri Lanka?
A: Our two countries have been closely linked for more than 200 years, and enjoy a long and self-evidently enduring friendship. We are ambitious for trade and investment between our countries to grow, as well as for the Commonwealth of which we're both members.
There are many global agendas that we have a shared interest in advancing, drawing on the values that we share. And there are global issues – including climate change and plastic free oceans – that people in both our countries want addressed effectively.
Q: From a global perspective, what should our two countries be aware of?
A: There are problems around the world that concern us all.
We're witnessing many governments challenging values that we consider to be important – for example, democracy and the freedom to choose our leaders, and freedom of the media and speech.
The Freedom House index that evaluates democracy around the world indicates that democratic principles have been in retreat in recent years in more countries than they've been advancing. We are witnessing worrying levels of intolerance – whether it's based on religious, social or racial differences of identity or opinion.
With the world's population forecast to increase for many more years before it peaks, it's going to be all the more important that countries and people demonstrate the wisdom and understanding needed to get along with each other.
Q: Are there any other challenges that the two countries should be aware of in the medium term?
A: To have the stable prosperous world that we'd all like to see, we need to uphold an international rule based system. In recent years, some governments have challenged rules that exist to keep people everywhere safe.
For example, last year the Russian government was pushing to weaken the internationally agreed framework that exists to control the development, production and use of chemical weapons. This is a worrying sign.
Q: How do you view the UK's role in emerging global trade and politics?
A: The UK is uniquely placed as a permanent member of the UN Security Council, and a member of NATO, the Commonwealth and G7. We are ambitious to use this position to have a positive impact around the world.
We will remain determined advocates of free trade as we've been for a long time. Free trade advances prosperity and opportunity for countries everywhere.