COVER STORY
THE REALTY BUBBLE
Zulfath Saheed speaks to a selection of bigwigs in the real estate sector to evaluate the booming property market and seek answers to the burning question: is Colombo's property bubble set to burst?
Colombo's skyline has evolved in the last 10-15 years – yes, the wheels of development began turning even prior to the end of the civil conflict in mid-2009. But the metamorphosis has been far more pronounced in the postwar era. The commercial capital has drawn interest from far and wide given its geographical appeal as a hub for trade, business and investment, as well as the amenities it now offers.
Many developments have already been completed in and around Colombo while dozens more are rising from the ground at speed, spurred by factors such as the tourism boom, inward migration, a gradually expanding middle class (and the resulting urbanisation) and the rush to be ahead of others in the business of property development.
Moreover, some of the landed gentry have opted to develop properties with an eye on vertical living and this has given way to frenzied activity in the city's real estate landscape.
In general, regional comparisons reveal positive indicators in the South Asian context but Sri Lanka's development agenda would require the nation to step up efforts to fast track infrastructure development.
As for Colombo, it may consider taking a cue from the likes of Singapore and Kuala Lumpur, which have reached a phase of advanced property development – so much so that they're often viewed as First World cities today.
That said, the country debuted on the Global Real Estate Transparency Index last year with a ranking of 69 from the 109 countries listed – a notable achievement given the relative immaturity of the property market here.
The index quantifies transparency based on 139 variables that relate to transaction processes, regulatory and legal frameworks, corporate governance, performance measurement and data availability. And higher real estate transparency is associated with stronger investor and corporate real estate activity.​
While the government's focus has primarily been on drafting policy (somewhat haphazardly at times, many would argue) and developing supporting infrastructure (it goes without saying that much more needs to be done in this regard), the private sector has dived into real estate, prompting some to question if the property market is sustainable at the present breakneck development.
So the burning question is whether the real estate bubble will burst – as it does more often than not – or could Colombo defy convention?
– LMD
---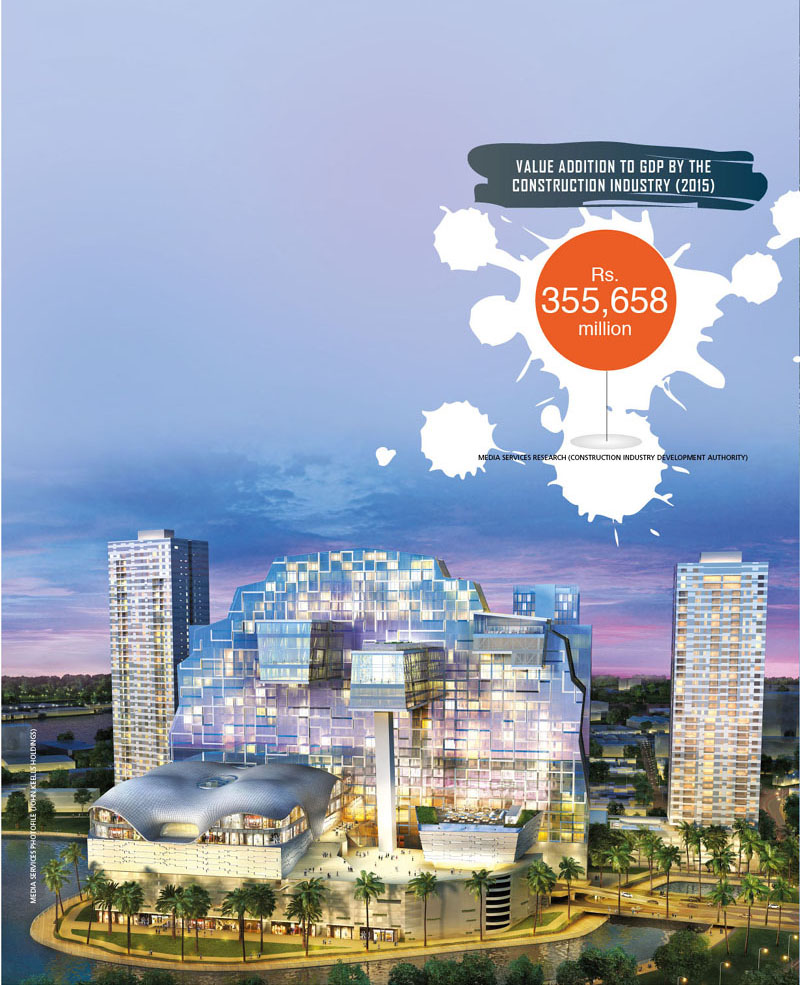 Be it in the form of residential apartments or houses, mixed developments, retail malls, hotels, offices or commercial property, real estate has become one of the most discussed and debated sectors in business circles – particularly with respect to Colombo as well as the Western Province.
But the burning question is whether the visible and rapid growth is sustainable or a property bubble that's waiting to burst.
Private sector participation in infrastructure, government policies on foreign investment and affordable housing are some of the factors that underpin growth across several categories of real estate in the commercial capital. Meanwhile, urbanisation, tourism and the development of the services sector are also driving the real estate market's acceleration.
"Sri Lanka's current urbanisation is 18 percent and is expected to grow to 30 percent by 2030. This will fuel growth in the sector. Due to increased land prices in the City of Colombo, we now see a shift in demand from landed housing to apartments," says Roshanie Jayasundera Moraes, the Chief Marketing Officer and Executive Vice President of the Property Group of John Keells Holdings (JKH).
She asserts: "Key infrastructure developments and the plan for the Western Province megapolis will drive the real estate sector."
"The tourism industry too creates demand, as there are segments of travellers who seek apartments, serviced facilities and private homes to enrich their experience" in the country while "the services sector is creating demand for rentals – and therebyfor retail investment in real estate – with more professionals and expats coming to Sri Lanka," Jayasundera Moraes notes.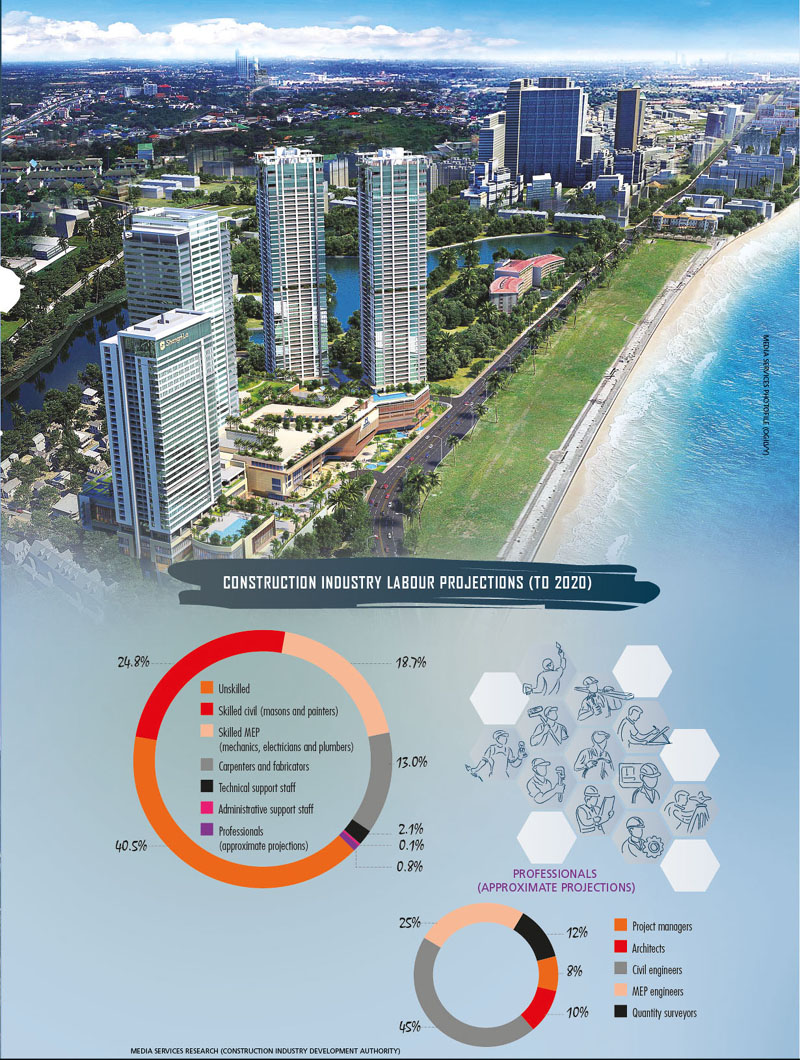 Condominiums currently account for about one percent of housing in the city, according to Jayasundera Moraes: "Due to the above factors, vertical living is set to grow exponentially in the next few years."
Despite the optimism of property developers however, there is also the stumbling block of limited land availability in Colombo.
But as the Managing Director – Sri Lanka Operations of JLL Sri Lanka Steven Mayes explains, "the land availability issue in Colombo is about to be greatly relieved by the arrival of the Port City that's adjacent to the CBD with 270 hectares of developable land that will be gradually released to the market over the coming years."
He observes that "the large established developers are busy developing large-scale projects and hold sufficient land banks to maintain momentum – certainly in the short to medium term – while smaller developers are being forced to develop land in outlying areas of the city that have a certain appeal in terms of pricing."
"But for occupiers wishing to commute to the heart of Colombo, the lack of good public transport and traffic congestion are major barriers to acquiring property in these areas," Mayes contends.
As for the categories of real estate projects that are witnessing sustainable growth, JLL's annual white paper on Sri Lanka's real estate market – titled Land of Real Estate Opportunities – sees high prospects for growth in the Class A commercial office market where demand continues to outstrip supply, middle and lower-income housing sectors that are still in their infancy in the country, retail malls (with many under construction) and resort-style hospitality ventures in coastal areas islandwide.
Nevertheless, there are other challenges when seeking to develop real estate. Indocean Developers' Director Pradeep Moraes highlights the "prohibitive cost of building a stand-alone house in Colombo and scarcity of land in the city" as two key concerns.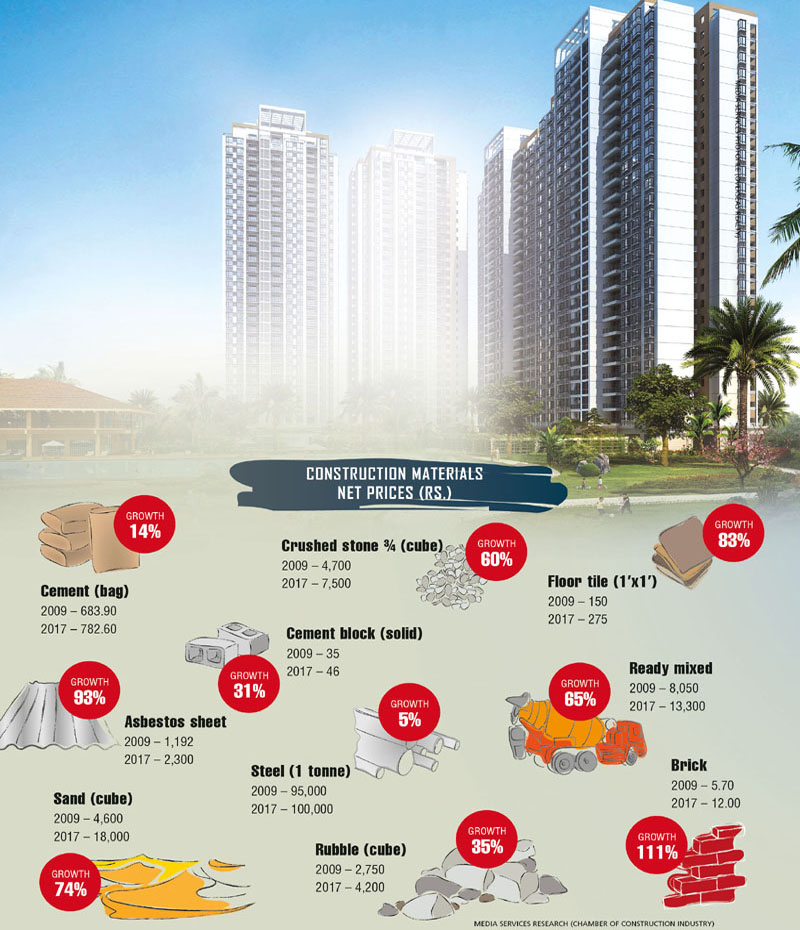 To this end, he observes: "There's better utilisation of available land through vertical development – for example, two acres of land on which you could easily build 500 apartments would only support 53 individual houses of six perches each."
In his opinion, being able to avoid the traffic congestion, and save time and travel costs by living in the city; modern lifestyles and aspirations that are better catered to by condominium living (which provides an array of facilities and conveniences); returning expats and foreigners preferring condominium living; the lack of domestic help, which makes the upkeep of large bungalows difficult; and frequent air travel among affluent classes with the convenience of leaving an apartment 'untended,' making condominium living a sensible option are among the factors driving the market at this point in time.
Indeed, the real estate sector is dependent on job creation and economic activity. The Group Chairman of Blue Mountain Properties Dr. Hiran Hettiarachchi believes that "over the last few years, Sri Lanka has witnessed tremendous foreign investor interest, which will help create business opportunities and jobs."
"Apart from foreign investment, local business expansion projects too would continue to create opportunities for employment. Once the planned mega projects are underway, businesses will require office space and apartments. A consolidation of the population and expatriate Sri Lankans who wish to invest in their motherland would fuel real estate growth in the country," he declares.
Hettiarachchi observes: "Sri Lanka's economy consists of a large middle-income segment so catering to its requirements is key. We have found that affordable and well-designed apartment projects located in close proximity to a prospective buyer's place of employment have recorded the most growth."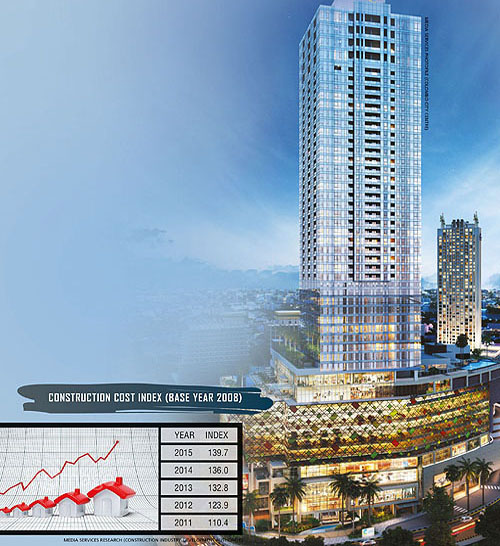 Going forward, "developers would need to be innovative, and create living spaces that are affordable and aesthetic. Those catering to the luxury segment will experience growth if they maintain their credibility and complete projects on time. Given the scarcity of land in Colombo and rising cost of construction, efficiency in design and economies of scale will play an important role," he asserts.
Rohan Parikh of Iconic Developments/Apurva Natvar Parikh Group seems to corroborate this view, adding that "the middle-income or semi-luxury segment is most poised for growth."
He continues: "There is a serious shortage of quality housing in the Rs. 20-35 million range. Colombo has one of the lowest urban densities and most difficult commuting challenges of any major South Asian city. Therefore, Colombo has no option but to go vertical if it is to catch up with the rest of South Asia."
"And housing is the best and safest investment for surplus wealth in Sri Lanka. The maximum potential for growth is in suburbs like Rajagiriya," he states.
A critical aspect of the real estate sector concerns construction. In recent times, construction labour supply has been constrained, making foreign labour the only viable option to meet the rising demand.
Regarding the gap between the supply and demand of labour in the construction industry, the President of the Chamber of Construction Industry (CCI) in Sri Lanka Deshabandu Dr. Surath Wickramasinghe remarks that "the anticipated expenditure on construction projects announced by the government and private sector is Rs. 6,500 billion from 2016 to 2020 while the estimated workforce is one million. The shortfall at present is 400,000."
And he laments: "Training institutions are unable to attract youth to fill the gap. The government has approved the recruitment of 2,500 workers from Nepal and Myanmar."
Athula Galagoda, the Chairman of the Construction Industry Sector Council and Immediate Past Chairman of the National Construction Association of Sri Lanka, concurs that "there is a substantial gap between the demand and supply of labour in the construction industry, and this has compelled the government to import labour from abroad."
To resolve this issue, he recommends that the state should intervene and implement a mechanism through which construction workers are recognised. "For instance, the government – with the support of the relevant ministry – could initiate the establishment of a construction industry workers' unit or database where they are certified and issued electronic identification. The workers can be trained by the state and registered on this database," he suggests.
Galagoda adds that "the workers should be deployed to private and state sector projects by this unit with the corresponding institutions paying the cost of labour to the unit, which can pay wages to the workers."
"This mechanism would ensure job security as workers can be deployed to another project upon completion of their present work site, in addition to being under the purview of a state authority that is recognised. This system is already in place in developed countries," he says.
In fact, the Construction Industry Sector Council is drawing up plans to implement this mechanism.
The Group Executive Deputy Chairman of MTD Walkers Jehan Amaratunga offers an additional perspective: "In the construction industry, the gap between the demand and supply of labour is not quantifiable as it is more skills-based. The figure also continues to change depending on the number, type and scale of projects that are ongoing at different times."
To bridge this gap, he also feels that we need to attract youth by providing training and recognition for jobs in the industry. Moreover, Amaratunga believes the government needs to review current labour laws and increase provisions that are allocated for vocational skills development to expand the number of semiskilled workers in Sri Lanka.
In addition, being a country with fairly low unemployment and an ambitious growth rate, there will be a higher demand for labour – and this will create a gap in the market, Amaratunga points out.
To close this gap, he too advocates that "there needs to be a systematic approach to augment the supply of workers locally by acquiring labour from neighbouring countries. This approach was successfully practised in Dubai, Singapore and Malaysia during their development phase."
However, he cautions that labour brought into the country "should be project-specific and contract-based; and we need to send workers back to their home countries upon completion of their contract term."
The labour shortage also causes a wage rate spiral with the nation's skilled workers demanding high pay levels, according to Amaratunga: "As a result, the increased cost of housing directly affects affordability for the buyer, leading to difficulties in selling apartments. So a gap in the labour market is detrimental to the development of the real estate market."
Construction costs have skyrocketed in the postwar period with higher prices being reported for materials like cement, steel, bricks, sand, metal, asbestos and floor tiles.
Mega Kularatne – the Director Finance & Planning of Maga Engineering – affirms that "local manpower and material prices have drastically increased due to higher demand together with import prices that are connected to foreign exchange rates. This has been somewhat offset by the relative stabilisation of global oil and thus steel prices but it hasn't been sufficient to prevent a substantial rise in overall costs."
Following the collapse of buildings and related incidents reported both at home and abroad, there has been an increased focus on real estate sector regulations vis-à-vis construction codes.
All buildings in Colombo must comply with planning regulations stipulated by the Urban Development Authority (UDA), and other relevant agencies such as the Fire Department, Solid Waste Management Division and Traffic Division of the Colombo Municipal Council (CMC); Central Environmental Authority (CEA); Ceylon Electricity Board (CEB); and National Water Supply and Drainage Board (NWSDB).
The control points at which any design will be checked include the need for a Preliminary Planning Clearance by the UDA to obtain the necessary authorisations from other relevant agencies before a Development Permit Application is submitted to and the Development Permit is received from the UDA or CMC, as well as the need for a Certificate of Conformity (COC).
Jayasundera Moraes explains: "We generally follow ICTAD, BS and Euro building codes in Sri Lanka, and there's no authority to independently check whether the drawings and specifications strictly follow the codes. But all development permit drawings must be signed by authorised persons such as a chartered architect and chartered civil engineer when applying for a development permit. Therefore, they assume responsibility for ensuring that designs meet the relevant codes and standards."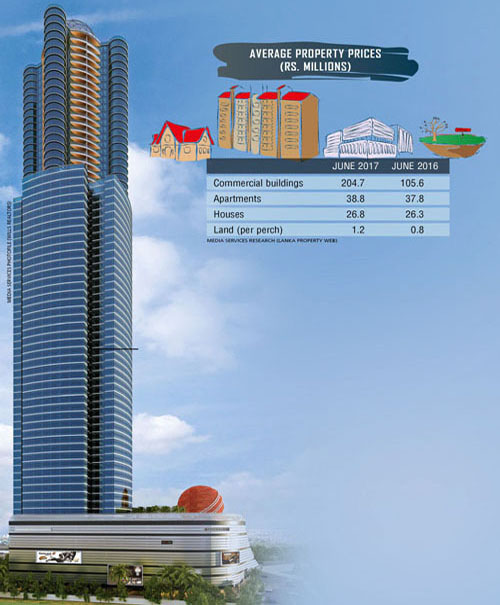 In terms of how stringently property regulations and building codes are enforced in Colombo, Parikh posits: "For large developments, oversight is extremely stringent. National building code standards are strictly enforced in terms of structural strength and fire safety. Sri Lanka has one of the most rigorous safety codes in South Asia."
However, he acknowledges that "there seems to be an issue among small and private construction firms that do not adhere to standards. So it's critical to ensure that construction is undertaken by a reputed company and structural plans bear approval from the statutory authorities."
JLL's report titled 'Sri Lanka – Land of Real Estate Opportunities' reveals that the pace of migration from rural areas to cities has accelerated since the end of domestic hostilities, leading to increased demand for affordable housing. It emphasises that while luxury housing is on the rise, there's an obvious lack of supply in affordable housing of which some developers could take advantage.
According to a UDA report, over 50 percent of the population of the City of Colombo live in shanties, slums or dilapidated housing schemes that occupy nine percent of the commercial capital's land.
"The UDA hopes to make the city free of shanty dwellers by 2020. With this aim in mind, the construction of affordable housing has taken place in seven locations within Colombo in Madampitiya, Mattakkuliya, Henmulla, Aluthmawatha, Apple Waththa, Kibulala and Aramaya Place," the report notes.
As for supporting infrastructure, Sri Lanka's economic growth has been primarily driven by the Colombo Metropolitan Region (CMR), which generates 45 percent of the country's GDP and is home to 28 percent of its population.
Therefore, the JLL report suggests that "sustainable growth and long-term prosperity will require a more balanced distribution of economic opportunities in cities apart from Colombo. These include other major urban centres such as Kandy, Galle and Jaffna."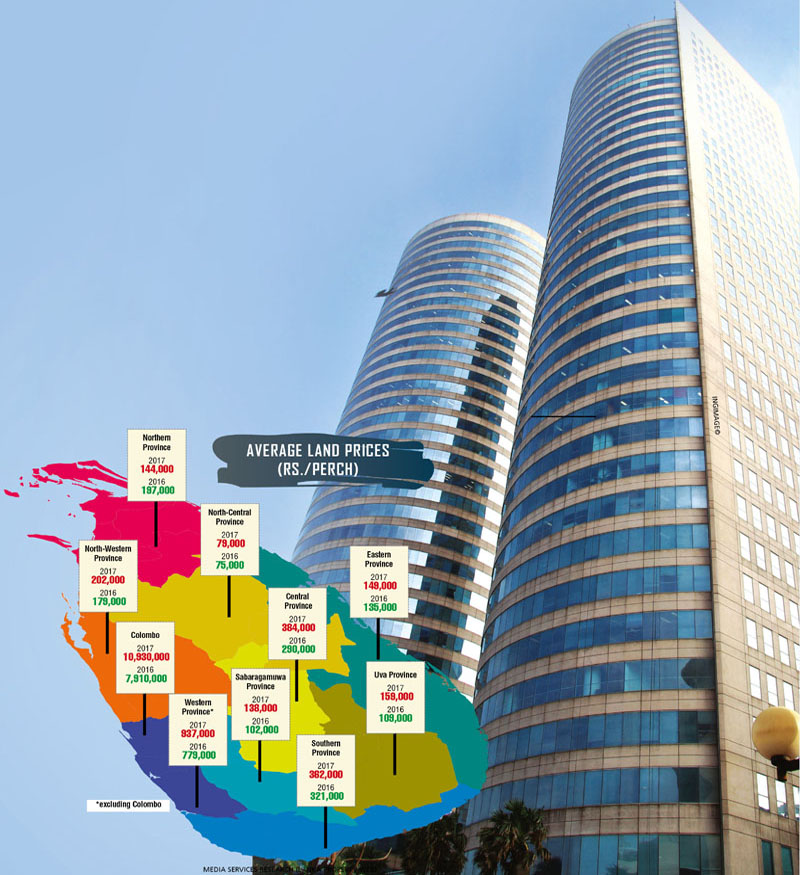 To this end, the World Bank is supporting Sri Lanka in its endeavour to implement an urbanisation and rural-urban integration agenda.
Moreover, under recent government initiatives, the 'Agency for Development' is set to become a zonal body that will approve a project within 10 working days. It is expected to be an unincorporated board that will coordinate the nation's investment, export and tourism drivers, and issues that to date have not been addressed by a strategic approach.
Among the important upcoming infrastructure initiatives that are likely to impact Sri Lanka's real estate landscape are the Southern Expressway extension to Hambantota, the Central Expressway, electrification of the rail network, introduction of a Light Rail Transit (LRT), and development of airports and waterways.
Offshore real estate development is also an area of focus – most notably in the case of the mega Port City project, which will include the ambitious Colombo International Finance City, being built on land reclaimed from the Indian Ocean.
"The development of the Port City will draw attention to Sri Lanka, and in turn help fuel demand in the mainland and attract more foreign investors. Currently, foreign investors have not fully committed to acquiring apartments here. But we believe that this segment will grow exponentially in the future," says Jayasundera Moraes.
Professor Ranjith Dissanayake, the Executive Vice Chairman of Green Building Council of Sri Lanka, also welcomes offshore projects like the Port City as they're favourable to the country's economy: "Such projects can attract more foreign direct investment (FDI) as well as tourists."
That being said, he emphasises that "such projects should be properly planned to minimise their environmental impact. For instance, measures should be adopted to minimise wastage, and the consumption of water and energy. Projects such as the Port City should be planned according to a sustainable strategy."
Colombo also currently competes with regional markets for FDI. The Managing Director of Lamudi Matas Linauskas is confident that "Sri Lanka is one of the most attractive real estate markets in Asia thanks to high GDP growth, a strong focus on infrastructure development and other factors such as exponential growth in tourism."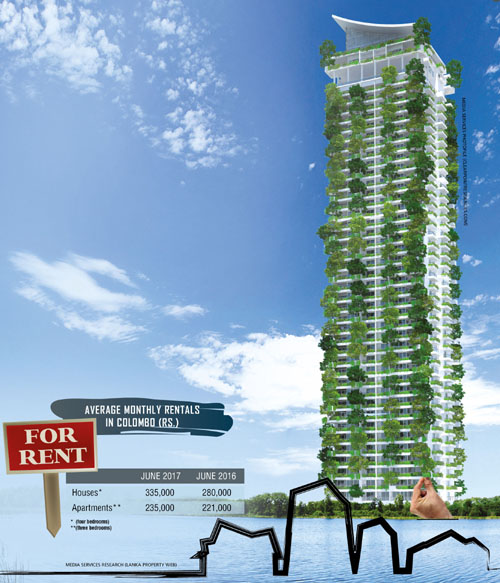 Similarly attractive markets could be Malaysia where there's also an evident focus on infrastructure development (e.g. the East Coast Rail Link by China Communications Construction Company) or Vietnam, which has recorded enviable GDP growth as well (7.5% year-on-year in the first half of 2016).
Linauskas remarks: "The situation is similar to that of Ho Chi Minh City; in both cities, there is a limited supply of office space. While Colombo offers highly skilled and educated workers who are competitively priced, providing an adequate supply of commercial property is vital. As soon as multinational corporations locate office space in the city, it is likely to have a positive ripple effect on the rest of the real estate market."
Notwithstanding the plans in place to develop Colombo's real estate sector and its expansion in recent times, the question on everyone's lips is whether the bubble will burst due to oversupply.
In the August edition of LMD, the Chairman of Fairway Holdings Hemaka de Alwis opined that "there is a bubble at the upper end of the property market while the middle and lower ends are bottomless pits."
Responding to a query on whether the real estate bubble is likely to burst sooner rather than later, he asserted: "Many high-end developments in Colombo's central business district and other locations like Hambantota were undertaken in anticipation of plans and promises that would materialise – but these have yet to take place."
Meanwhile, in response to the same question, the President – Property Group of John Keells Group Suresh Rajendra states: "There is overconcentration in some segments and underservicing in others due to commercial reasons that will even out. Condominium living will become increasingly popular especially for city living and the commercial real estate market will grow in line with economic acceleration."
As for the bubble, it is intact – alive and kicking, so to speak. Whether it will burst is anyone's guess… only time will tell.