RETAIL E-COMMERCE
Compiled by Ayesha Reza Rafiq
TRILLION-DOLLAR PROSPECTS
Abishek Sithampalam turns to local know-how to boost e-commerce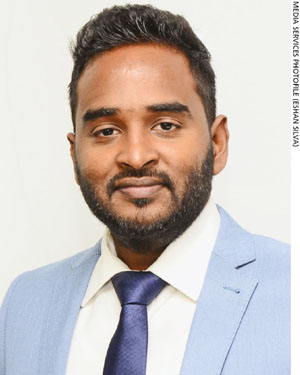 E-commerce is certainly among the most rapidly growing sectors globally with retail sales in the trillions of dollars range last year and estimated to surpass US$ 27 trillion in 2020. Asia is gaining a stronger foothold in this fledgling market as the Asia-Pacific is among the world's largest retail e-commerce landscapes with sales predicted to reach 2.7 trillion dollars by 2020.
In addition, the region is expected to facilitate the most rapid growth in e-commerce sales. Last year, sales rose by well over 25 percent.
And this fast-paced growth in a region coming into its own as a viable global economic and development hub is propelled by factors such as a rapidly expanding and aspirational middle class, growing mobile and internet penetration, an increasingly competitive e-commerce market, and improved logistics and infrastructure that create the ideal environment for e-commerce to prosper.
Sri Lanka is seeing its fair share of fledgling e-commerce entrepreneurs. While the local market continues to trail the region, a slow but steady rise in e-commerce startups by Generation Z entrepreneurs such as Abhishek Sithampalam is laying the foundation for a dynamic sector.
The global e-commerce market is not without its challenges, some of which are especially daunting for markets such as Sri Lanka that have lagged behind for too long and are now fighting to stamp their global footprint.
While corporate gurus attribute this lag to many reasons that include bureaucratic red tape, economic hurdles and a lack of long-term cohesive policy, Sithampalam is refreshingly upbeat.
He insists that "the main reason Sri Lanka lags behind in the e-commerce market is down to the people."
Sithampalam asserts that a population of nearly 21 million versus neighbouring India's staggering 1.3 billion – or even further afield with Malaysia's 31.2 million, Thailand's 68.9 million and Indonesia's 261 million-strong populations – is a major disadvantage to a thriving e-commerce market that's mainly driven by customer numbers.
But he is certain that this doesn't represent a death knell to the sector – even before it takes off in earnest: "Every country, market and situation has its unique challenges and hurdles. There is very rarely a one-size-fits-all solution. Sri Lanka's e-commerce sector has its fair share of daunting challenges but with enterprise, hard work and the right attitude, they can be overcome," he maintains.
As the head of a rapidly expanding startup, Sithampalam believes that where the country falls behind in terms of numbers, infrastructure and so on, entrepreneurial attitude can be a game changer.
He stresses: "We need to stop complaining and start doing. Any industry or country has red tape. There are difficulties with labour, logistics, investment and so on. While they pose challenges, our time would be better spent focussing on what we do have and can work with."
"Our talent is phenomenal especially in the IT industry. If we recognise this and invest in it, and offer opportunities [for people] to grow and improve, we won't lose out to foreign markets that recognise talent and are willing to pay for it. And we won't need to spend more on high-priced products and services developed by foreign companies, which offer our youth better opportunities than we do," Sithampalam points out.
Conceding that issues such as pay scales and other benefits are linked to a wider economic scenario, he urges investors to do their part.
Sithampalam remarks: "The lack of foreign direct investment (FDI) requires urgent attention. FDIs provide a vital injection of funding, and introduce talent and methodologies from which the country can learn and benefit. If Sri Lanka's infrastructure continues to improve, and long-term policies are formulated and enacted, it will serve to encourage FDI, which is vital to the country's economic progress."
In the absence of adequate FDI, he urges the corporate sector to encourage and facilitate e-commerce growth: "We need more angel investors who not only understand this new sector but are also willing to take risks. Their assistance and expertise in terms of aspects such as finance, as well as business acumen and experience, will ensure a higher success rate for startups."
Sithampalam urges startups to look for positives rather than focus on negatives: "Yes, Sri Lanka is small and e-commerce is in its infancy. Take this on as a challenge."
He avers: "We are uniquely positioned to offer e-commerce products that transcend what many consider to be the English language barrier. If we're able to create and offer products and services in the two native languages as well as English, imagine the potential and niche markets that can be reached."
"With our grasp of local culture, we are in a better position to craft a dynamic and fluid e-commerce sector than global players. If only we were bold enough to take on the challenges and risks!" Sithampalam quips, in conclusion.
The interviewee is a Director of Findmyfare