CORPORATE TRAVELLER
ASIAN  BUSINESS HUBS
Gloria Spittel profiles four great destinations for doing business
What does it mean to travel for work or business? Whether it is to launch a brand promotion, pursue expansion or investment opportunities – or engage in networking to build bridges across national boundaries by exchanging knowledge and expertise – travelling for work and business is key to generating corporate growth. But which destinations hold the greatest promise? Four Asian powerhouses stand out – and here's why.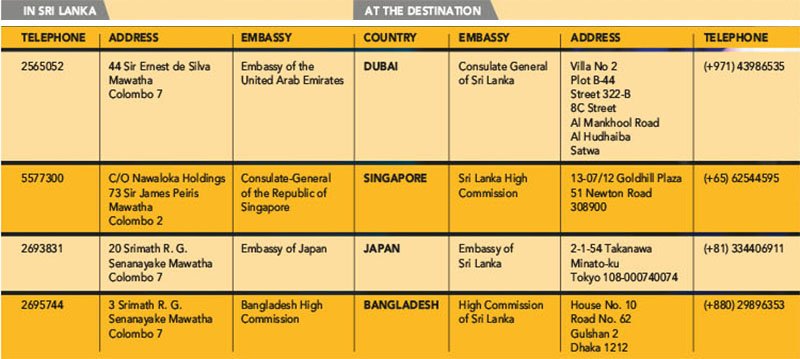 ---
THE BIG APPLE IN 48 HOURS
Monita Pesumal shows how to experience the enchantment of New York in two days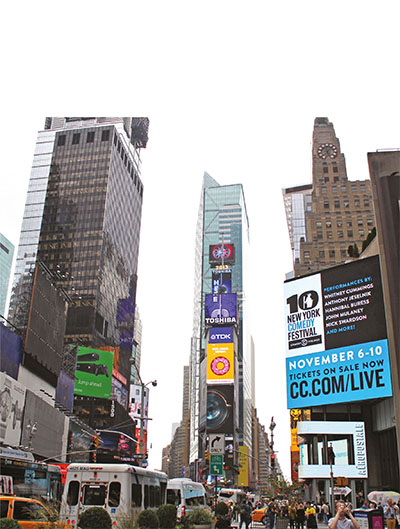 WHY MUST I GO? Must you really ask? Not only is New York the world's financial capital and fashion centre, it's also a haven for art. It is an experimental melting pot for food; a music, nightlife and entertainment hotspot; a celebrity hangout; a skyscraper factory; and many other things rolled into one big bucket… list, that is.
For the sake of orientation, the Big Apple consists of five main boroughs (districts): Manhattan, Staten Island, the Bronx, Queens and Brooklyn. And while each borough is saturated with places to dine, stay and explore, here are our top attractions in each district so you can make the most of your time in the world's most exciting city.
WHAT TO SEE Since John F. Kennedy International and LaGuardia Airports are both in Queens, we recommend you set out on your sightseeing in this eastern part of town. It's home to the city's second largest park – Flushing Meadows-Corona Park – which houses the Queens Museum, Queens Botanical Garden, New York Hall of Science and Citi Field.
Subdivided into Downtown, Midtown and Uptown, Manhattan is the core of the city. Explore Wall Street, East Village, Greenwich Village, Chinatown, Little Italy and Soho in Downtown. Midtown lands you in renowned department stores such as Saks Fifth Avenue, the famed Empire State Building and the Rockefeller Center.
Watch a Broadway musical in the Theatre District and take in the awesome neon lights of Times Square. From Battery Park in Downtown Manhattan, it is also possible to take a ferry that stops at the Statue of Liberty in New York Harbor.
Uptown is famous for the grand Central Park, The Plaza Hotel and the Guggenheim art museum.
Located south of Manhattan and accessible by a free ferry ride, Staten Island is home to the historic areas of Richmondtown and Tottenville Beach.
North of Manhattan, The Bronx is the only district that isn't an island or part of one.  New York Botanical Garden, Yankee Stadium, Bronx Zoo and Wave Hill are must visit sites.
Southeast of Manhattan and on the other side of the East River, the hipster neighbourhood of Williamsburg, Luna Park (Coney Island), Prospect Park Zoo and the New York Aquarium are must-sees in Brooklyn. A walk over Brooklyn Bridge will inspire you with a mind-blowing view of Manhattan and its skyscrapers.
WHERE TO STAY Go American. You're better off picking an American chain such as Best Western, Carlson, Holiday Inn, Hilton, Hyatt or Marriott. Most have properties in all five districts including in close proximity to both airports in Queens.
GETTING FROM A TO B Walk – it's the only way to touch, see, smell, breathe and feel the city vibe. Although a yellow taxi will take you around the five boroughs in good time, hailing one will test your patience! The minimum fare is US$ 3.30 and thereafter, 50 cents for every fifth of a mile.
A MetroCard will permit you to travel on trains and buses to every corner of the Big Apple. The cards can be purchased for three dollars upwards for a ride but unlimited ride passes starting from 30 dollars offer great value.
You can also travel in a water taxi – an all-day pass to view famous city sights by boat costs US$ 35, which is rather pricey.
For a newbie, the Hop-On Hop-Off Bus offers unlimited hops on and off in Uptown and Downtown Manhattan, and Brooklyn, during your 48 hours in the city for 70 dollars. Cheaper tickets are available depending on the route you choose.
WHAT TO EAT Because it's virtually impossible to list all the Michelin starred restaurants, cafes, bistros and cuisine in this diverse city (there are 77), we recommend a few experiences for you to sample in the 48 hours you're in the Big Apple.
Although meals on wheels once only offered fast food such as burgers and hotdogs, the city now has a food truck for just about anything from tacos and falafel, to artisanal ice cream and lobster, at an affordable price.
Old-world Jewish and European delis are must tries in NYC. Katz's for example, has been serving up sandwiches since 1888. Located in Downtown Manhattan, it is the city's oldest delicatessen.
Diners are different from delis – they are usually open 24/7 and popular for breakfast fare such as pancakes and eggs, as well as burgers and shakes.
WHERE TO CHILL From cocktail dens, dance bars and concerts to stand-up comedy clubs, lounges and microbreweries, this city will tickle your entertainment buds like no other.
There's no need to wander around looking for a club. Each district offers its own version of nightlife – and like everything else in New York City, they all claim that theirs is the best.
---
BIZ TRAVEL MADE EASY
Ayesha Reza Rafiq zooms in on the latest innovations and apps for travel
STAYING IN TOUCH Carrying an out-of-date contact list can be an expensive mistake especially on international business travel. Studies reveal that on average, 25 percent of the information stored in digital contact books is invalid.
The CircleBack app uses AI and crowdsourcing to ensure that business and personal contacts are up-to-date. Once users sign up, the app scours a variety of popular social networks – including, if users choose, converting email signatures on Gmail accounts into usable information – to collate contacts and create a single, secure, cloud based address book that can be accessed at any time from any device.
It then continuously processes billions of data points to ensure that contact information is current. With contacts processed anonymously to ensure privacy and a database of over half a billion business users, CircleBack ensures that you can stay in touch with your business contacts around the globe – always.
LOUNGING AROUND Business travel can become frequent and repetitive – and unless you're in the upper echelons of management, it is often uncomfortable. Aiming to ease some of this discomfort is LoungeBuddy, which enables travellers to access airport lounges around the world.
LoungeBuddy eliminates the need for memberships, elite status or First Class tickets to access premium airport lounges. Instead, for a fee starting at US$ 25, travellers can simply search hundreds of participating airports and book a lounge of their choice at their departure or arrival point.
Airport access can be purchased for oneself or as a gift, enabling travellers to see out a lengthy transit in comfort and make business travel more comfortable.
ENTERTAINMENT ON THE GO On business trips, most travellers tend to stick to the agenda – they don't usually factor in time for entertainment, dining out and so on. However, if you wrap up your work sooner than expected, or are simply at a loose end between meetings or in the evenings, AroundMe will help you find restaurants, theatres, car parks, hospitals, local points of interest and more.
The app integrates with others such as Booking.com and Foursquare so users can view tips posted by others to make the most of their time in a particular city. It also offers GPS directions to your chosen destination. And a 'favourites' section enables users to save entries they're interested in while links to Wikipedia provide additional information.
LOYALTY PROGRAMMES With most airlines, hotels, restaurants and stores offering loyalty points and promotions, keeping track of rewards points and balances, and special offers to international destinations that you frequent, can be a tiresome task. AwardWallet takes the stress out of managing multiple loyalty programmes by organising everything into one easily manageable tracking system.
The system automatically updates loyalty programme information on an easy to browse and intuitive interface, and alerts users about movements in their account balances, as well as impending expiry dates. It also helps users track points for multiple accounts – including accounts of their spouses and kids.
TRAVEL DEALS Skyscanner is arguably one of the most popular travel apps on the market today. Available in more than three languages, the website and app compares millions of flights to find the cheapest deals – i.e. for flights, hotels and car rentals.
Users can compare flights for a specified period and monitor them through price alerts for discounts. And once they've selected a flight, clicking on the link takes them directly to the airline or travel agent advertising the special rate with no hidden charges or fees to deal with.
For those who aren't particular about a location or time period, and are looking to explore the world one deal at a time, the app's Everywhere tool enables them to view the cheapest flights out of their airport at any given time.
---