PROFILES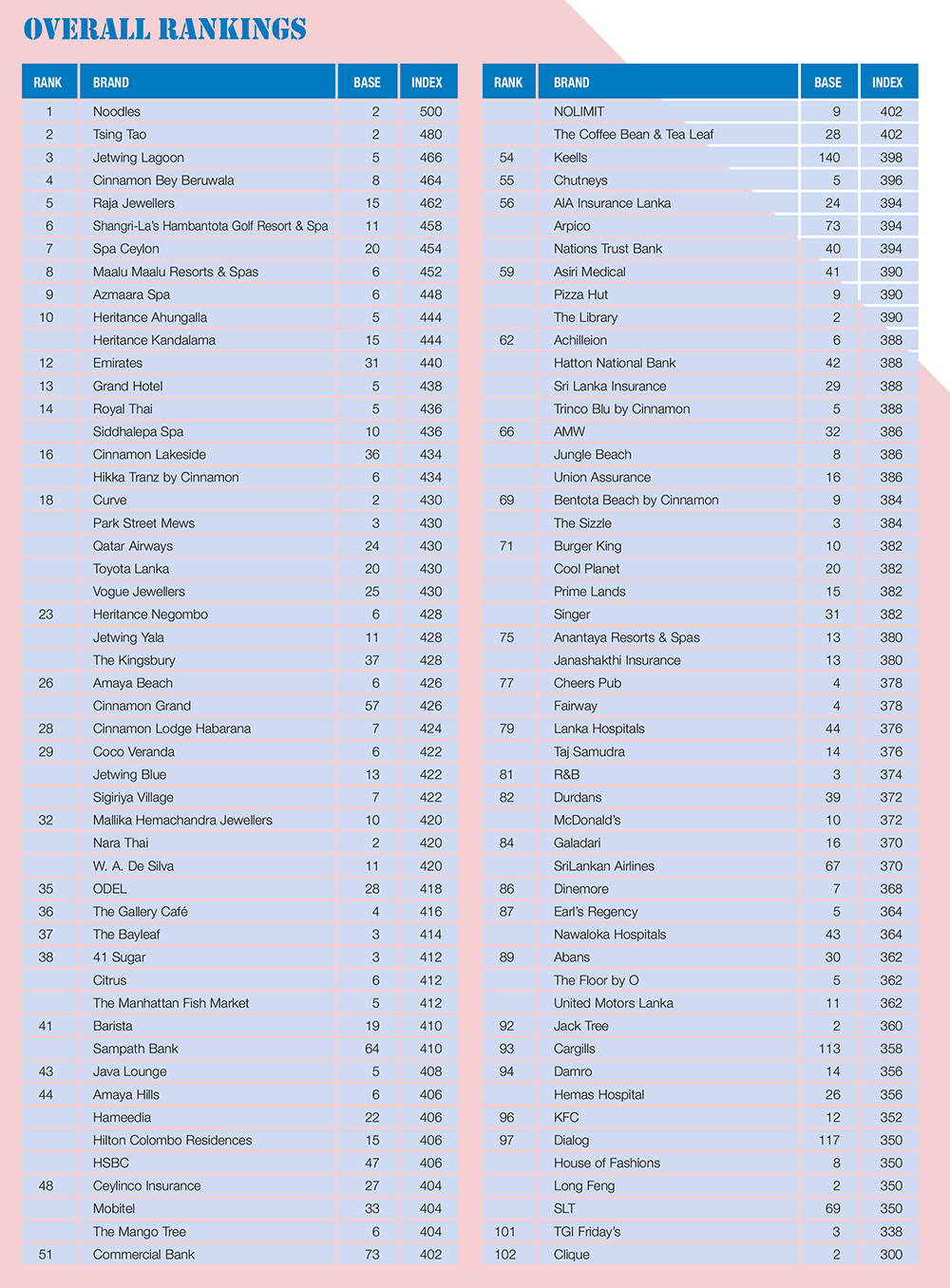 ---
THE CUSTOMER EXPERIENCE
An exclusive survey highlights the top service providers in Sri Lanka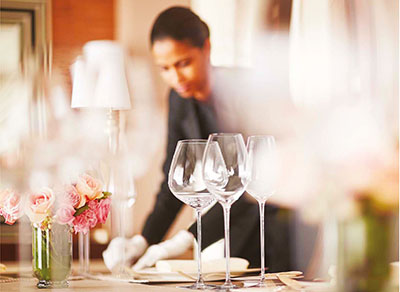 Whilst acknowledging that strong customer experiences are important, we also recognise that customer relationships have been transformed. This is largely due to developments in communication. Today, individual customer experiences can soon turn into 'public encounters' with the potential to reach the ears of so many others.
Rather than complain about an unpleasant incident to a contact centre, customers tend to tweet or post their negative feedback on Facebook. Social media can harm brand image if a business doesn't handle customers properly.
ENDLESS CHOICES In the modern world, customers have easy and unlimited access to information on various providers, products and services. Amid an explosion of products and services across numerous categories, their choices are seemingly endless.
From a customer perspective, products and services are becoming less differentiated and more interchangeable, which poses a challenge for businesses to stand out from the crowd, protect their customer base and attract new consumers.
Understanding and interpreting customers' individual experiences with a business has become increasingly important in recent years. The development of online social platforms coupled with a newfound sophistication in gathering customer opinions enables businesses to get closer to the moment of truth.
While customers interact with some businesses on a daily basis, other exchanges take place over months or even years. While consumers retain memories of certain interactions, there are others that don't fall into this memory bank so to speak. Memorable interactions with customers therefore, are the need of the hour.
CRM AND BEYOND Improvements in CRM make it much easier to proactively reach customers of competitors. Targeted offerings by competitors are threatening the existing customer base. Businesses now find themselves in a much harsher competitive environment – and they're fighting hard to attract and then retain each and every customer.
CRM in itself does not help businesses acquire and retain customers; it has to evolve with changes in the minds of customers. A business that wins customers over cannot maintain the same level of performance next year if its CRM strategies do not follow up on these changes.
Behavioural economics suggests that people judge events intuitively by using two filters: the most intense moment of an experience; and the feeling that they're left with at the end of the experience.
Customers expect businesses to not let them down when and where it matters most. Building an emotional attachment is one of the best ways to win their hearts and minds. A customer strategy aligned to a brand promise doesn't necessarily mean that the business is the best in the world; it simply has to deliver on expectations time after time.
BUSINESS INSIGHTS In collaboration with LMD, Kantar TNS conducted research to pick the best service providers in Sri Lanka. The findings offer interesting insights for businesses about themselves – and for some, it may be time to consider a change in customer interactions in the interests of continuous improvement.
Of the 18 service sectors picked for the study, spas and wellness, jewellery, outstation hotels and resorts, jewellery and watches, and airlines achieved the highest ratings for winning customers over.
When a customer rates a service experience, the primary 'service' is just one aspect of the rating. These days, providing the best service in the world isn't sufficient to attract and retain customers. This is because they recall the overall quality of the service from beginning to end. From the moment they enter an establishment to the point of departure, customers tend to have exceptional memories of what happened especially when it comes to unpleasant incidents.
Being treated as a 'valued customer' even on a first visit is considered by a customer before a repeat visit is made – or indeed, prior to recommending the business to another. Time is precious so speed of service is important too. And customers expect staff to be friendly and helpful – poor service is the worst situation a customer faces.  A business has to satisfy all these criteria to outdo its competitors.

SERVICE EXCELLENCE Among the spas and wellness brands in Sri Lanka, Spa Ceylon enjoys top billing followed by Azmaara Spa and Siddhalepa Spa. Although most spas provide a variety of massages, it isn't merely a massage that customers expect. The spas and wellness category has the best rating for service because it has converted the primary service to a more sophisticated customer service, which starts from the registration process.
Raja Jewellers followed by Vogue Jewellers and Mallika Hemachandra Jewellers are rated as the best jewellery brands in Sri Lanka. And W. A. De Silva is rated as the best jewellery and watches brand. Purchasing jewellery can be one of the most important but difficult decisions in a customer's life. Customers expect jewellery to offer value for money – some prefer to wear charming but simple jewellery while others opt for bolder pieces; some prefer yellow gold while others opt for white gold or silver. So naturally, selecting jewellery is no easy task and therefore, jewellers simply have to be customer centric to succeed.
Of the many outstation hotels and resorts in this country, Jetwing Lagoon is rated as the best for customer attention and creating positive memories. The preferred airline is Emirates while Qatar Airways takes second place followed by SriLankan Airlines.
OVERALL RANKINGS As for the overall brand rankings, the Cinnamon Grand's Noodles is deemed to be the best service provider in Sri Lanka. An important finding is that among the top 10 spots for service providers, six are occupied by outstation hotels and resorts.
SURVEY CONCLUSIONS Managing every touch point has a major impact on the future of service oriented businesses. Today's customers are more powerful than businesses as they have greater options at their fingertips.
Organisations therefore, have to adopt new approaches to activate business across the customer ecosystem, integrating insights from traditional and digital touch points, social media, employee behaviour and everyday customer interactions.
– Compiled by Kantar TNS
---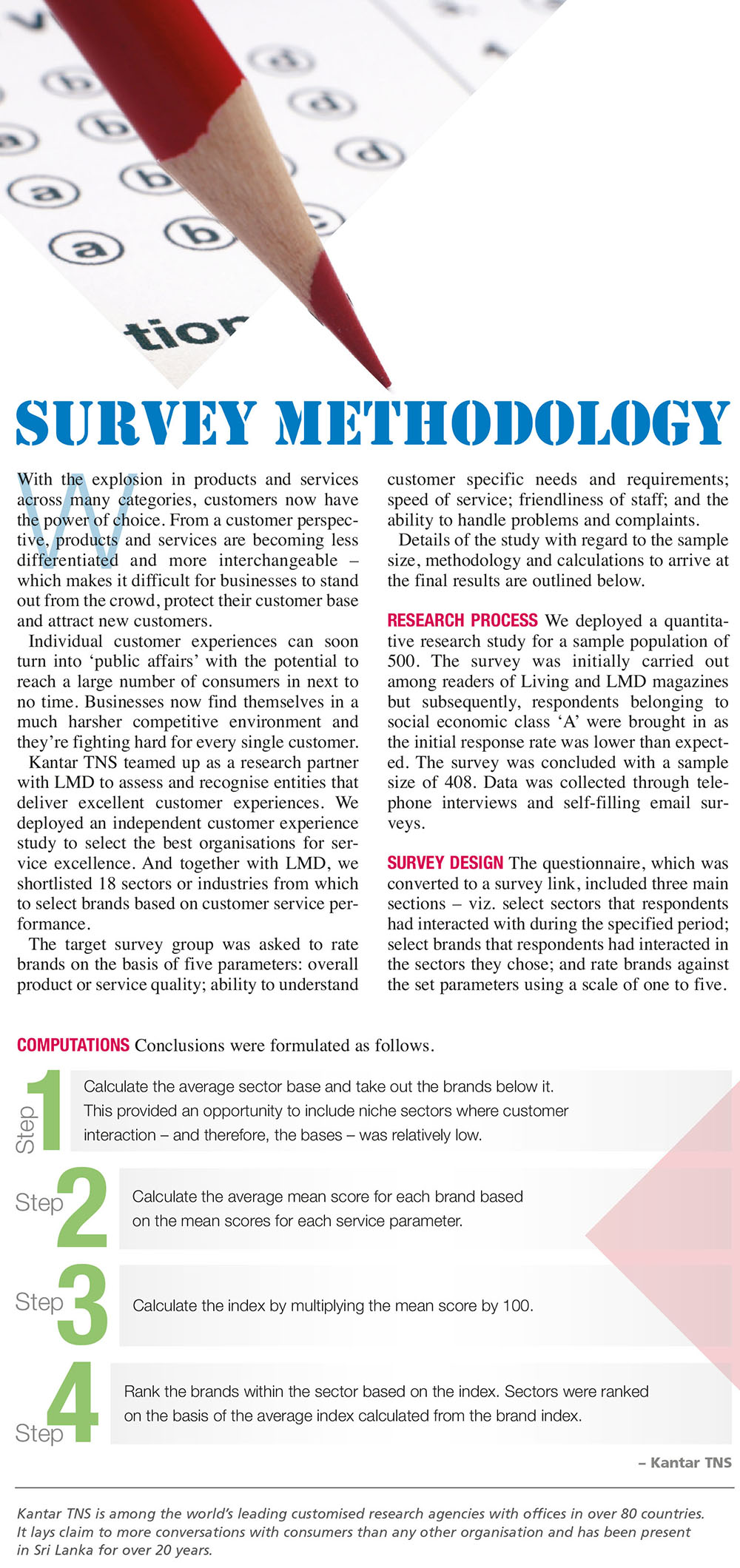 ---

---
PROFILES