BUSINESS SENTIMENT
BUSINESS CONFIDENCE NUDGES DOWN
Corporate sentiment remains muted amid the numerous challenges impacting the country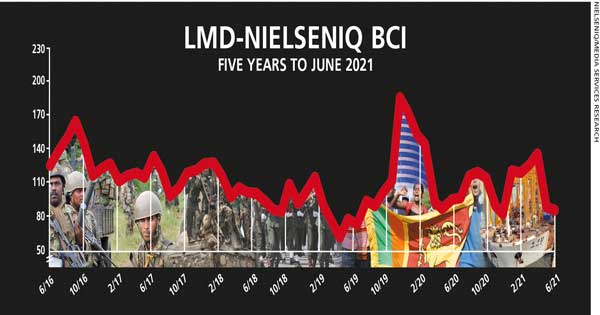 While the COVID-19 pandemic has brought many challenges for the economy since March last year, World Bank Country Director for Maldives, Nepal and Sri Lanka Faris Hadad-Zervos believes that it also presents an opportunity for the nation to drive policies that will enable it to "build back better with stronger measures to attract much needed foreign direct investment (FDI)."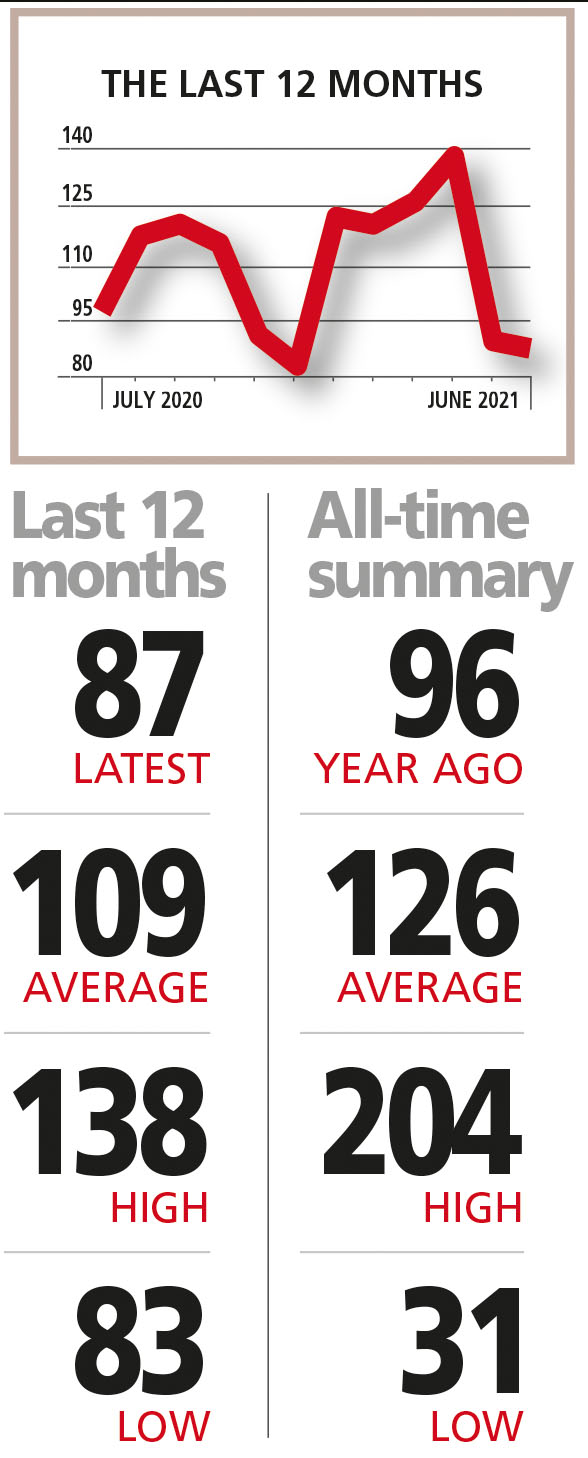 "Sri Lanka should use the pandemic to churn challenge into opportunity, to tackle fundamental core issues that existed before COVID-19 to build back better, greener and with more agility," he explained, addressing the Sri Lanka Investment Forum recently.
To achieve this, he called for policy makers to focus on and track export earnings in relation to GDP to consistently identify necessary changes to improve the nation's competitiveness.
However, the pandemic proved to be one of only a few challenges that the country has had to contend with recently as reflected in the results of the latest LMD-NielsenIQ Business Confidence Index (BCI) survey, which affirms that the outlook for business continues to be subdued.
THE INDEX Following its free fall in the previous month, the BCI remained largely the same in June, recording a slight drop of two basis points to 87, continuing to erode the gains achieved since the beginning of the year.
In addition to recording its lowest value this year for the second consecutive month, this places the index below where it was 12 months ago (96) and more than 20 points lower than its 12 month average.
Elaborating on the latest outcome, NielsenIQ's Director – Consumer Insights Therica Miyanadeniya says: "June was a month of disaster after disaster – apart from the ongoing scourge of COVID-19, the floods caused by the monsoon rains and fire on the X-Press Pearl container ship added to the nation's already overburdened situation."
SENSITIVITIES The impact of the pandemic continues to be cited as the most pressing issue by the business community. Meanwhile, the spread of COVID-19 is highlighted as the main worry for the nation while concern about the economy appears to be growing.
PROJECTIONS While Miyanadeniya acknowledges that the virus continues to affect the country, she points out that there are other causes for concern such as the potential impact of the hike in fuel prices on the BCI and Consumer Confidence Index (CCI).
"This will have a cascading effect on all other services and goods sold in the country with price hikes expected in all sectors," she explains.
In the June edition of LMD, we said the outlook for the BCI would hinge on the government's ability to secure more vaccines and accelerate the immunisation campaign. Recent reports about the detection of the Delta variant in Sri Lanka lend credence to this perspective.
That said, the roll out of vaccinations has gathered some momentum in recent weeks, following the receipt of vaccines from China.
Overall however, the direction of the index will depend on the country's response to challenges in the healthcare and policy spheres among others, in addition to whether or not 'travel restrictions' will be imposed off and on.
– LMD