BISCUIT BARON
Deshamanya Mineka Wickramasingha
CBL Group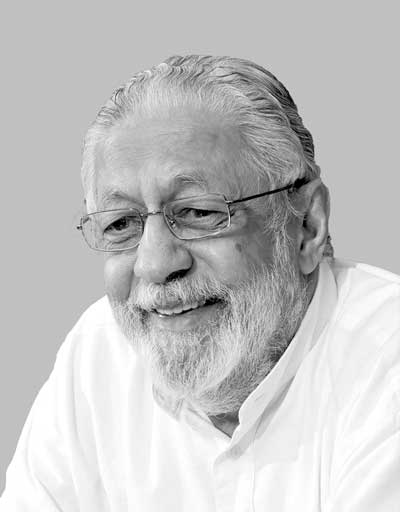 They say some are born with a silver spoon in their mouths… but Deshamanya Mineka Wickramasingha was surely born with the sweet aroma of baking wafting up his nose. His father, Simon Wickramasingha, could have been a successful lawyer but he dropped out from the law college and instead, chose a far less tedious occupation.
He took over a small factory from a local businessman named Williams whose handmade biscuit operation had begun at a time when all biscuits in the local market were imported. Williams Confectionery's biscuit dough was hand mixed, rolled and cut, baked in log fired ovens and sold locally in round lidded gallon tins.
Mineka, his third born son, was the first to follow in his father's footsteps. After several years working with his father and countenancing the vagaries of the times, the operations of Williams had expanded to encompass its desire to expand production of this non-traditional snack introduced by the British with better manufacturing processes, new varieties and ready availability.
The ban on the import of biscuits in the 1950s helped business growth but there were still challenges to production and demand that had to be met.
In the 1960s, he had presented a proposal to the Ministry of Education to provide a high protein biscuit to schoolchildren under the CARE programme. Ceylon Biscuits (CBL) was incorporated in 1968 as a new company under the leadership of Mineka Wickramasingha, and the biscuit was to be developed in-house by the founder using bread flour, soybean oil, milk powder and other limited raw materials available at the time.
Despite government restrictions, expansion challenges and competition from imported biscuits in later years, Wickramasingha did not relent in the face of adversity but persevered to create a respected and eminent establishment.
He spent almost five decades at its helm, building the business into one of the nation's beloved brands, and expanding its product lines to chocolate and other comestibles.
Wickramasingha captured more than half the local biscuit market share and was one of the first entrepreneurs to cast his eye on the Indian market. He strove to increase exports of local biscuits; and from modest successes in the early '70s, CBL now exports to over 55 countries and is the largest exporter of biscuits and confectionery.
In 2017, for his distinguished and meritorious service, he was conferred the Deshamanya title – the nation's second highest national honour bestowed on civilians.
Mineka Wickramasingha: he made the cookie crumble his way.