BURNING ISSUES
TAXATION IS TOP OF MIND
Concern over high taxes continues to persist in the corridors of business

The current tax regime is the most pressing issue for business in Sri Lanka today, according to 94 percent of respondents to the latest LMD-Nielsen Business Confidence Index (BCI) survey. This marks the sixth consecutive month that this perennial issue has been the supreme concern among corporates.
And in a related development, the National Economic Council (NEC) recently stressed the need for a sensible tax policy for both imports and exports.
Not surprisingly, political interference also continues to feature among the key issues for business – at No. 2 in the latest BCI survey with more than two-thirds of poll participants pointing in this direction.
This is followed by inflation, which is a major concern according to almost half the survey sample. It is noteworthy that the Monetary Board of the Central Bank of Sri Lanka decided to maintain its policy rates in July so as to keep inflation at mid-single digit levels.
The economy is considered the most pressing national issue facing Sri Lanka today by 79 percent of those consulted by Nielsen – ironically, this represents an improvement from the 100 percent recorded in June.
Sri Lanka's political culture and education system are in joint second place among the major national concerns with six in 10 respondents saying so. And while the political sphere has been a cause for alarm for much of this year, only 21 percent of those polled were worried about the country's education system in the previous month.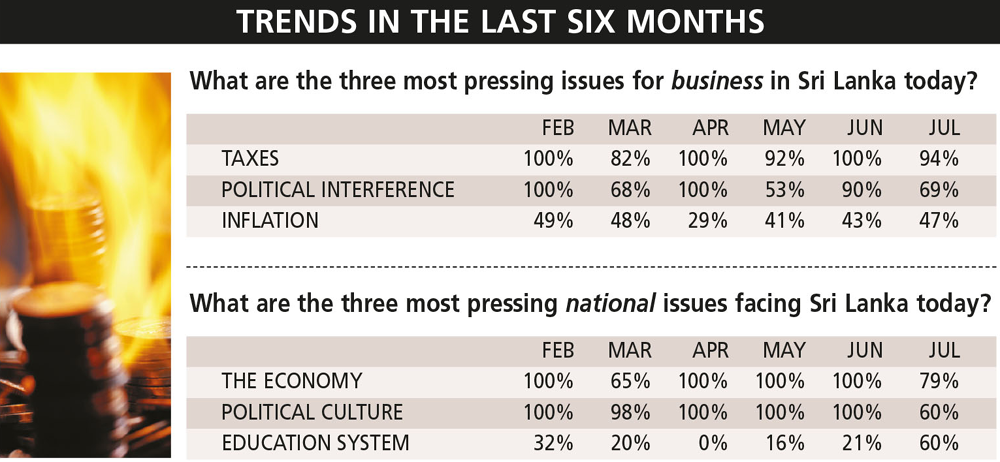 – LMD