BANKING SECTOR
Chiranthi Cooray
BANK ON BANKING (NOT BANKS!)   
The sector's future is not so much about establishments but services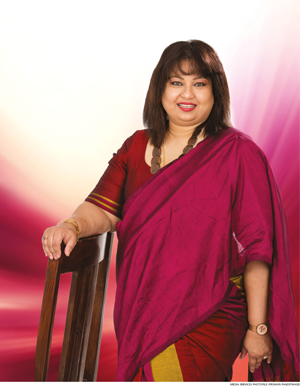 The banking sector today
Banks play a crucial role in the country's economy, contributing to approximately 60 percent of GDP and employing around 40 percent of the national workforce.
Three barriers to the sector's growth in Sri Lanka
Inconsistent government policy, high density of banks, and increased capital requirements to be compliant with Basel III and SLFRS 9.
The future of the local banking sector
Strategic transformation is necessary in areas of regulatory compliance, taxation, technology, risk and talent.
For this to happen, banks should
Be more active in the fintech space – either by launching stand-alone digital banking services or through partnerships.
Three opportunities for the local banking sector
Customer centric products and services, competitive rates and new technologies. 
Three challenges faced by banks
Inadequate data protection against cyber-attacks, market expansion issues and difficulty in attracting young customers. 
Main threats to the banking sector
Fraud and cyber-attacks – which are also evolving – and adaptation. 
This must be addressed by
Forensic audits and prevention of cybercrime, which has become an emerging capability need on which banks must focus rapidly.
The local market in a nutshell
The sector is gearing up to strike a balance between meeting new capital and leverage ratios imposed by Basel III and SLFRS 9 while continuing with moderate loan growth.
The global market in a nutshell
Continuous volatility in the geopolitical landscape, the advent of digital technologies and climate change – because it impacts human habitats and biodiversity.
Three new prospective customer segments
Customised products for Chinese workers in Sri Lanka, facilitation of 'angel investors' for startups and products for youngsters to work for global companies from home.
Three evolving consumer trends or behaviours
Voice activated personal assistance to empower customers, videos to help consumers experience brands and mobile devices that are mostly used by millennials. 
Productivity is affecting sectorial and economic growth – yes or no
Yes – greater productivity in state owned enterprises would lead to better traction in business. 
Corruption is affecting sectorial and economic growth – yes or no
Yes
The future of the global banking sector
The future is not about banks but services – we need banking, not banks!
Competition drives innovation – yes or no
Yes – but what we witness here is price competition and 'me too' products; competition driven innovation is starting to happen and it's exciting.
Sri Lanka's competitiveness
The country's vast untapped potential is in tourism. Recently, we witnessed concerted efforts to promote this but it remains underutilised so there's scope to develop it.
How banks can help
By enabling financial inclusion for home guest operators and grassroots level suppliers, to introduce them to the banking system and offer financial advice as well as funding.
Impact of the digital age on Sri Lanka
Digital proliferation is high; yet, penetration to all levels for the right reasons – such as for education – is questionable.
Impact of social media on the world at large
It has connected people and made learning more accessible. But we need stronger mechanisms to address issues such as cyberbullying and breaches of privacy.
The banking sector in five years' time
It will morph into something digitally driven with much collaboration whereby fintechs and banks start their own digitalisation processes to offer solutions to customers. 
Local talent's contribution to the sector
Immense! We have high calibre professionals in the sector. We need to ensure that the next generation is equally or even more qualified – not only on paper, mind you. 
Areas of improvement for local banking professionals
Adapting to change, design thinking, cultivating a sense of urgency, agility, speed to market, responsiveness and willingness to invest in the long term.
Mantra for success
I am passionate about my work and consider every opportunity, experience and interaction to learn something – because you can learn from anyone and anything.
– Compiled by Ruwandi Perera
Chiranthi is the Chief Human Resource Officer and Deputy General Manager – Human Resources of Hatton National Bank