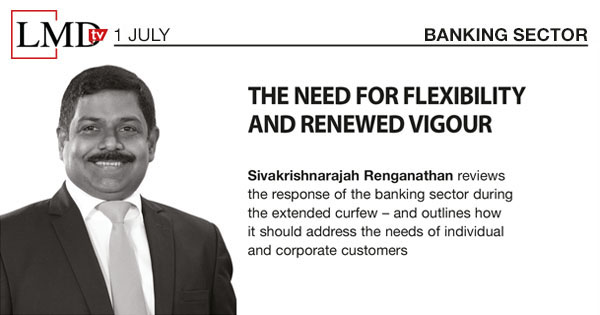 Commercial Bank of Ceylon Managing Director and CEO Sivakrishnarajah Renganathan said on LMDtv recently that "the banking sector has been dynamic in terms of its response during the curfew imposed as a result of the COVID-19 pandemic."
He was alluding to "implementing the government's guidelines while understanding the requirements of the country and working to address them accordingly."
"Some banks ensured that certain branches remained open during this period while we also recognised the need to provide services to clients' doorsteps, which led to the sector offering facilities such as mobile banking units and digital banking," he elaborated.
Moreover, Renganathan asserted that the banking sector played an active role in executing the relief schemes introduced by the government through the Central Bank of Sri Lanka – such as providing working capital funds and moratoriums to those in need.
"We are currently in the second phase of implementing these schemes, which entails identifying means through which we can help individuals who have lost their jobs or had their salaries reduced," he added.
To address these requirements, Renganathan stressed the need for banks and customers to have a clear understanding of the challenges faced and possible solutions: "One of the most significant issues banks encounter in providing assistance is customers not adequately conveying their problems."
In his view, this logic is also applicable to non-performing loans (NPLs) as the associated stress is the result of poor planning: "When entrepreneurs adequately evaluate risks, they should be able to move on to plans B or C when new issues arise. NPL stress must be balanced by banks and clients working together."
According to Renganathan, the banking sector has been flexible in this regard, going beyond Central Bank guidelines to offer moratoriums to a wider selection of sectors than mandated.
"Presently, we are working on the second part of this initiative, which is organising the repayment process so various payment relief schemes have been introduced for different types of borrowers," he disclosed.
When it comes to global trends, he noted that there's a perception that the world is shifting towards isolated economies, which has led to expectations of regional trade being enhanced further. Moreover, work from home (WFH) has become more widespread while training sessions are being conducted online.
"The pandemic has strained both local and the global economies, and the banking sector is experiencing a difficult time," Renganathan explained, observing that "this will also enable us to introduce innovative and unique banking solutions." And he stated that banks should avoid continually requesting help from the government as this would add to the challenges faced by the nation.
"With regard to certain policy decisions, the government and regulator have looked into various areas such as policy rates, reducing the Statutory Reserve Ratio (SRR) and other instruments," he noted.
Renganathan declared: "The COVID-19 pandemic has presented us with an unprecedented situation and the government has responded with various measures. It is up to the banking sector to hold discussions with clients to identify how we can work with them."
In his assessment of the outlook for the sector over the rest of the year, he pointed out that it will be a challenging period with difficulties continuing to arise – such as NPL stress with the conclusion of the moratorium period.
"The banking sector has extended concessions on a variety of fees and other associated levies, while import restrictions and the reduction in exports will continue to impact earnings," he asserted.
Furthermore, maintaining and managing capital with the reduction in earnings could also pose challenges. "Liquidity may become an issue for some banks but the policy changes should ensure that this is addressed to a great extent," he posited in summing up.