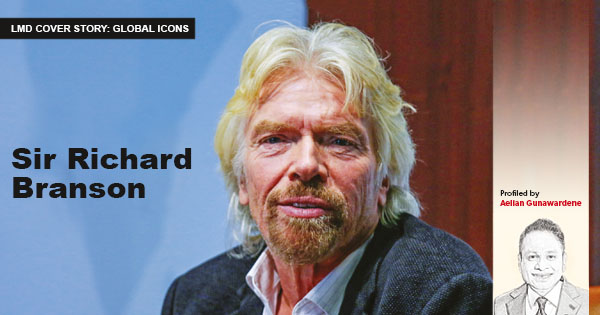 Sir Richard Branson's larger-than-life personality is well documented and the British born businessman is often credited with influencing a legion of would-be entrepr­eneurs to dare to dream big his estimated net worth of US$ 4.3 billion is proof of that. With a characteristically optimistic take on even his most notable corporate failures, Branson has taken Virgin Group to new heights, all the while engaging in multiple humanitarian initiatives that have garnered international plaudits. His entrepreneurial spirit is the stuff of legend. His top five tips are: follow your dreams; do some good; believe in your ideas; keep setting new challenges; and don't give up.
BACKGROUND
DATE OF BIRTH
18 July 1950
BIRTHPLACE
Blackheath (London)
EDUCATION
Dropped out of highschool
OCCUPATIONS
Businessman
Author
HIGHLIGHTS
Entered into his first successful business venture as a teenager
Founder of Virgin Group
Reputation as a risk taker and self-promoter
Contribution to the field of entrepreneurship
QUOTE
Starting your own business isn't just a job – it's a way of life
Sir Richard Branson
Q: What makes Sir Richard Branson an icon for entrepreneurial spirit?
A: My wife and I spent six days with Richard (as he prefers to be called) at his resort – the Mahali Mzuri in Kenya. A humble personality, he prefers even the resort staff to address him by his first name.
His business philosophy is hiring and inspiring the right people, and drawing out the best in them. Moreover, his brand stands for fun as Virgin does most things differently.
Sincere, dependable, ingenious and passionate are a few qualities that describe his personality. Contrary to what many say, he is not preoccupied by titles. Instead, he's focussed on his goals and embodies his brand 'Virgin' – he rose to fame as a leader in personal branding and entrepreneurship.
His focussed drive is unique and he's known for out-of-the-box thinking, from daredevil acts and playful bets with friends to providing quirky hotel amenities for female travellers, and the success of Virgin Airlines amidst stiff competition and purported sabotage from larger airlines.
Q: And what lessons can we learn from his life?
A: From our personal encounter with him and his wife Joan, his attention to detail and reflective thinking during our long conversations, thoughtful feedback and sharing of ideas, the care he took with each of his guests and above all else, his humility, generosity and 'charitability' have made a great and lasting impact on my wife and I.
His respectful attitude towards friends and staff was equal; and his good-natured spirit made for excellent company where everyone felt at ease. These are valuable character qualities we should emulate.
Q: How can Sri Lankans be as revolutionary as him?
A: He loves experimenting – and is unafraid to take risks if he perceives a fruitful outcome. His love of adventure, eccentricities, and unashamed view of failure as a means of learning and personal growth have pushed him to become a self-made billionaire.
Local entrepreneurs must be unafraid of risk even if they fail. The mentality of failure must be renewed to reflect learning and growth. Up-and-coming entrepreneurs must use technology, innovate and bring new creations to their fields.
Aelian Gunawardene
Founder
Managing Director