MARINE RESEARCH OCEANS' CHAMP
Dr. Asha de Vos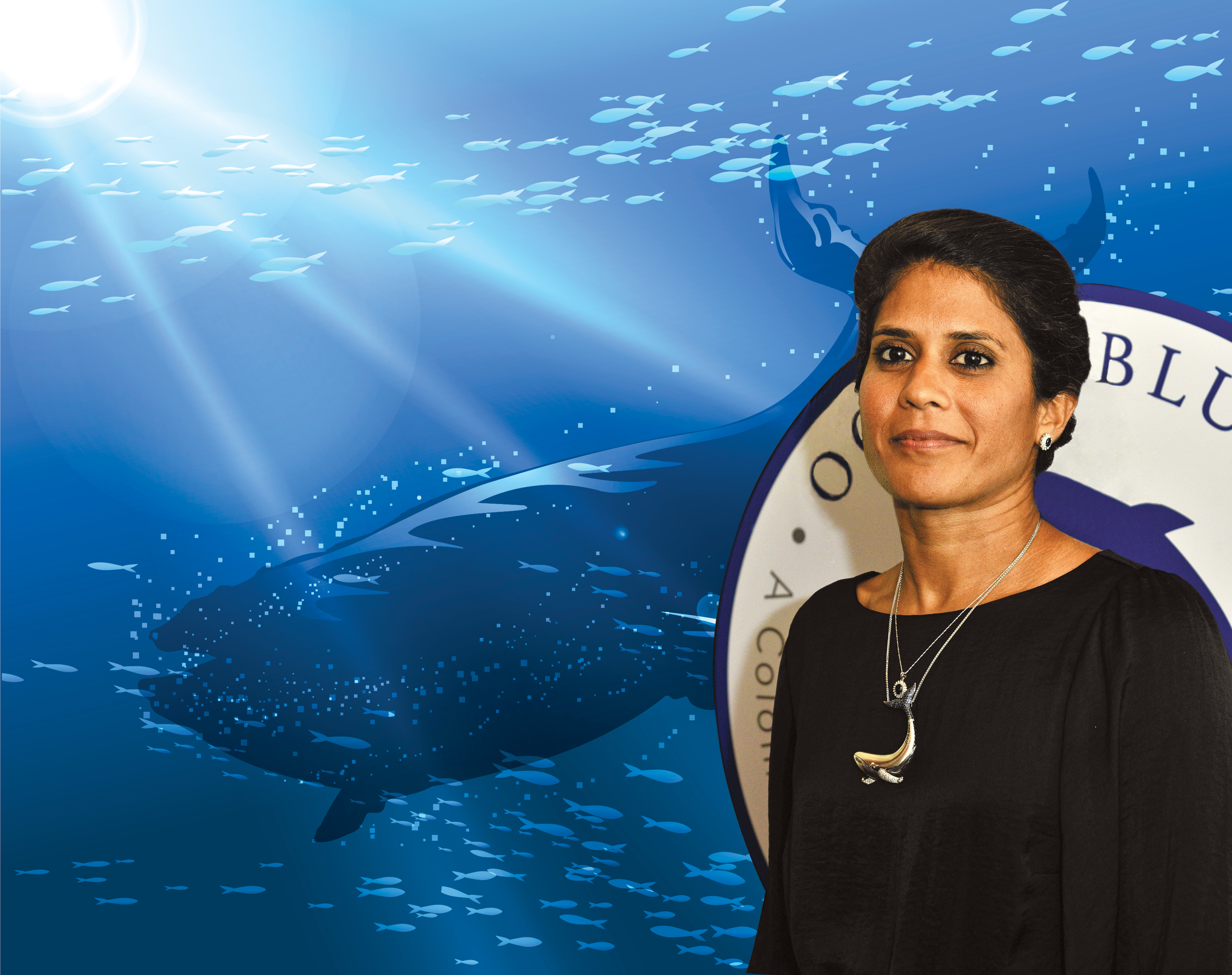 A commitment to increasing awareness on northern Indian Ocean blue whales and inspiring the next generation of marine biologists make for a true scientist role model
The likes of sporting and civil society icons, industrialists and prominent policy makers typically hog the limelight for having placed the national interest above all else – and doing Sri Lanka proud each year. Such individuals are also hailed for setting new benchmarks and inspiring future generations to contribute towards the country's progress. This in fact is the basis for LMD's annual nomination for the prized accolade 'Sri Lankan Of The Year' (a.k.a. SLOTY).
But despite the mega efforts that make for what are often pioneering endeavours, those from among the academic or scientific communities tend to languish within the ranks of unsung national heroes. Indeed, it takes years of striving towards a goal – not to mention the negative responses of naysayers who arbitrarily dismiss their findings at times – for them to gain the recognition they richly deserve.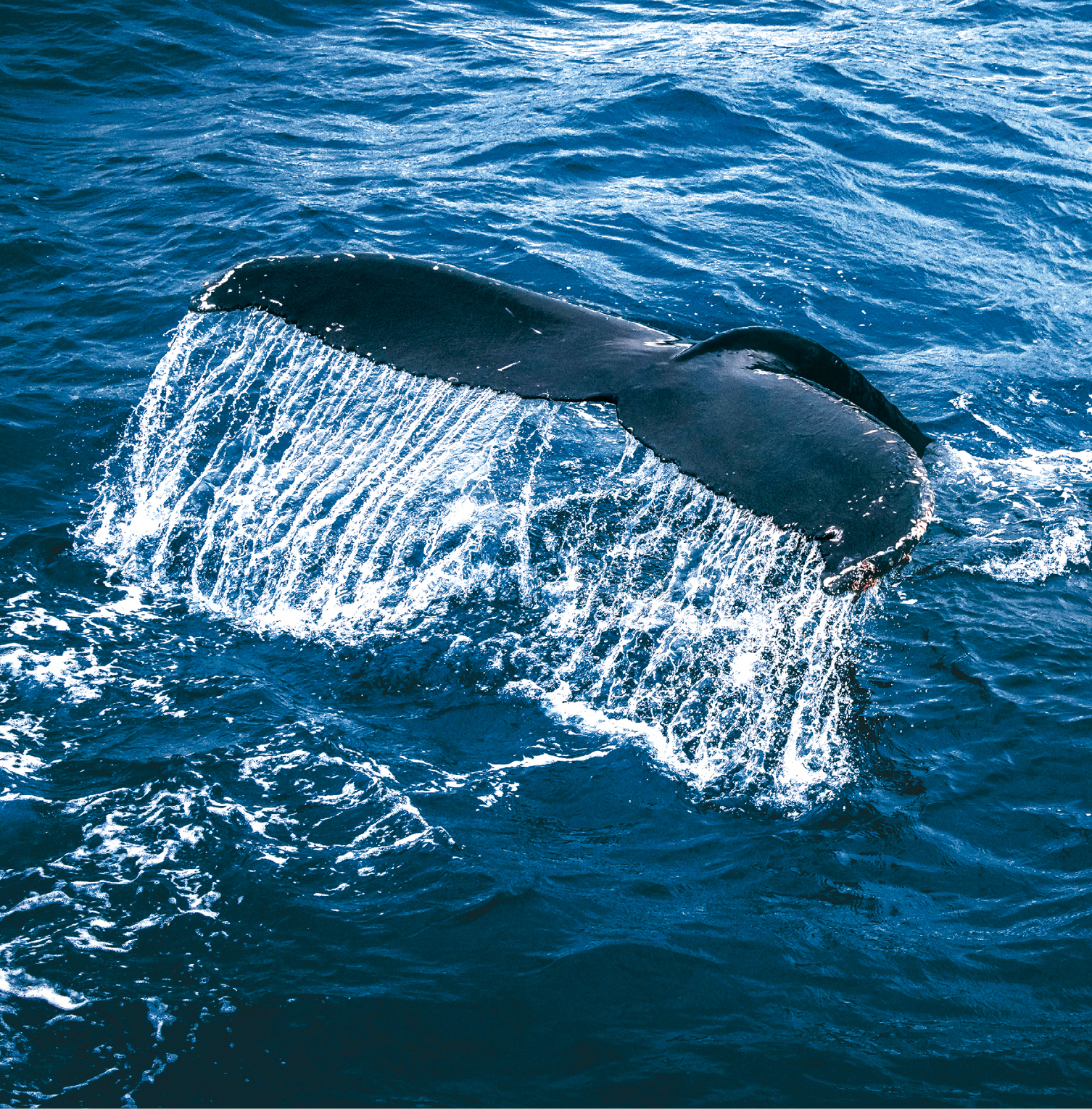 INNATE CURIOSITY Fuelled by an innate curiosity and interest in all that surrounds them, the scientific researchers among us are also often unafraid to go against the grain, to posit theories and models that never cease to astound lay members of society.
In such a milieu, Dr. Asha de Vos has gained traction for championing the cause of one of the most overlooked members of the natural environment – our ocean giants.
A Sri Lankan marine biologist, ocean educator and pioneer of blue whale research in the northern Indian Ocean, de Vos refers to the population of blue whales in Sri Lankan waters as 'unorthodox whales' because through many years of research, her work has revealed that they are simply different.
THINKING BIG And while she holds a number of academic qualifications in her area of expertise, de Vos bypassed academia to establish Oceanswell – Sri Lanka's first marine conservation research and education nonprofit.
The Sri Lankan Blue Whale Project, which commenced in 2008, is the first long-term study on blue whales in this region – it is Oceanswell's flagship project. The research conducted through this project has led to many key research publications, and is used to dictate policy at both local and global levels.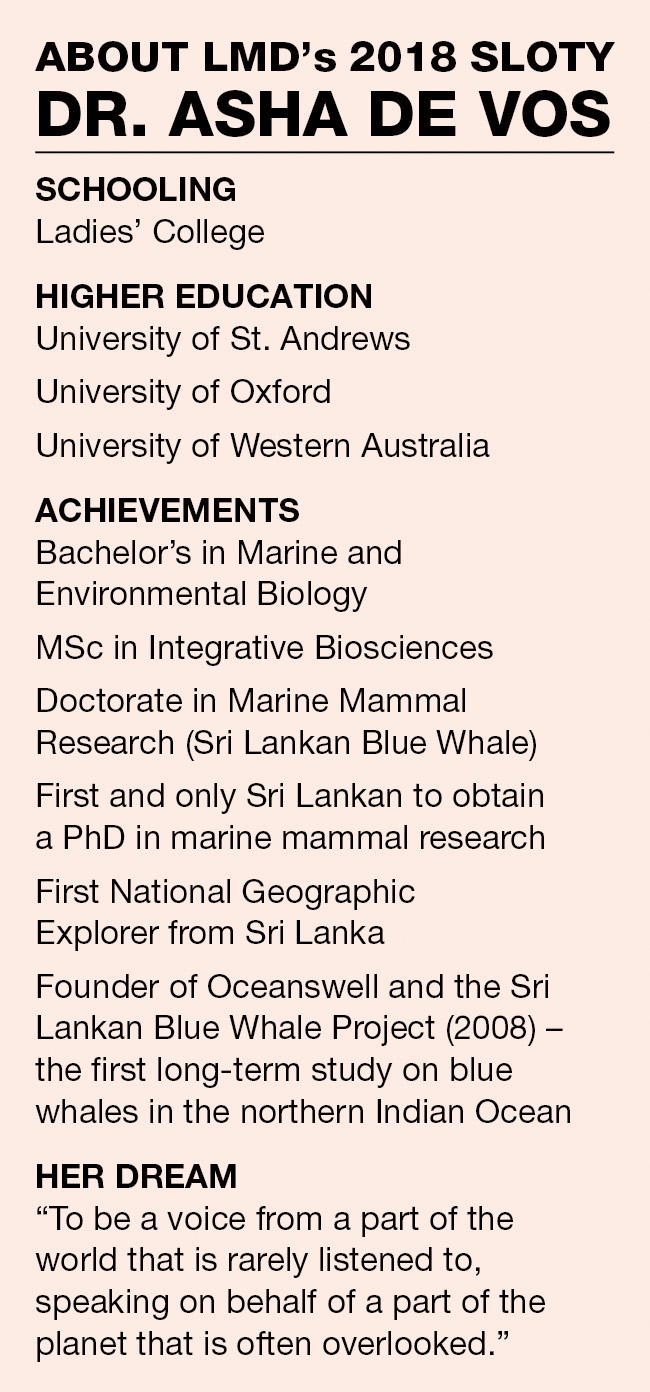 Oceanswell is engaged in 'thinking big' to solve challenges, mentoring to mobilise, conservation research, storytelling to save oceans and educating to empower.
The organisation says that "Sri Lanka may be a beautiful tropical island but marine biology is a largely unorthodox career choice. Our founder Asha followed her passion but did not have the privilege of a peer group or mentors. She feels strongly about changing this and provides mentoring opportunities to students dreaming of exploring or entering this field."
PASSION PAYS De Vos travels across the world to ensure that the oceans of the global south have a voice on the international stage – and indeed, to increase awareness of the magic of what lies beneath them while also sharing her stories here in Sri Lanka.
In an interview with The Wiley Network earlier this year, she confessed to being "obsessively passionate" about sharing her ocean adventures and science with everyone. Moreover, de Vos emphasised the need to protect blue whales and that "there are ways to ensure that the economy of the country is not affected while also protecting this species that we use for our tourism industry."
She was recently featured on the BBC 100 Women 2018, which is a list of inspiring and influential women from around the world.
GIVING BACK Having earned global repute in her field of study, de Vos remains committed to giving back to her native land: "I had to leave Sri Lanka to study. Even though we are a beautiful, tropical island, it is rare to have marine biologists here and impossible to get a degree in this field."
"So I went to Scotland. Sri Lankans would always ask me what I was going to do with my degree. They were convinced I would never come home. But my intention was always to go away and learn, to amass the knowledge I needed so I could come back and serve Sri Lanka," she adds.
Most recently, de Vos partnered with Colombo Jewellery Stores (CJS) to launch a marine conservation project titled 'From Ocean Blues to Oceanswell' to raise awareness among the public and policy makers.
To be rolled out in three phases, the project will encompass collaborating with fishermen "to understand the impacts of increasing ocean noise levels on local whale populations," produce an information guide for whale watching tour operators in order to educate them and focus on skills development for people seeking a career in marine conservation.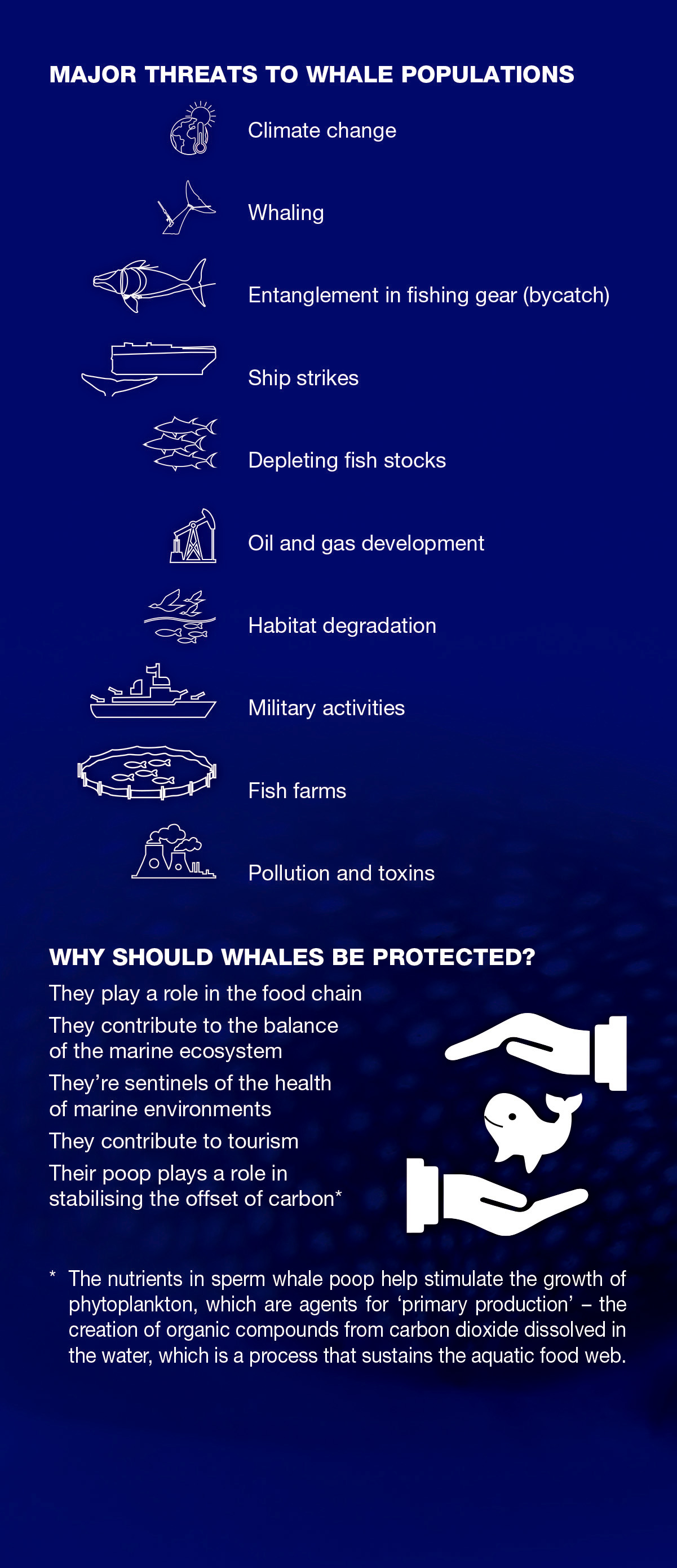 IN GOOD COMPANY As LMD's 24th SLOTY, Dr. Asha de Vos finds herself in the company of some of Sri Lanka's most eminent citizens over the years, a number of whom have had their names etched in the annals of the nation's rich history.
De Vos' passion, persistence and hard work have evidently paid off, and they ought to stand her in good stead in the years ahead. Never one to shy away from a challenge, she inspires Sri Lankans and citizens across the world to continue to reach for their dreams – even when they may seem impossible.
Or in her own words: "Challenges are things you can climb over or walk around. There's no such thing as a never-ending wall. Life is all about the story, and it's a better story if there are ups and downs."
ON TWO COVERS Purely by coincidence, Dr. Asha de Vos also features on Living's groundbreaking 'Christmas cover' along with six other Sri Lankan celebs. In an exclusive interview with Ruwandi Perera, she says of her New Year resolutions: "Every year is about how to be the change I want to be; it's the one resolution I can keep – to leave the world a better place than I found it."
Asked to name the one thing she could change about herself in the New Year, de Vos responds: "In general, I don't like to change things about the past. I will take the lessons – good or bad – and move forward. We can't live in the past since it is unchangeable. Rather, it's about learning lessons and moving forward."
"I'm totally driven by the cause of protecting the ocean. So for me, it's always another day to be grateful for the job I do while working to get people more excited about the ocean and its inhabitants," she adds.
Indeed, life is all about the story.
ADVENTURE SCIENTIST
EXTRAORDINAIRE
Dr. Asha de Vos has blazed a trail in the field of marine research – and turned the spotlight fairly and squarely on a mammal species that is well worth the attention
Pia Hatch captures the essence of SLOTY 2018
Google 'Dr. Asha de Vos' and you will find a slew of headlines announcing the numerous awards and commendations she has received. While some of the images that pop up show her accepting these awards, most feature Asha sitting in a boat and smiling broadly as she gazes out to sea wearing sunglasses.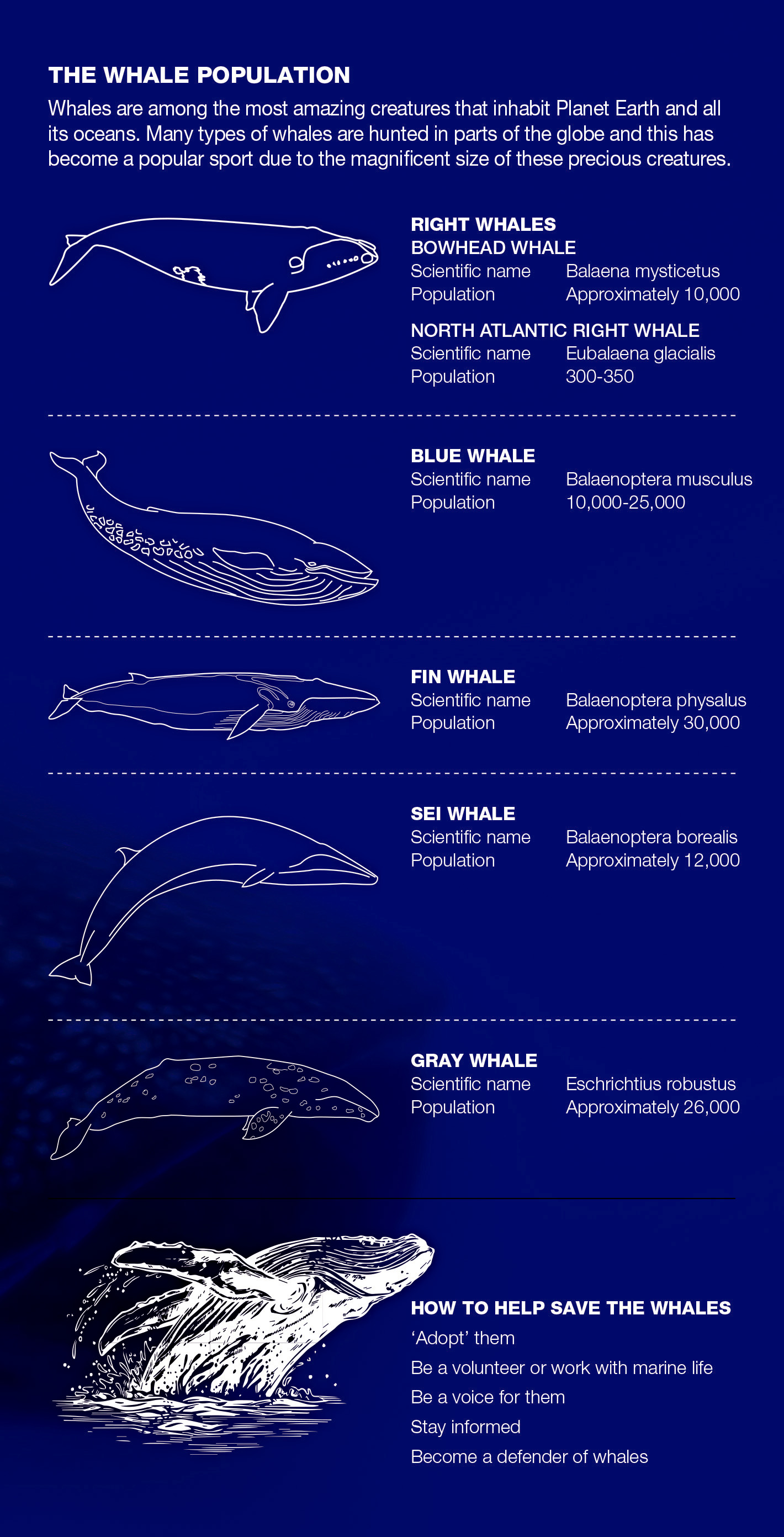 The quintessential Dr. Asha de Vos is the one we see in these pictures, watching for the creature that (thanks to her efforts) we've learned so much more about – the Sri Lankan blue whale.
A marine biologist, Marine Conservation Action Fund fellow and National Geographic Explorer, de Vos is the first and hitherto only Sri Lankan to gain a PhD in marine mammal research. As an ocean educator and pioneer of blue whale research in the northern Indian Ocean, she founded the Sri Lankan Blue Whale Project in 2008.
Her tireless research led to the recognition of the Sri Lankan blue whale as a species that's in urgent need of conservation research; and it gave birth to a collaboration between the Government of Sri Lanka and International Whaling Commission (IWC) to battle whale ship strikes.
PERENNIAL WATER BABY De Vos traces her interest in the sea to her childhood. A swimmer from the time she was three years old, water has always been the element she's most at home in. Combined with her adventurous spirit and curiosity, this had the makings of a child who set her sights far afield.
Curiosity was an attribute her parents encouraged, exposing their children to many different people, places and experiences. Sitting with renowned science fiction writer Sir Arthur C. Clarke and listening rapt to the tales of his many intriguing dives are among de Vos' strongest and fondest memories.
Similarly, she recalls the hours spent leafing through the secondhand National Geographic magazines that her parents bought. The pictures awakened her desire to discover and explore. Enthralled by the world between the pages so to speak, Asha knew she would one day be an 'adventure scientist.' And by the time she was 18, this dream had a sharper focus thanks to marine biology.
CHAMPION OF THE UNORTHODOX LMD's 'Sri Lankan Of The Year' is quite literally responsible for discovering a subspecies of whale. But her pioneering work on the 'unorthodox' blue whales of Sri Lanka may never have transpired if it hadn't been for the fact that she herself isn't very orthodox.
It was sheer determination that got her onto the research vessel that would carry Dr. Asha de Vos to Sri Lanka. After three months of writing to researchers every day until they agreed to take her on board as a deckhand, de Vos soon became the team's science intern – and as she's famously said, "a pile of blue whale poop" led to her phenomenal discovery.
De Vos' identification of the unorthodox blue whales of Sri Lanka set the course for her life as she became the foremost authority on and champion of this unique subspecies.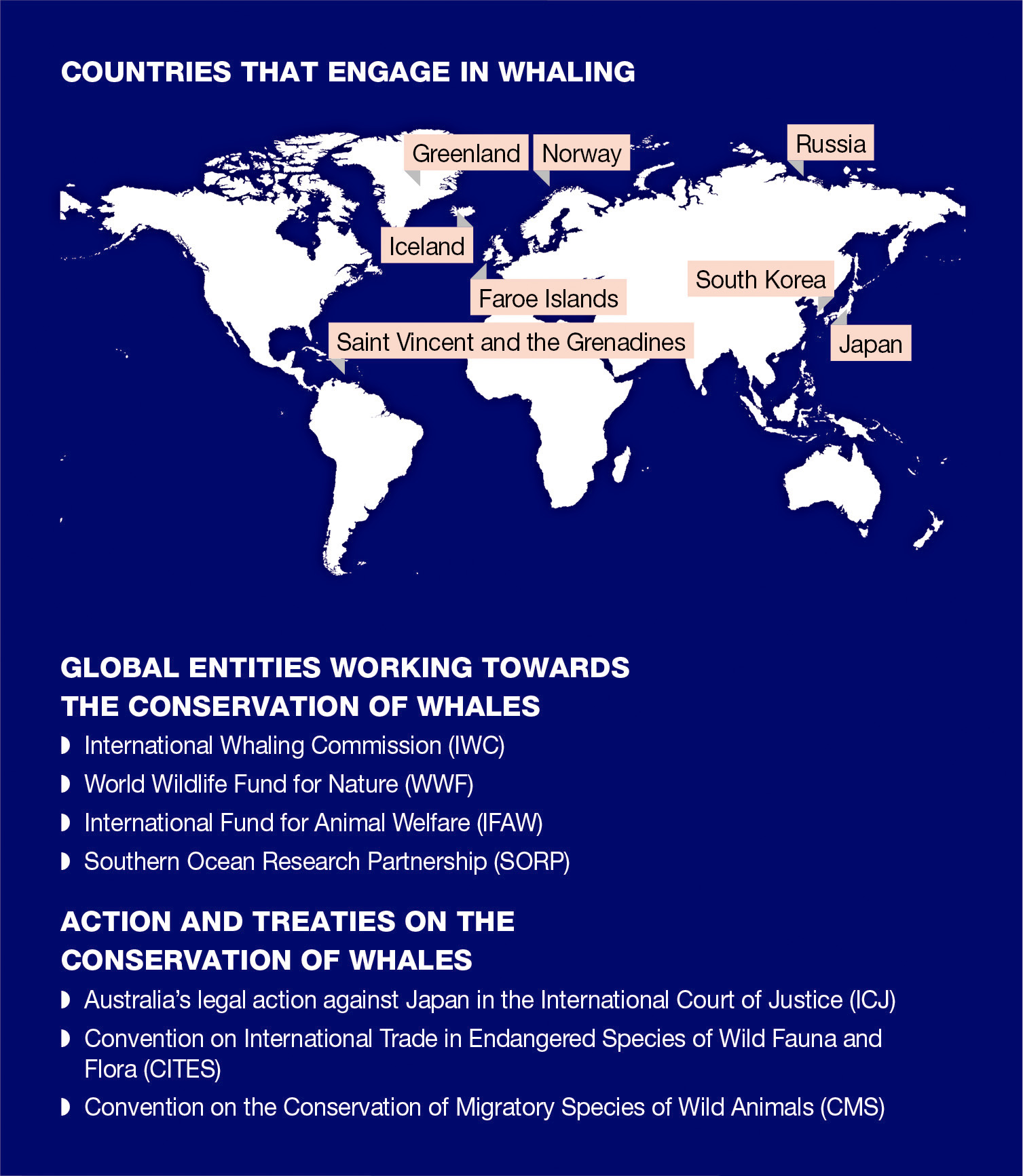 Her efforts to ensure protection of the blue whales of Sri Lanka form the heart of her work: "One of the biggest problems we have in the developing world is that there's not enough awareness. If I want to solve a conservation problem, it's not about me. It's about how many other people I can make sure understand what the problem is and what the value of this thing is in our ecosystem."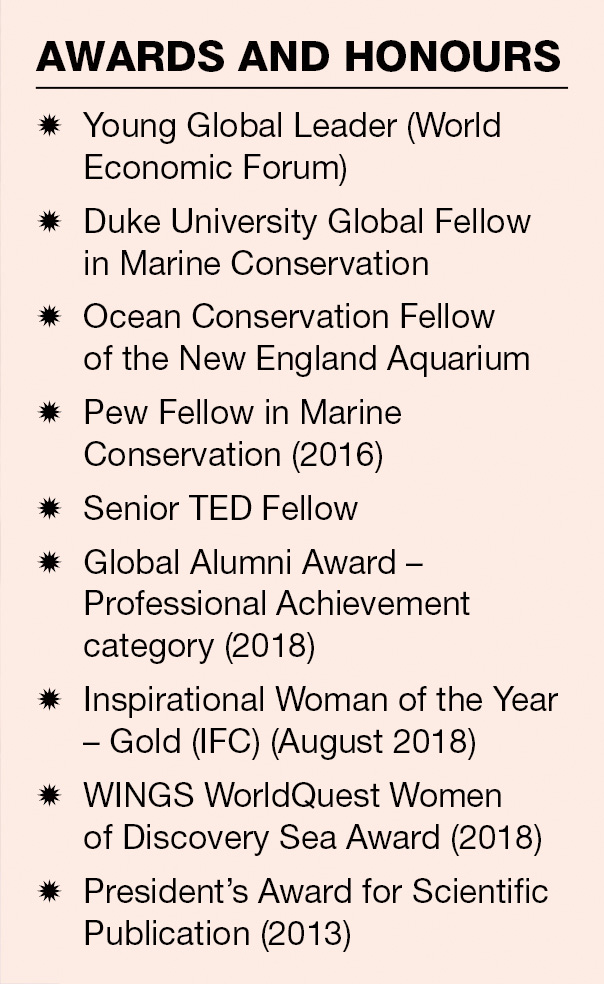 KNOW YOUR SUPERPOWER De Vos is also passionate about challenging the limitations faced by people in the developing world who seek to enter the field of marine conservation, and strongly committed to creating opportunities and encouraging diversity.
In 2016, she received a Pew marine fellowship, which enabled her to establish Sri Lanka's first marine conservation research and education nonprofit – Oceanswell. The organisation is de Vos' way to create sustainability, providing training and education for Sri Lanka's next generation of marine conservationists and policy makers.
Oceanswell also creates and spreads public awareness through online and hands-on field educational courses in marine ecology and conservation. For de Vos, Oceanswell is a way of ensuring that her work with her beloved blue whales will continue long after she's gone.
Her visibility is her superpower – a medium that she can use to disseminate information, exchange ideas, educate, inspire, collaborate and reach out.
Becoming a role model wasn't part of the plan but she wears the hat with pride. And Asha never fails to thank her family and parents for supporting her dreams, and providing the freedom to pursue them.
Dr. Asha de Vos is a true inspiration – in the field of marine biology certainly but perhaps more importantly, for anyone who is chasing an unorthodox dream.
To all those who seek to explore and adventure, de Vos' message is simple: "Be free to dream and live a life that is truly yours."
"Dr. Asha de Vos is a true inspiration – in the field of marine biology certainly but perhaps more importantly, for anyone who is chasing an unorthodox dream…"