WEATHER WARS
NATURE'S FURY TAKES ITS TOLL
Amantha Perera notes that droughts, floods and storms are par for the course these days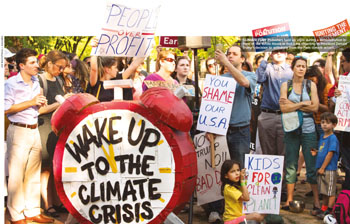 The term 'climate change' isn't alien to any of us. It has been in our peripheral use for over a decade if not more. We know many such terms and we have a faint idea about them despite not having any detailed information. So yes, we have some knowledge about climate change – and we know that it's an important issue for mankind's survival – but we don't know enough about it.
Despite our ignorance though, climate change is costing us billions of rupees. The World Bank has said that the overall cost of natural disasters to the country is Rs 50 billion (US$ 327 million) annually. That's a massive sum especially for a debt ridden country like ours!
Climate change has been linked to the extreme weather events that have increased in frequency and potency. A few months ago, there were record floods in the US and South Asia, while other parts of South Asia and Africa were facing a severe drought. And in Sri Lanka, the recent drought was the worst in 40 years.
But few understand what this is all about; why the world has come to such a tipping point; and the global, national and individual contributions that have led to it.
One man has done more to make people look up and take note of this in recent times. He is none other than US President Donald Trump although this may not have been his intention.
When Trump announced in June that he was "elected to represent the citizens of Pittsburgh, not Paris" and was pulling out of the Paris Agreement as "a reassertion of America's sovereignty," people across the world looked up. Suddenly the 'Paris deal' became a hot topic and climate change had America all worked up.
And of course, when the Americans are worked up, it generally means that the rest of the world (well, most of it) follows suit.
Germany, China and France were quick to tell the world that merely because the US pulls out of the Paris Agreement, it would not become impotent. But in fact, the agreement was considered a landmark accord when it was signed because the US had finally lent its weight to the global fight against climate change.
Following Trump's remarks, the leaders of France, Germany and Italy issued a joint statement that asserted: "We deem the momentum generated in Paris in December 2015 irreversible, and we firmly believe that the Paris Agreement cannot be renegotiated since it is a vital instrument for our planet, societies and economies."
In fact, if the US follows the exit path outlined in the agreement, it would take 42 months and this would mean that Trump would be at the tail end of his presidency and on the brink of the next presidential election when the exit becomes final and effective.
German Chancellor Angela Merkel telephoned the US leader to express her displeasure and followed it up with a call to French President Emmanuel Macron. Soon afterwards in a televised address, Macron said Trump had "committed an error for the interests of his country, his people and a mistake for the future of our planet… I tell you firmly tonight: we will not renegotiate a less ambitious accord. There is no way. Don't be mistaken on the climate: there is no plan B because there is no planet B."
But criticism seems to embolden Trump and reaffirm his beliefs. In an odd turn of events, the US now has the dubious distinction of being in the same club as Nicaragua and Syria – both of which opposed the Paris Agreement. And ironically, Uncle Sam is currently bombing one of them.
But beyond the headlines and catcalls, Trump may have done the fight to protect the environment a favour by reneging on the climate deal. His actions have succeeded in bringing into the limelight the momentous issue of climate change.
Following the president's comments, climate change has been on every agenda everywhere – including some states in the US itself – which may prove to be far more important than lending paper support.
But if Trump wanted to be rid of pesky climate issues with one stroke, it wasn't going to be that easy. Some two and a half months after he announced the pullout from the Paris deal, Hurricanes Harvey and Irma came barrelling into the US. And like in the case of Katrina in 2005, they demonstrated yet again how devastating extreme weather events can be.
The truth about America is that regardless of how critical an issue is to the world or what Hollywood movies may say about the country's international concerns, unless and until disaster strikes the US, it really doesn't matter. So it will be interesting to watch how Trump's anti-climate accord stance will play out for shell-shocked and rain soaked Americans.
Climate change cannot be reversed. Carbon dioxide levels in the atmosphere are three times more than what is ideal, according to some studies. To bring them down to a level that's even barely acceptable would take more than a generation.
Proponents of climate change need all the support, publicity and awareness they can get. And in truth, more than concurring governments, they need to have corporates and consumers on their side.
White House ignorance and Harvey's devastation have provided a shot in the arm for the climate change discourse to stay alive. And if nations like France, China and India meet their commitments following the Paris accord, the world will see Trump's folly – although there's no guarantee that US policy will be reversed even then.