UZABASE INC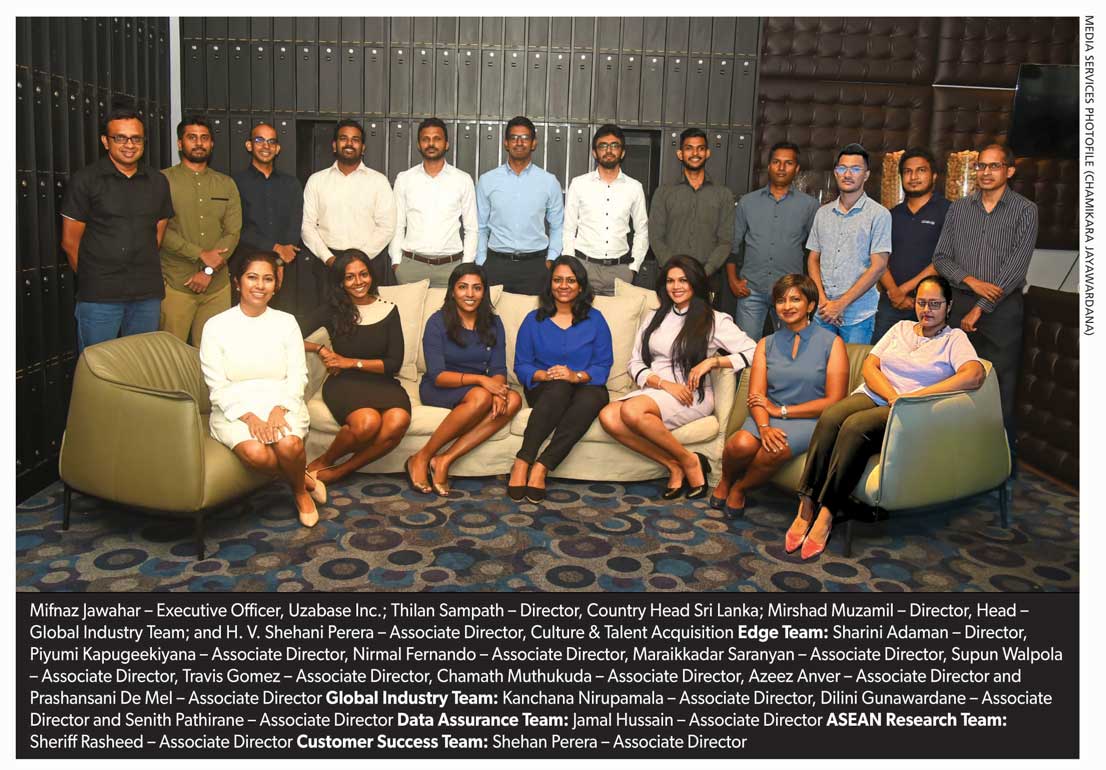 Q: Could you provide a brief overview of Uzabase Inc. and Uzabase Sri Lanka?
Mifnaz: The Sri Lankan office, launched in 2016, operates as the research centre for two of Uzabase's products – SPEEDA, a business intelligence platform and one of the company's core products that contributes to almost half of our revenue; and SPEEDA Edge, a newly launched emerging technology research platform.
The Colombo office was mainly established to broaden the coverage for data compilation, research and analysis in the English language. We started by expanding coverage to countries where data was easily accessible in English – like the US, Australia, India and the Philippines.
Q: What is the philosophy of Uzabase from an organisational point of view?
Shehani: With the purpose of 'Awaken a world of play in business, with our insights,' we believe in the harmony of three things – the individual's purpose, the company's purpose and a sustainable society.
Our company believes that the pursuit of economic rationality and sustainable society should not be mutually exclusive. Therefore, while creating products that combine data, content and expertise through technology, we also want to ensure that employees achieve work-life balance and their purpose is aligned to the company's purpose.

Q: What is your target audience – and how would you describe the market vis-à-vis demand?
Thilan: While we cater to both the B2B and B2C business intelligence markets, SPEEDA and SPEEDA Edge target the B2B market.
SPEEDA serves business corporations as well as professional firms – viz. investment banks, consulting firms, asset managers and the like. It is used by over 1,600 companies including corporations, financial institutions and consulting firms in a wide range of business scenarios – including formulating midterm management plans, M&A strategy, new business development or global business strategy.
SPEEDA Edge is designed for corporate innovation teams and corporate venture capital units of business corporations, as well as venture capital funds. Our clients mainly come from Japan but we're actively expanding in the US and Southeast Asian nations.
Q: How did the COVID-19 pandemic impact Uzabase?
Thilan: The pandemic's aftermath largely depends on the organisation's capabilities.
As for Uzabase, there was no visible adverse impact on our business performance, mainly given that Japan as a market was not severely affected; the transition to the 'new normal' even while operating across borders without physical connections was smooth as the necessary infrastructure was already in place.
In 2020, we were able to meet and exceed our targets with a consolidated sales growth of over 30 percent year on year; and in 2021, around 25 percent year on year – which we believe is an extraordinary achievement.
Shehani: It was also during 2021 that we recruited the most number of employees in a single year – the headcount addition was close to 40.
Q: What are the key challenges Uzabase faced since establishing the regional office in Sri Lanka?
Mifnaz: Bridging the language barrier to facilitate better communication with our Japan-centric headquarters was one of the key challenges.
However, our Tokyo office has continuously taken numerous measures to help overcome this barrier through organising English-specific meetings and town halls, and using real time interpreters and machine translations – and today, we have come a long way in this regard.
Competing for the best in class analyst talent from a small pool of candidates is another challenge we came across as Uzabase is highly selective in terms of recruitment and competing with the more prominent, well-known brands was not easy at the onset.
However, we are now able to more easily attract the very best talent in the country and have established ourselves well in the research space.
Q: Could you outline Uzabase Sri Lanka's plans in terms of expansion?
Mirshad: Uzabase set foot in Colombo with just seven team members in 2016. Over the years, Uzabase Sri Lanka expanded by adding more members to its analyst team. In addition, we have expanded into new verticals such as data, customer success, editorial and design; and software engineering is on the cards.
We believe this momentum in recruitment will continue in the years to come, given the compelling value proposition in terms of talent and cost Sri Lanka offers to our Japanese office.
Q: Given what Uzabase Sri Lanka offers regarding work exposure, would you position it as a unique and unprecedented employer in the Sri Lankan job market?
Mifnaz: Our analyst team members are exposed to multiple geographies – the US, Australia, Europe and Southeast Asian markets – covering diverse industries in these regions. They actively specialise in key sectors such as healthcare, finance, transport, retail etc.
I believe the exposure of this calibre is not available in many other research firms in Sri Lanka.
In addition to the traditional industries, the newly established EDGE content team actively covers new technologies and emerging industries, such as quantum computing, AI in drug discovery and development, climate tech, neo banking, smart farming and much more.
Thilan: They learn about how new technologies are disrupting traditional work and industries, and gain a deeper understanding of the startups in the space. They also have the opportunity to interact with the founders of these startups in some instances.
This is a unique opportunity that can add immense value to an individual's career growth.
Shehani: We also believe in compensating employees above the market and ensuring our team has a healthy work-life balance – which we actively monitor and make any necessary changes if there are concerns.
One of the most common feedback we receive from our team at the '1:1s' is the fact that Uzabase takes care of employees above and beyond. The company culture encourages open communication and transparency. Transparency is not limited to words; it is practised to a level where our salary titles and pay scales are open to the entire company.
Mifnaz Jawahar
Group Executive Officer
Thilan Sampath
Director
Country Head Sri Lanka
Mirshad Muzamil
Director
Head – Global Industry Team
H. V. Shehani Perera
Associate Director
Culture & Talent Acquisition
Telephone 2307922  |  Email shehani.perera@uzabase.com |  Website www.uzabase.com