TRILLIUM HOTELS & VIP RESIDENCIES
Creating a paradigm shift in managing care for those in their twilight years, the Trillium Group is launching Trillium Hotels & VIP Residencies. This is a landmark project in Colombo 7, positioned as the benchmark to herald contemporary lifestyles boasting comfort, stability and indulgence among a discerning collective of like-minded individuals stepping into their sunset years.
Q: Could you offer insights into the rationale behind this concept?
A: Investing in continuing a comfortable lifestyle augmented with value additions to enhance that comfort and ultimate contentment is an imperative for those entering their twilight years. Lifestyles were created and careers have been fulfilling but for most, the chapter beyond becomes challenging.
Additionally, societal norms are quite negative when it comes to moving into retirement spaces as traditionally, Sri Lankans have felt responsible for looking after their adult charges in homely surroundings.
However, this is becoming increasingly difficult with children migrating, and senior citizens living active lives and enjoying a high degree of independence.
It is with this in mind that I realised my longstanding vision of launching Trillium Hotels & VIP Residencies, based on the concept of offering not only a lifestyle that this segment will be accustomed to but also one with the value additions that make life comfortable.
As a five-star luxury boutique hotel – as certified by the Sri Lanka Tourism Development Authority (SLTDA) – we augment our attentive hospitality with a range of customised care and medical services aimed at exceeding expectations.
Q: What is this development's target market and clientele?
A: We're aiming to cater to an exclusive and niche clientele – viz. those who would like to spend their retirement in luxury; foreigners looking to escape extreme weather and spend their retirement years in Sri Lanka; children living abroad who want their parents in Sri Lanka to be cared for; and other long or short-term residents who would like to experience the amenities and premium status symbol that are synonymous with the Trillium brand.
Other gaps we have identified are those convalescing post-surgery and in need of additional care until their recovery, or people who need rest and relaxation post-pregnancy before taking their babies home. Curated short-terms packages have been designed with the needs of these residents in mind.
Q: How would you describe the market opportunities in this segment?
A: Trillium Hotels & VIP Residencies isn't merely striving to set the benchmark for retirement living but is also set to be the industry leader for others to emulate by raising the bar.
We cater to a niche in the upscale market segment and are one of the first companies with a property that embraces even the minutest detail in retirement living.
Q: Could you outline the facilities that Trillium Retiree's Residencies offers?
A: Given our status as an accredited five-star boutique hotel, our public and private spaces rely on luxury indulgence.
From an infinity pool, a 'resto-bar,' a pub on the rooftop with a panoramic 360 degree view of the Colombo skyline, to a dining space on the mezzanine level with a gourmet cuisine offering and a sophisticated ambience, residents can enjoy buffets or à la carte menus individually or while entertaining. In room dining is also a speciality as our unobtrusive service and curated menus add immensely to the dining experience.
A well equipped gym with on demand personal trainers, concierge and butler services, chauffeured limousines, personal grooming and spa services – in addition to a vibrant calendar of social activities and excursions – add companionship and fellowship to the living milieu.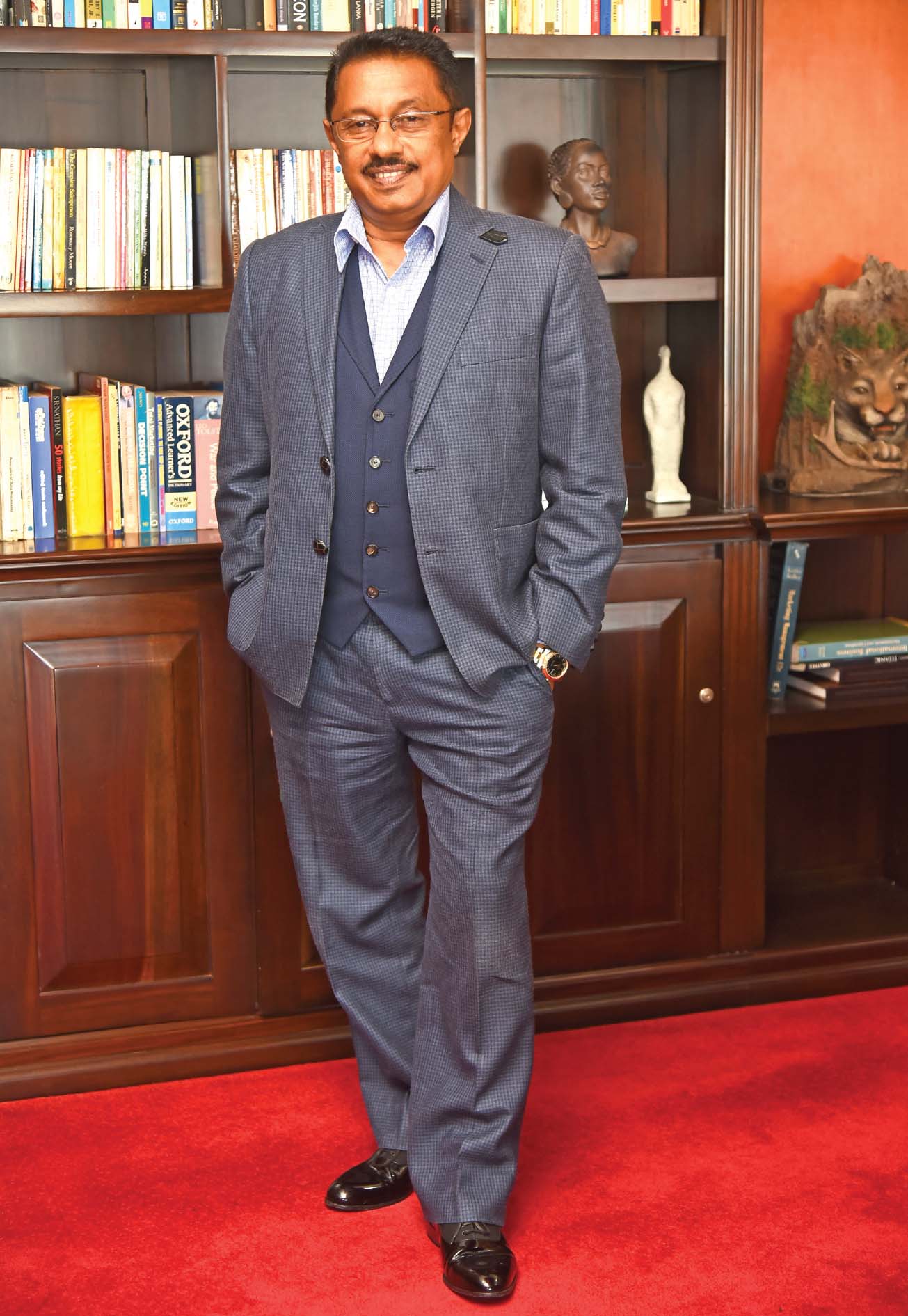 Q: In addition to this, what other services are offered at the residence?
A: We are focussing on medical care and support services to ensure residents' physical and psychological wellbeing.
Firstly, there's our team of medical experts – doctors who are on call 24/7, supported by a team of highly trained nurses and attendants, who are professionally equipped to handle treatments, administration, regular checkups, complex pain management, catheter and stoma care, wound management and mobility. The property's close proximity to premier private hospitals is also a significant advantage.
Specialist doctors are available for consultations at the property. Our concierge will arrange for specialist consultations for residents at hospitals of their choice where attendants will accompany them in chauffeured vehicles.
Ayurvedic treatments under the auspices of a qualified Ayurvedic doctor are also available on demand while physiotherapy and mobility aids are on offer.
A team of trained butlers will be on hand for personal care and grooming, while launderette services are outsourced to ensure quality and efficiency of service delivery.
Our team is always available to support residents in moving around the complex or even on excursions, while chauffeured vehicles can be booked on demand for business travel, shopping, chores, banking or leisure.
The concierge service will also address other non-clinical needs, out of scope challenges and requests on behalf of residents' families.
Q: What makes Trillium Hotels & VIP Residencies special?
A: This isn't merely a property; Trillium is a lifestyle. The property is about luxury and prestige with the convenience of being located in the heart of the prestigious address of Colombo 7.
With three different investment opportunities – i.e. the Luxury Category, Super Luxury Category and Extra Special Category – residents can choose a package that suits their lifestyle, budget and additional requirements to enjoy retirement to their preference.
Investment plans begin at a monthly retainer of only Rs. 350,000 (or US$ 1,800) a person but with the confidence of security, stability and companionship added to the attention to detail Trillium always offers.
Q: Does the residence offer emergency care as well?
A: Emergency care is available around the clock with a doctor on call, and nursing and support teams available at all times. We are also within a 1.5 kilometre radius of six premier private hospitals, which is certainly a value addition.
Q: What do you consider to be the key challenges facing this concept?
A: Ours is a revolutionary and pioneering concept, which also means there is an inability to predict market behaviour.
Changing mindsets is another challenge given the general perception among society regarding places of retirement.
Catering to a premium niche market has its limitations but Trillium has always espoused luxury beyond aspirations so I believe this is an opportunity rather than a challenge.
Q: In your view, what is the future for similar services?
A: The WHO estimates that nearly a quarter of the world's population will be over 60 years old by 2050 and a segment known as the elder care services market has emerged.
In contrast to other aged care solutions available, the speciality of this project is that it's customised for senior citizens, empowering them with independence and confidence, and adding facilities that support an active and happy lifestyle.
Given the opportunities I see for this market segment, we have set the trend and others will surely follow soon.
In close proximity to the Maharagama town, we have two acres of lush paddy field on which we plan to construct a 100 room facility, expanding this venture in the near future.
Q: Going forward, what are the plans for the Trillium Group?
A: Trillium Hotels & VIP Residencies is the newest addition to the Trillium portfolio, which encompasses 35 residential units in Colombo 7 with luxury being the overarching theme.
In the next phase – apart from the planned 100 room residential facility in Maharagama – we also intend signing MOUs with leading banks and insurance companies to incorporate Trillium projects into investment plan solutions including attractive payment plans.
– Compiled by Isanka Perera
INTERVIEWEE DETAILS
Janaka Ratnayake
Chairman
COMPANY DETAILS
Telephone:7999123
Email:chairman@trillium.lk
Website:www.trillium.lk