EVOKE INTERNATIONAL
Q: In a sector that is expanding rapidly, how does a business such as Evoke International seize opportunities to be positioned as a major contender in its domain?
A: Since the organisation's inception, Evoke has been a pioneering and dominant player in the telco value added services (telco VAS) sector.
Over the years, we have built a reputation as a reliable and robust content and technology service provider, and continued to strengthen our partnerships with all of Sri Lanka's telecommunications service providers, as well as our valued movie, teledrama and music content suppliers.
These relationships – combined with our creative and technological expertise – ensure that we are a strong contender in our domain of business.
Q: Could you outline the organisation's value proposition – and how does this serve as a competitive advantage?
A: Even though Evoke's major direct customers are the nation's five mobile operators, our solutions and services cater to millions of their subscribers located around the country.
To be selected and continuously operate as a preferred telco VAS partner, we need to ensure that Evoke is dependable and works professionally. Therefore, our value proposition revolves around delivering quality, reliability and innovation, by means of new and existing products and services.
The company's competitive advantage is derived from partnerships; the vast content libraries we have built over time; the innovation and creativity that stems from our expert in-house teams; and our ability to reemerge in the market quickly with better quality products.
Q: The combination of innovative offerings such as My Buddies and EvoPlay, and strategic partnerships with telcos, must have a positive impact on the business' performance. Could you explain how this has impacted the company's financial stability?
A: To provide a brief overview of these two products, My Buddies is an app that provides fans with the ability to stay updated on the latest news stories and profiles of their favourite celebrities.
On the other hand, EvoPlay is one of the largest local content libraries with a collection of more than 500 movies, teledramas, talk shows and popular songs, positioning it as a complete local entertainment hub.
Together with our partnerships with telcos, we take these products to the mobile devices of millions of Sri Lankans.
For a company operating in any sector, financial stability is vital to ensuring sustainability. This requires a robust business model.
Where Evoke is concerned, we always look ahead and try to predict industry conditions for the next five years. This enables us to plan our cash flows and financial positioning in a timely manner.
One of the main areas on which our business model is focussed is R&D. This is where we allow team members to build on their ideas and support them in coming up with the next big product. As such, this aspect of our model is invested in heavily, which includes acquiring the content needed to ensure sustainability.
Q: Evoke Music boasts over 700,000 subscribers and My Buddies lays claim to more than 50,000 subscribers while the company's portfolio encompasses a range of other operator fuelled VAS products. How have Evoke's employees, team structure and middle management contributed to this success?
A: Evoke maintains a very open culture where idea generation is encouraged and reinforced by management.
Our teams work closely to come up with innovative changes, new products and solutions. Equipped with the best and latest technology, our capable development team builds these products.
Having proper team structures in place is vital for organised and timely execution. This enables us to continuously grow the business.
Q: Could you shed light on the organisation's mid to long-term goals in the post-pandemic era?
A: The pandemic has been a unique experience, serving as a threat to some industries and an opportunity to others. This is an eventuality we never considered in our planning.
Yes, businesses are always ready with contingency plans for when things fall apart. However, no one was truly prepared for a calamity of this magnitude.
This was a great eye-opener for many organisations and it also gave us an opportunity to understand the robustness of the mobile value added services sector. Indeed, this was probably one of the few sectors to sustain or even grow (where some products are considered) during the pandemic.
We identified great potential for some of our products. It also helped us reflect on our present operations and performances that needed to be reevaluated to strengthen business models to venture through this new journey.
When it comes to medium to long-term goals, we have plans to tread international waters and establish a presence overseas. When you look at Evoke as an IT company that provides digital services, it makes sense that we create brand awareness on an international scale – especially since there is high demand for these services.
Apart from this, we also hope to diversify into new sectors – mainly the television arena.
In the meantime, in a bid to tighten our governance structure, we are also hoping to list the company, which will enable it to obtain the capital needed for rapid growth, sustainability and stability to face any future challenges.
Q: As a 13-year-old brand catering to all telco providers as well as many of the country's largest enterprises, how has the organisation's management embraced corporate governance? And how has this contributed to the evolution of Evoke's approach to its operations?
A: To operate a sustainable business in our sector, providing transparency to telco customers and their subscribers is an essential requirement.
Even from an internal perspective, we have fostered a culture that operates with transparency and clear communication all around. So embracing a good structure of governance while also regulating our services ensures sustainability. This simultaneously enables us to stay ahead of our present and future competition.
Q: How would you describe the main principle by which the company operates?
A: As a value addition end-to-end connoisseur, we at Evoke pride ourselves on offering the latest technological infrastructure, advanced applications and unequalled digital solutions to clients and end users, across the B2C and B2B spectrums.
We believe that as an industry trendsetter and a leader in end-to-end solutions, the key to success lies in offering quality content through easy to use platforms. Engagement is vital, interaction is pivotal and innovation is our lexicon.
This is only achieved by maintaining an open culture among staff members – one that encourages and enables each person on our team to be creative and innovative with equal opportunities for all, irrespective of age, gender, race, religion or social standing.
Evoke is a friendly and welcoming place for all employees, but it's also purposeful and target driven.
As leaders, each moment spent in the organisation is dedicated to our various teams because creating a great working environment positively affects business key performance indicators (KPIs).
Employee satisfaction is a top priority in line with the overall goals and objectives of the company.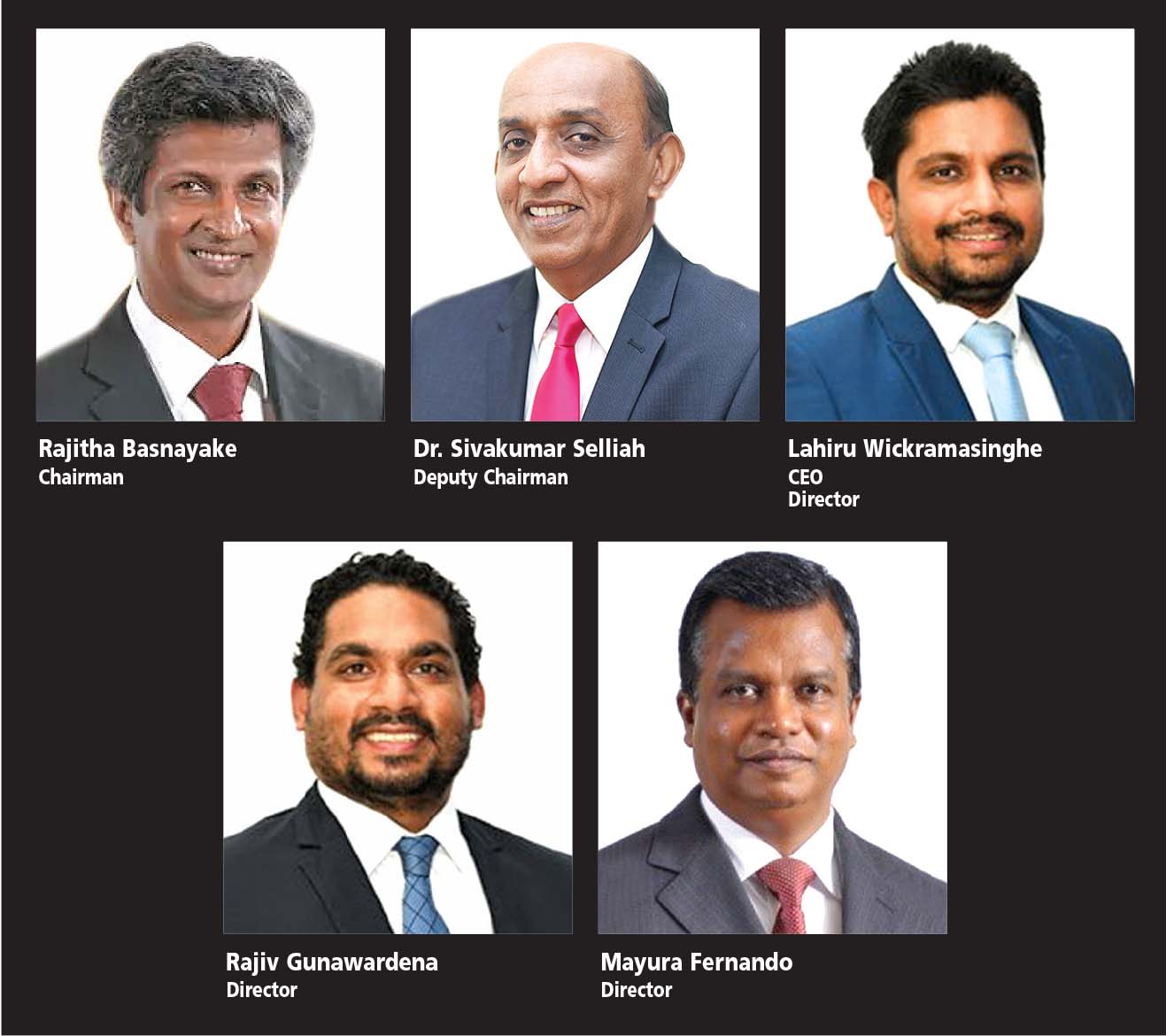 Compiled by Ashwini Vethakan
INTERVIEWEE INFORMATION
Rajitha Basnayake
Chairman
Dr. Sivakumar Selliah
Deputy Chairman
Lahiru Wickramasinghe
CEO
Director
Rajiv Gunawardena
Director
Mayura Fernando
Director
COMPANY DETAILS
Telephone:4899811
Email:info@evoke.lk
Website:www.evoke.lk