TRAINING FOR LOCAL CRAFTSMEN 
The second phase of a project aimed at training and developing the expertise of local bamboo craftsmen was launched in Colombo recently by the UN Industrial Development Organization (UNIDO) under the guidance of Uravu (Indigenous Science & Technology Study Centre) of India.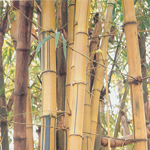 This three phase project is part of the 'Bamboo Processing for Sri Lanka' project, which is designed to improve the bamboo supply chain and product industry in the country, and is funded by the Global Environment Facility (GEF) in collaboration with the Ministry of Industry and Commerce.
Participants selected for the training are artisans who already use bamboo, as well as those who are skilled in working with rattan, wood and similar materials, who will benefit from the principles taught during the programme.