SOLAR ENERGY TO FUEL NATION 
The Ministry of Power and Energy reaffirmed that the first phase of its 'Soorya Bala Sangramaya' (battle of solar power) project will proceed as planned.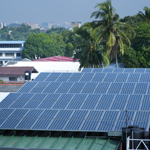 Speaking at a meeting recently, Minister of Power and Energy Ravi Karunanayake asserted that the programme had not changed and urged the public not to heed false propaganda to the contrary.
Launched in 2016, the solar power project will take place over four phases and is expected to add 200 MW to the national grid by 2020. A further 800 MW is anticipated to be added to the grid by 2025 through this project.
Furthermore, a committee has been appointed to inquire into and report on any inconsistencies in the system.