THE BODY SHOP
The science behind body yoghurts
The Body Shop's Wonderfully Wonky and Totally Tangy range is the key to great skin health
We are all familiar with the many advantages to gut health that comes out of eating yoghurt. The food is known to promote healthy levels of good bacteria, support digestive health, improve immune system functioning and prevent imbalances in the body's yeast levels.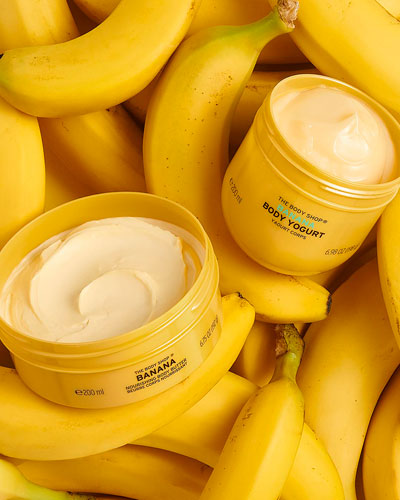 As it turns out, there is more to consuming yoghurt than just that occasional frozen yoghurt. Dermatologists have now confirmed that in addition to adding the food to our diet plans, incorporating a similar product into our skin and body care routine reaps as many benefits to our physical appearance as it does to our digestive health.
Enter the body yoghurt. The gut and skin are closely connected, and studies show that a good slather of the revolutionary stuff can help strengthen our protective moisture barriers, boost hydration and possibly even delay the ageing process. Topical application of a good body yoghurt instantaneously sinks in and infuses skin with the healthy proteins, vitamins, and minerals it contains.
Hyaluronic acid-fortified body yoghurts in particular keep collagen synthesis up, as well as retains skin moisture, which contributes with anti-aging benefits to the skin. Higher levels of collagen and hyaluronic acid are related to skin that is more supple and resistant to wrinkles and fine lines.
The best part about The Body Shop's selection of body yoghurts in particular? Here's a list:
– They are suitable -and effective- for all skin types.
– The fast-absorbing gel-cream formula sinks into damp skin in seconds, which means you can go from shower to jeans in just 15 seconds, making it the perfect moisturizer for those with a hurried morning routine.
– The product is long-lasting, providing 48 hours of locked-in moisture.
– The lightweight texture is non-sticky and leaves skin feeling smooth and moisturized; ideal for wet monsoon days when you don't want any more uncomfortable dampness than there already is.
– They are 100% vegan, and made from Community Trade ingredients; the primary component here being Community Trade almond milk from Manan in Alicante, Spain.
– The end-result is phenomenal. Not just do you feel instantaneously refreshed, but your skin will also appear healthier, with that enviable year-round glow.
So where to start and what to choose? In addition to the brand's already-popular selection of creamy body yoghurts, The Body Shop has two more exciting additions hailing from its new limited edition Totally Tangy Ginger and Wonderfully Wonky Banana ranges.
The playful and punchy Wonderfully Wonky Banana body yoghurt is enriched with Community Trade nourishing organic banana puree from Ecuador -made from bananas that won't sell to the food industry-, moisturising shea butter from Ghana, and conditioning almond milk from Spain. Fabulously fragrant and fantastically fruity, this lightweight formula leaves skin hydrated, smooth, and soft from top-to-bottom.
If zing and zest is what you're after for your body care regime, the Totally Tangy Ginger body yoghurt delivers on all counts. In addition to The Body Shop's signature body yoghurt formula of moisturising shea butter from Ghana and conditioning almond milk from Spain, this twist to the iconic aromatic format also comprises of energising ginger root extract from India. The vibrantly scented product too will protect your skin from drying elements, proof being in the supple, refreshed, and glowing skin it leaves behind.
In addition to the limited edition Totally Tangy and Wonderfully Wonky ranges, The Body Shop also has four nature-inspired body yoghurt flavours to choose from their regular in-store ranges; British Rose, Moringa, Almond Milk and Strawberry.
Shop The Body Shop's limited edition Totally Tangy and Wonderfully Wonky body yoghurts -as well as the regular in-stores products- from The Body Shop flagship store on Bagatale Road, Odel in Alexandra Place, the Kandy City Centre, and their newest store at the Colombo City Centre.