RURAL SECTOR
THE
RURAL POOR

NEED HELP
Janaka Perera stresses the need to invest in Sri Lanka's rural communities
In the immediate post-independence years and even earlier, the country's rural and semi-urban areas lacked the infrastructure and other facilities that we enjoy today. However, judging by the standards in these communities, the village economy was relatively healthy and people were self-sufficient in food, while rural industries and businesses thrived.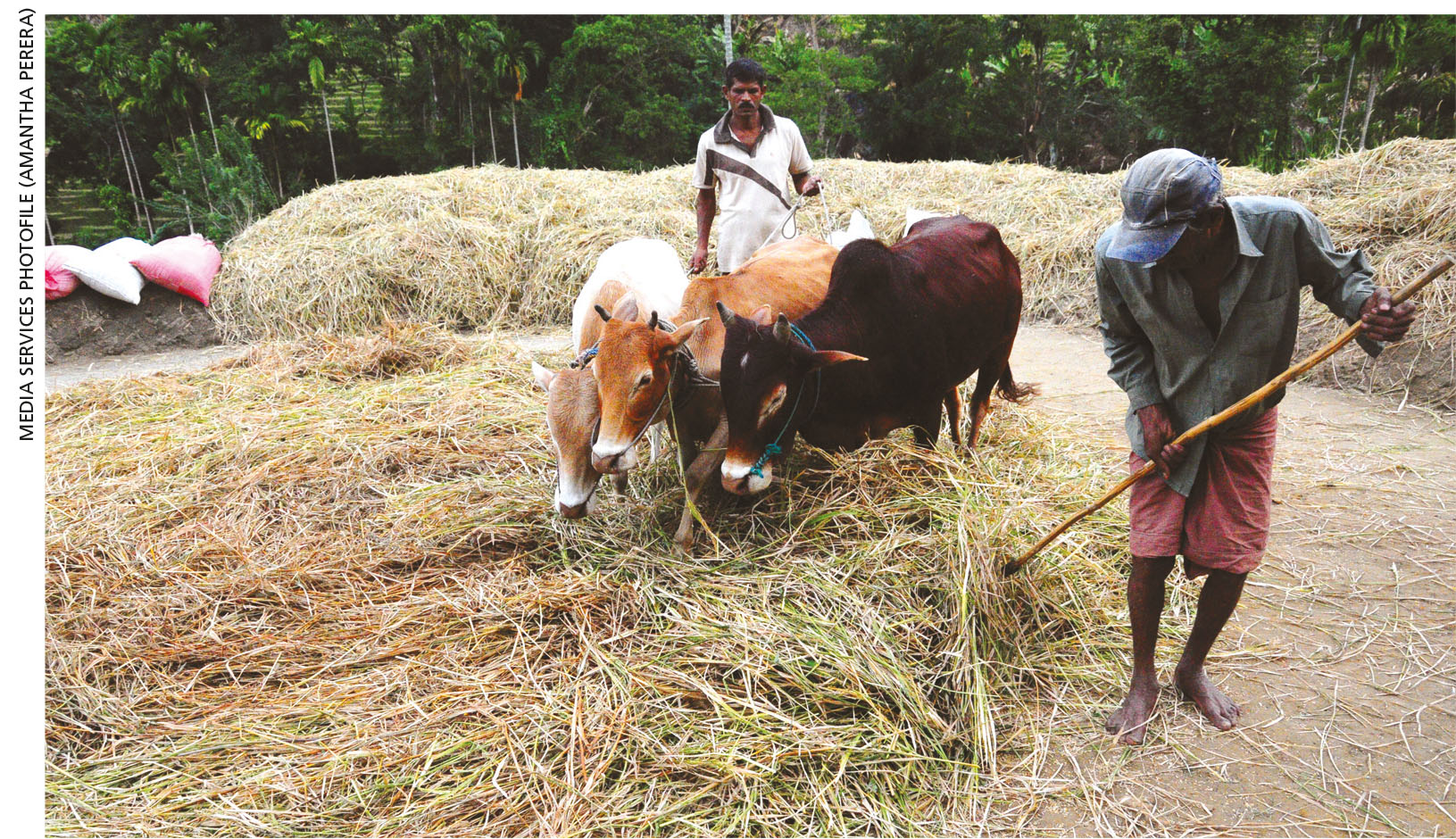 Moreover, the rubber industry and graphite sector received a major boost during World War II because of the Western Allies' military requirements.
The first blow to the rural economy came with the Janatha Vimukthi Peramuna (JVP) insurgency in 1971, according to the then Matara District Government Agent Garvin Karunaratne. He asserts that the year was a watershed in the life of Sri Lanka's villages.
Karunaratne notes that prior to this, vibrant village life centred around the temples. Rich land and plantation owners, estate superintendents, rice millers and traders got along well with people. Others engaged in dairy farming and agricultural pursuits. It was the rich who invested and generated employment.
Two southern insurgencies in a period spanning 20 years destroyed the rural economy. The children of the rich who left their villages were bred in the cities and never returned to their parents' villages. "The JVP insurrections ate into the fabric of rural life," Karunaratne observes.
The closed semi-socialist economy from 1970 to 1977 boosted rural productivity to some extent, including cottage industries such as pottery making, handlooms and weaving. Among those who profited were mostly Jaffna's chilli pepper and red onion cultivators.
However, the scarcity of essential items, having to wait in queues to buy them and restrictions on transporting rice among other issues created many problems for the public.
But the open economy introduced in 1977 saw the country shift from one extreme to the other. Unrestricted imports almost dealt a death blow to many cottage industries.
In 2012 and 2013, among households in which the main income earner was employed in agriculture, forestry and fisheries, the poverty rate was reportedly around 40 percent. Rice farmers' wages remained stagnant over the years. Many paddy and vegetable cultivators faced a number of problems including marketing their products, fertiliser issues and natural disasters, which meant their debts mounted. Around a decade ago, many farmers committed suicide as they were unable to repay loans.
During the nearly 30 year military campaign against the Liberation Tigers of Tamil Eelam (LTTE), many youths joined the armed forces and police to escape rural poverty. And their earnings helped raise their standard of living.
Rural women are particularly disadvantaged both within the household economy and wider labour market. They undertake the bulk of unpaid work in the household such as minding and educating children, caring for elders and the sick, cooking, and collecting water and fuel.
As a result, women have less time to engage in paid employment or productive activities that could generate income.
Over the past two decades or more, this situation has compelled some rural women to give up their traditional role as housewives and seek jobs in either local garment factories or as housemaids on foreign soil – sometimes amid the disapproval of close relatives. It has affected their family lives despite the money earned.
Other issues include inequity in infrastructure development and the never-ending human-elephant conflict – because wild elephant habitats have reduced over the years. The latter is broadcast almost every day on TV with villagers staging protests on public highways
and blocking traffic.
Yet, no government so far has been able to come up with an effective solution to prevent the loss of human and elephant lives, destruction of crops, and damage to house and property.
Despite the construction of expressways and extension of railway lines passing through urban and semi-urban areas, many villages don't have proper access roads, and children walk to school along footpaths, cross streams and rivers along precarious rope bridges and logs placed across waterways. They risk life and limb especially during rainy seasons. Some school buildings are dilapidated, posing a danger to both students and teachers.
Poor roads and a lack of decent transportation are impediments to spreading wealth to more remote areas. The need for a better road network and transport system to link rural areas, as well as better credit facilities to facilitate investments in farming techniques, are the first steps to ensuring that the rural poor aren't left behind.
There is no doubt that rural development is crucial for poverty alleviation. However, the government finds it difficult to channel unlimited funds into development plans as it focusses on the state of the national economy.
So the dilemma is about pursuing equitable growth without leaving the rural poor behind.