TALIBAN ENTERS AFGHAN PRESIDENTIAL PALACE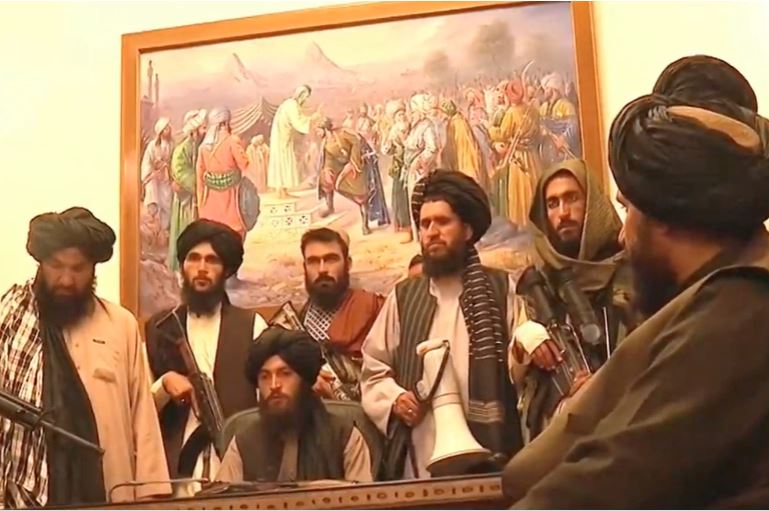 A top Taliban official has said that the real test of governing is set to begin after the group entered the Afghan capital, Kabul, and took control of the presidential palace.
Mullah Abdul Ghani Baradar, who heads the Taliban's political bureau, said in a brief video statement on Sunday thAl Jazeera obtained exclusive footage of Taliban leaders, surrounded by dozens of armed fighters, addressing the media from the country's seat of power earlier on Sunday.
They entered the palace after President Ashraf Ghani fled the country amid the Taliban's rapid advance, which saw the group capture 26 of Afghanistan's 34 provincial capitals in less than two weeks.
Ghani later said in a statement posted on Facebook that he fled to prevent further bloodshed.
"The Taliban have won with the judgement of their swords and guns, and are now responsible for the honour, property and self-preservation of their countrymen," he said.at the test would begin with meeting the expectations of Afghans and resolving their problems.
Trump calls for Biden to resign over Taliban takeover of Afghanistan
Former US President Donald Trump called for his successor Joe Biden to resign on Sunday over the swift takeover of Afghanistan by Taliban fighters, as US troops withdrew from the country after nearly 20 years on the ground.
"It is time for Joe Biden to resign in disgrace for what he has allowed to happen to Afghanistan," Trump said in a statement.
The Taliban have reconquered Afghanistan in a lightning surge 20 years after they were toppled by the US invasion.
They entered Kabul on Sunday, more than two weeks before the August 31 deadline set by Biden to complete the withdrawal of American troops from the country.
It was under Trump that the US brokered a deal with the Taliban in Doha in 2020 that would have seen the US withdraw all its troops by May 2021, in exchange for various security guarantees from the group.