SRI LANKAN OF THE YEAR | 2000
Deshabandu Susanthika Jayasinghe
OLYMPIC STAR
Watching her win an Olympic bronze was unforgettable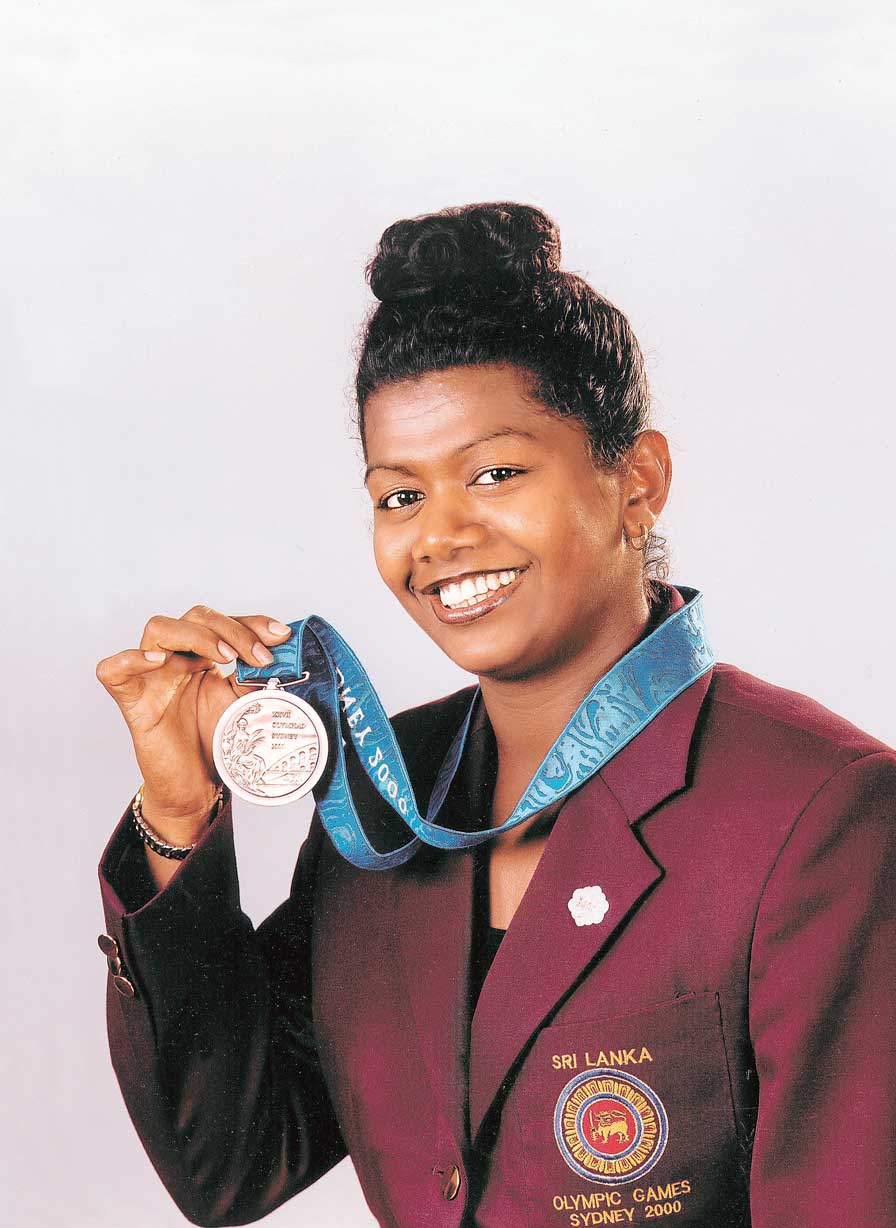 "The greatest recognition for Sri Lanka in modern times was achieved in the field of sports; and ironically on each occasion, on foreign soil – viz. London, Bombay, Lahore and lately, Sydney," wrote Mahinda Wijesinghe in LMD's December 2000 Cover Story, in his tribute to Susanthika Jayasinghe who became our first female Sri Lankan Of The Year a.k.a. SLOTY.
Turning the clock back even further, Duncan White catapulted the then Ceylon into the international limelight by winning a silver medal in the 400 metres hurdles event at the London Olympics on 31 July 1948.
Twenty-five years later – on 14 December 1973 – M. J. M. Lafir annexed the World Amateur Billiards title in Bombay (Mumbai today) and became Sri Lanka's first undisputed world champion.
And of course, our cricket loving nation went berserk when Sri Lanka won the ODI World Cup in Lahore on that memorable night of 17 March back in 1996.
It was four years later – on 28 September 2000, at the Sydney Olympics – that a 24-year-old dusky village girl from the hinterland of Uduwaka in Warakapola stunned the sporting world by winning a bronze medal in the 200 metres event.
She became the first South Asian woman to step onto the podium in the then 104-year-old history of the modem Olympics.
As Wijesinghe reminded us, there were other international triumphs as Susanthika's name grew in the minds of her foreign competitors. Winning a silver medal (200 metres) at the IAAF World Championships held in Athens in 1997 was one major triumph.
He continued: "Then came problems, in the form of sexual harassment allegations. Surreptitiously, she left the country to the US and fortuitously came under the wing of renowned American coach Tony Campbell, whose services were acquired through a sponsorship deal with Nike."
Campbell knew a good thing when he saw one… and so the hard work began. He reportedly said: "I have never come across such a dedicated and courageous person like Susanthika in my life."
Winning medals at the IAAF Grand Prix meetings held in Osaka (Japan) and Doha (Qatar) in 1999 was "a reflection of a gloriously symbiotic relationship. The Olympic medal was now getting warmer," Wijesinghe wrote.
But the cold weather in Sydney was obviously going to hamper our athletes, whose bodies were used to performing optimally in warmer climes.
Though she won her first two rounds in the 100 metres quite comfortably, Jayasinghe did not qualify for the finals (though no Asian had gone even this far previously). Her pet event was the 200 metres, and both the coach and his charge had promised success in the final despite the legendary American Marion Jones being in the fray.
Wijesinghe recalls that "precisely at 2.55 p.m. (Sri Lanka time) on 28 September, patriotic Sri Lankans across the globe held their breath and kept their fingers crossed as Susanthika Jayasinghe – wearing No. 3058 in lane six – faced the starter in the 200 metres final. And 22.28 seconds later, all hell broke loose and crackers were lit on the streets of our island nation: "People were jumping for joy; and all Sri Lankans stood 10 feet tall."
Indeed, Susanthika Jayasinghe had run the fastest 200 metres of her career.
And so the dusky gazelle stood on the victory stand with Marion Jones and Pauline Davis-Thomson as the third fastest woman in the world across 200 metres with a mere one hundredth of a second separating her from the silver medallist. It was a moment to savour; a moment that arrived 52 years after Duncan White stood on the victory stand at the London Olympics.
"Perhaps a pragmatist may claim why such a fuss is being made about winning a bronze medal? After all, there were 327 other bronze medal winners in Sydney. But this bronze medal was worth more than the 301 gold medals that were won at the 27th Olympiad," the writer asserted.
Why? "Because that particular bronze medal represented not only the talent and ability of an athlete, but also the courage, determination and dedication of a village lass from impoverished circumstances – one who had to overcome the machinations of power drunk officials wishing to destroy her."
"I rose to this position all alone," said a relieved Jayasinghe at the time, in a reference to local officials.
Wijesinghe concluded his SLOTY tribute by writing that "she may not be a modern-day Joan of Arc but Susanthika Jayasinghe has proved to be a champion of the downtrodden."