SRI LANKANS OVERSEAS

RELIVING THE DAYS OF YORE
Reza Ashroff harks back to an era when Sri Lankans lived in peace and harmony
Q: How do you perceive Sri Lanka, in the context of the progress it is making in the post-war era?
A: I view Sri Lanka very favourably. The racial tensions that existed until very recently seem to have eased, and there appears to be a sense of calm and peace in the country. Sri Lanka has a great future, as it is located at a central point of the Indian Ocean, and is of strategic relevance to global and regional superpowers.
Q: And how do compatriots in your country of domicile view Sri Lanka?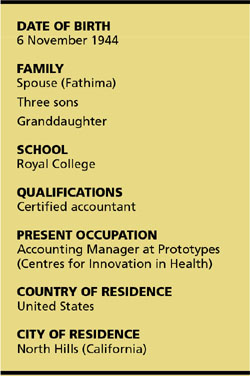 A: Some were hesitant, and never thought they would return to their country of birth. But the positive feedback of the last two years has offered hope and encouragement to those who were disillusioned.
A classmate who yearned to visit the country hadn't been back for about 10 years. Instead, he spent his vacations in Chennai. In March this year, he visited Sri Lanka with his family; and now, he wants to return every year. This is because he realised that things are normal again, and that he's missing the fun and frolic.
This goes to show that wherever people live, they cannot forget their roots. They cannot forget the land of their birth, friends, relatives and childhood memories. At any gathering of Sri Lankans here, in the United States, the discussion invariably veers towards the 'good old days back home.'
Q: What were your impressions of Sri Lanka, on your last visit? And how much has it changed from the past?
A: I visit almost every year, for the Royal-Thomian encounter. Since I spend a month or so in the country each year, I haven't seen a major change.
However, I do hope that the current authorities will maintain the improvements carried out by the previous government. Kudos to the previous government, for the incredible work it did to improve Colombo and other cities. The walkways are beautiful, and Independence Square is breathtaking – and I sincerely hope they're maintained.
Unfortunately, Yala National Park is a disaster. There are more jeeps running around the park, with disillusioned tourists in them, than the animals one goes to see. Even for locals, the charge for a jeep is pretty steep, at Rs. 4,500 a trip, in addition to paying for a tracker. One ends up disappointed at the end of a trip, for all the running around the park, followed by – or following – several other jeeps, as you barely see any animals.
Q: How do you view the brain drain; and why is there still no reversal of it, in your opinion?
A: This is a difficult question to answer. Many leave the country due to a lack of opportunities. Their children are young when they migrate from Sri Lanka; or are born in their new country of domicile, and educated there.
Such children will not relocate, as they're not willing to change their lifestyles. So the parents prefer to stay close to their children and grandchildren, rather than return to Sri Lanka. This is the dilemma most of us face, so we end up trying to return for holidays as often as possible.
For me, there is no better time than March, which has been a magical month from my schooldays – a month where old men are rejuvenated, and transformed into teenagers once again, reliving those great days as schoolboys. We dance to the beat of the drums, accompanied by blaring trumpets – yes, I am referring to the haunting music of the papare bands. It's the time of the 'Big Match'!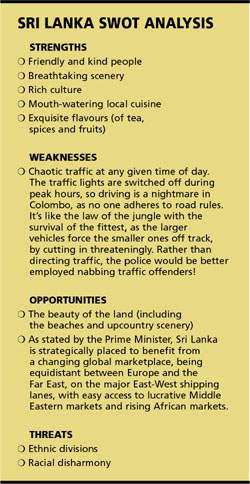 Q: What must be done to entice Sri Lankans living overseas to contribute or return to their country of birth?
A: Again, this is a difficult question to answer. Those living abroad earn higher salaries. To entice them to return, one would need to offer salaries and benefits that are comparable to their present remuneration. But would this be fair, when someone similar, with similar qualifications and who is a resident of the country, receives a lower salary? 
Q: In your opinion, on what should Sri Lanka focus most in the coming decade?
A: Peace and harmony would lead to a flourishing tourist trade. Sri Lanka needs to increase its tea, rubber, coconut and spice exports, too, while also looking to reduce the cost of living.
Q: What are your hopes for the country, in the post-conflict era?
A: My hope is that Sri Lanka will return to the period of our youth – the 1950s and 1960s, when everyone lived in peace. I hope that present-day schoolchildren will form lasting friendships – much like what we cultivated in our early days in school, where there were no ethnic differences and all were considered equal.
We entered Royal College from Royal Primary in 1956; to date, we maintain close relationships with all our classmates. At that time, the medium of instruction was English, and the Sinhalese, Tamils, Burghers, Muslims and everyone else studied together, in one class. The only time we separated was for religion or the second language (either Sinhala or Tamil).
That close-knit camaraderie exists up to now, some 60 years later. And thanks to the world of computers and smartphones, we are in touch with each other almost every day!
– LMD