SRI LANKANS OVERSEAS

CELEBRATING DIVERSITY
Dr. Dulini Fernando urges Sri Lankans to put the war behind them and march forward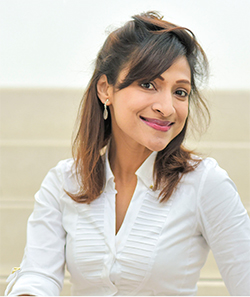 Q: How do you view Sri Lanka, in the context of the progress it is making in the post-war era?
A: Sri Lanka has made progress, in terms of infrastructure development. Tourism is booming and more investors are entering the country, displaying promise for economic growth.
However, wastage of public resources and corruption are significant issues. Moreover, there seem to be holes in reconciliation efforts, leading to continuing pressure from the international community to investigate war crimes.
Significantly, the end of the war seems to have given birth to Buddhist fundamentalism. This not only demeans a great philosophy, but also poses a threat to internal ethnic harmony. It portrays our country as an underdeveloped nation.
Q: And how do your compatriots in the UK view Sri Lanka?
A: Most well-read people view Sri Lanka as a highly developed country in South Asia. They are aware of its excellent literacy rate, leading health indicators and progressive gender ideologies. Indeed, Sri Lanka is likened to leading nations in South-East Asia.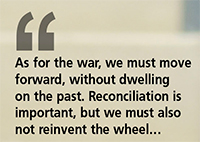 Q: What were your impressions of Sri Lanka, on your last visit?
A: Colombo has become almost a 'global city,' with many foreign nationals working there. It is a city with an abundance of entertainment. But the traffic seems to worsen every year. People are compelled to waste time, driving and sitting in their vehicles.
Q: How do you view the brain drain?
A: Most people explain migration in terms of educating their children. Some highlight the rising cost of living in Sri Lanka, and a lack of facilities in state health care. However, the cost of living in the UK is also high, and there are long waiting lists in the National Health Service.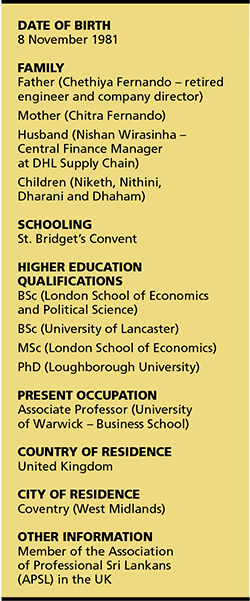 For the vast majority of middle-class and/or lower-middle-class Sri Lankans, migration to the West seems to be a way of elevating their social status. It is viewed not only as a means of acquiring economic resources and educating children in globally renowned universities, but also a way to expose children to cultural resources such as high-level English-language skills, taste and demeanour, which are accessible only to the elite class in Sri Lanka.
Many highly skilled migrants (particularly from the medical profession) have occupationally downgraded themselves, to obtain residency in the UK. I do not believe that they derive career satisfaction from their work, nor are they fully integrated into British culture. They, however, choose to stay.
Social class distinctions in Sri Lanka, and people's respective life chances, influence migration and brain drain. There is also a minority of people who live in the West because they have more opportunities to engage in exciting work.
Finally, a number of individuals view foreign citizenship as a form of security, citing perceived economic and political instability in their land of birth.
Q: So what must be done to entice Sri Lankans living overseas to return to their country of birth?
A: Sri Lanka must develop its higher education system. Local graduates, mainly from the social sciences and business faculties, are excluded from certain private companies, on the grounds that they lack soft skills.
We must convince people that they do not need to migrate, to educate their children in globally recognised institutions that offer excellent employment prospects.
In addition, we should invest in developing research fields, which not only improves the higher education curriculum, but also offer opportunities for talented Sri Lankan researchers to be based in their home country. Research is the key to economic development.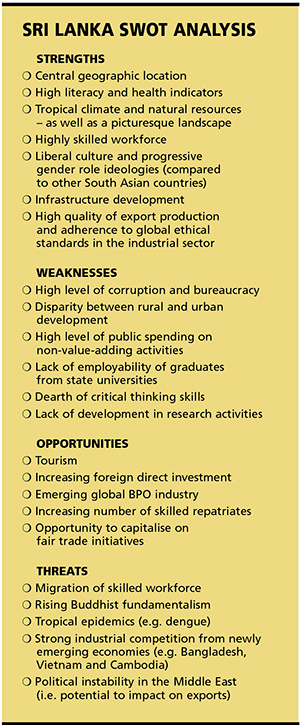 We must also develop English-language skills in government schools, and formulate policies to address implicit and explicit class-related exclusion.
Finally, we should establish a climate of political and economic stability, so that people do not feel the need to seek security elsewhere.
Q: What should Sri Lanka focus on most, in the coming decade?
A: The development of research activity is important. However, I would also point to developing critical thinking skills at the school level.
The Sri Lankan education system places emphasis on memorisation, repeated practice and precision, aiming for material achievement in terms of final grades. It prohibits the development of out-of-the-box thinking, and ability to work in ambiguous situations. These skills are essential, to compete at the global level.
A lack of critical thinking skills seems to have impacted the less favourable career progression of highly skilled Asian migrants to the UK.
Q: What are your hopes for the country, in the post-conflict era?
A: I hope that Sri Lanka capitalises on its strengths, to become a global knowledge hub, expanding the BPO industry and attracting further foreign investment. As for the war, we must move forward, without dwelling on the past. Reconciliation is important, but we must also not reinvent the wheel.
– LMD