THE CAPITAL MARKET
SIZE AND LIQUIDITY POSERS  
Taamara de Silva hopes that a revival of Sri Lanka's stock market is on the cards
Unknown, unheralded and under-researched, because of perceptions of illiquidity and high risk, the Colombo Stock Exchange (CSE) offers attractive valuations and dividend yields with significantly less competition among foreign investors than its emerging market peers. The All Share Price Index (ASPI) declined by almost 12 percent in the first six months of the year and slumped by over 30 percent compared to its all-time high of 7,811 points in February 2011. Market capitalisation also suffered a setback, contracting to less than US$ 15 billion – that's more than 15 percent of our 90 billion dollar economy.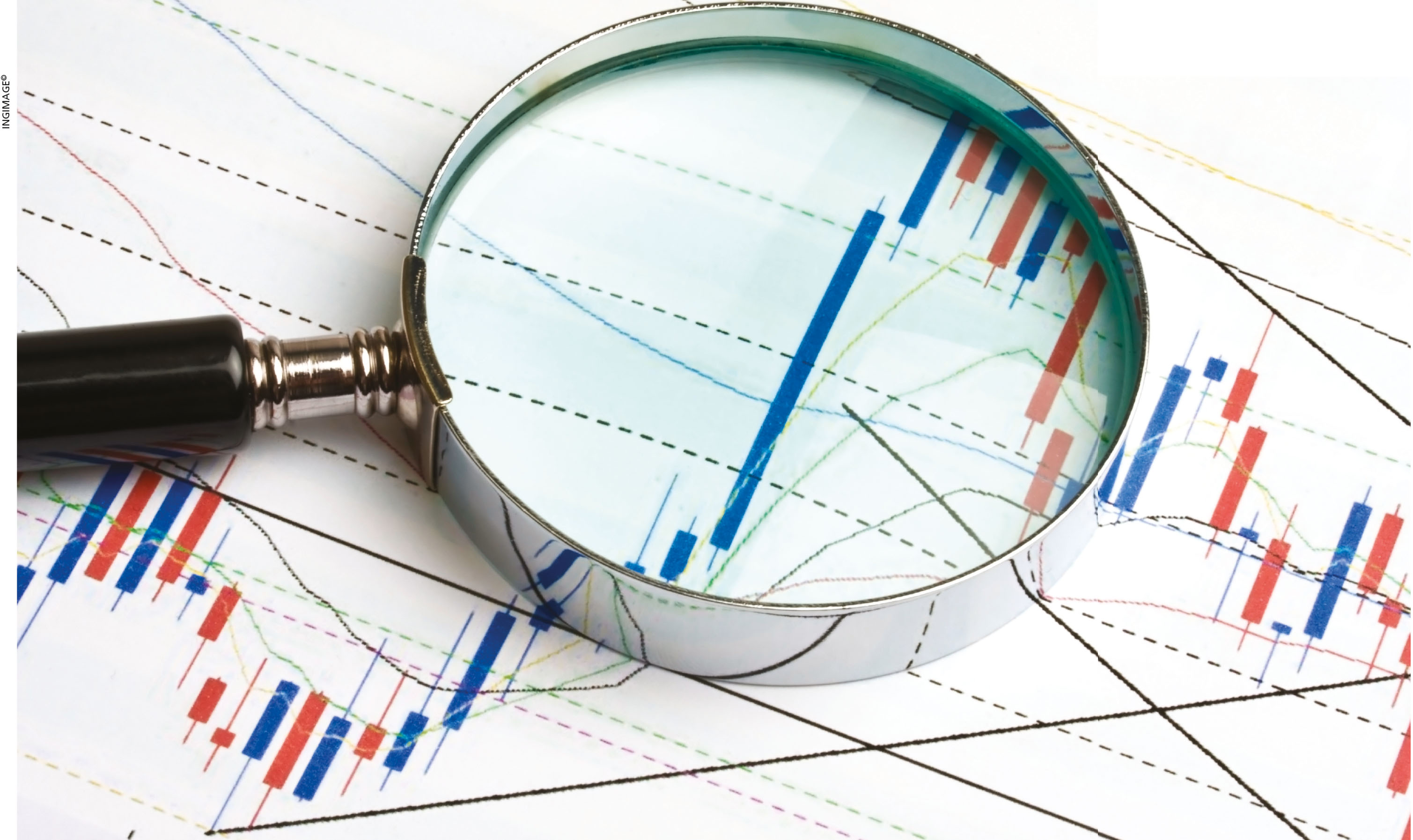 Warren Buffett has described the market capitalisation to GDP ratio as the "best single measure of where valuations stand at any given moment." Yet, in developed markets, capitalisation is often equal to or greater than GDP. While the trend has improved across regional peers, Sri Lanka remains undervalued as a frontier market and is in desperate need of new listings.
New CSE listings have grown by only three percent over the last seven years despite considerable tax incentives. Low investor sentiment coupled with lacklustre market performance has seen many corporates turn a blind eye to the benefits of listing. And the prevailing low valuations and bleak track record of previous listings have added to these woes.
This subdued performance is in stark contrast to listed corporates that have grown and diversified over the years. The CSE is comparatively small and offers a low level of liquidity – two fundamental factors in attracting foreign investors. This size and liquidity conundrum must be solved, by instigating demand and supply reform along with a range of peripheral initiatives.
Despite the Securities and Exchange Commission of Sri Lanka's (SEC) Capital Market Master Plan identifying state owned enterprise listings as a direct solution to increase market capitalisation, this hasn't seen the light of day.
Increasing the size of the stock market is also expected to catalyse the listing of privately owned companies. But impediments such as the dilution of ownership, inability to comply with listing rules and disclosure requirements must be addressed.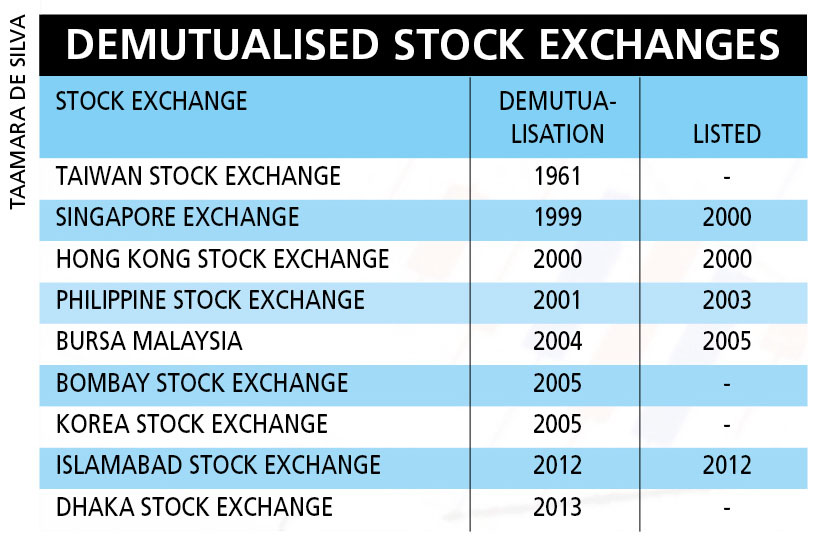 Consolidation of an otherwise overcrowded brokerage sector will not only drive financial stability of market intermediaries but also encourage healthy competition. The adoption of a universal model where market intermediaries are competent in all securities will add to better revenue generation and provide a robust service offering.
Demutualisation has been a key global trend in the securities and exchange architecture. The CSE is the only major exchange in South Asia that has yet to be demutualised. This has been identified as a limiting factor and after many rounds of negotiations, the necessary legislation was recently passed in parliament and the transition is expected to materialise shortly.
The much awaited delivery versus payment (DVP) system will link fund and securities transfers, eliminating counterparty risks, which is seen as a key component in encouraging foreign investors. Similarly, the central counterparty clearing (CCP) system will interpose itself between counterparties to contracts traded, becoming the buyer to every seller and seller to every buyer, ensuring the performance of open contracts. This will create more liquidity through short selling.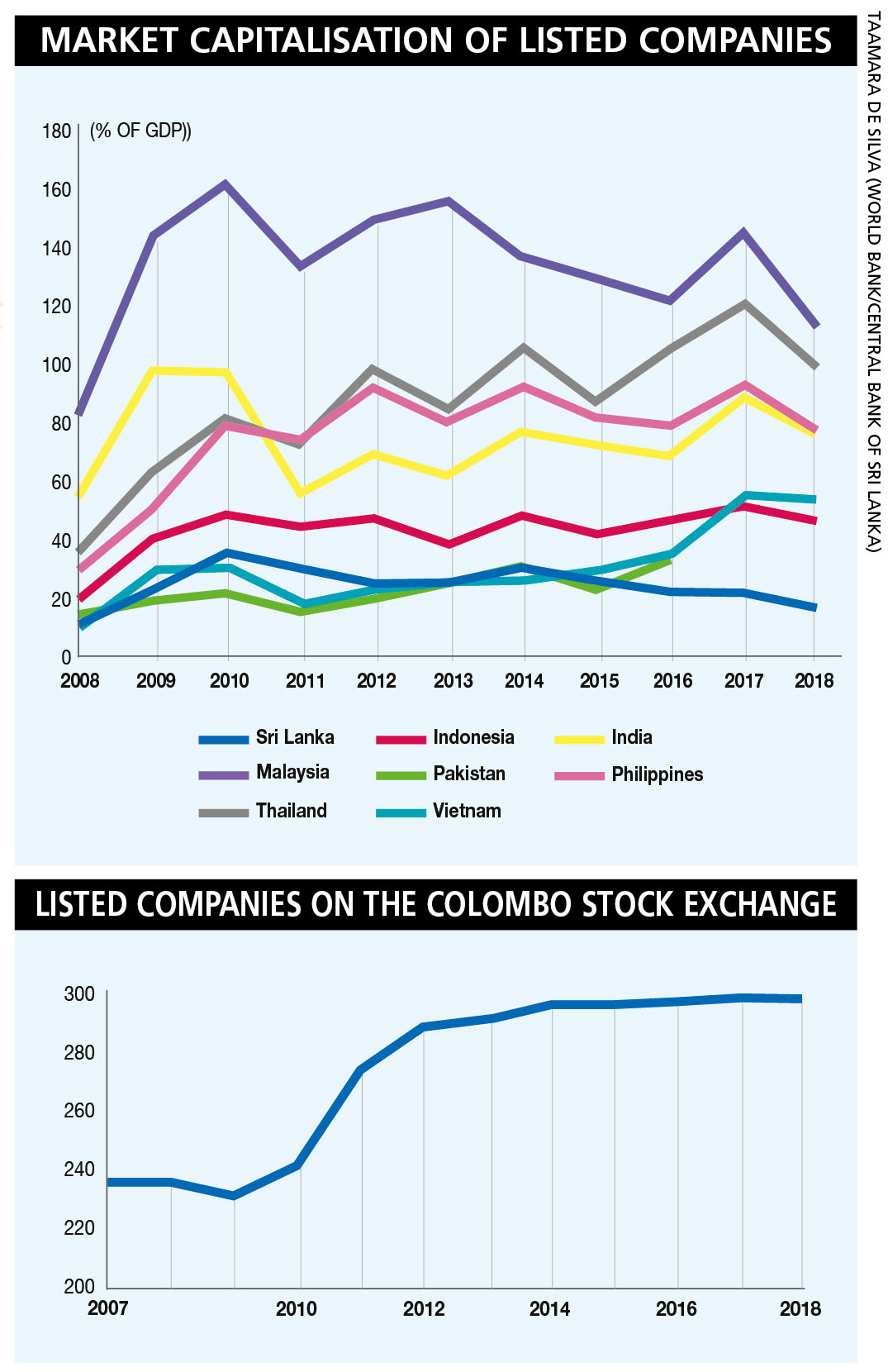 And the introduction of the Empower Board is a step in the right direction as it creates awareness among startups and small-scale investors. More opportunities can be pursued by introducing a Board of Investment of Sri Lanka (BOI) mechanism to list companies in export processing zones and industrial parks while the SME board provides listing opportunities for small businesses.
Recently, the CSE amended its listing rules to facilitate foreign companies' shares to be listed on its Multi Currency Board (MCB) in line with their broad strategies for regional market expansion.
To counter the contraction of credit, the Central Bank of Sri Lanka is forcing rates down to single digits and increasing the demand for alternative investments. Meanwhile, short-term volatility can be expected as a result of political instability ahead of the forthcoming presidential election.
On the other hand, the steep price erosion in shares has created favourable price-to-earnings ratios, attractive dividend yields and intrinsic value.
For many investors who are patiently watching the market from the sidelines, the entry point is now. By riding the wave through intermittent investments in the same shares at varying price levels, investors can average their purchase price and not miss out on trend reversals.
Being a potentially undervalued frontier market, short-term investors may be in for exotic thrills and spills but the CSE offers greater promise for long-term investors especially as a safe haven when global markets are rocky.
We can only hope that it will only be a matter of time until the CSE emerges from backwaters to drive the next phase of South Asian growth.