SHIPPING INDUSTRY

Zeeshan Mukhi
SAILING TOWARDS GROWTH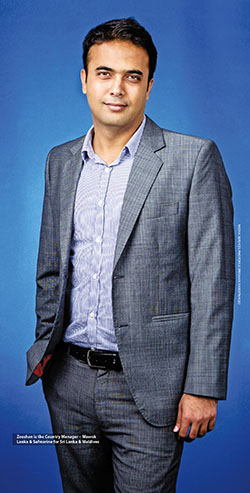 How is Sri Lanka attracting ships to its harbours – and what are the pluses and minuses so to speak?
Over the last three years, Sri Lanka has witnessed substantial volume growth in terms of ships and containers. The Port of Colombo has been one of the fastest growing facilities globally and is expected to grow at six or seven percent this year as well.
Sri Lanka has a natural advantage due to its location in the Indian Ocean, which places it in close proximity to the East-West shipping route through which 65-70 percent of world trade passes.
The Port of Colombo also offers world-class facilities and is the only facility in South Asia that is capable of catering to the requirements of the ultra-large ships of the modern age. Moreover, the proximity to rapidly growing markets such as the east coast of India and Bangladesh, and the existing network, enables shipping lines to use Colombo as a major transhipment hub.
In terms of improvements, it is essential that the full potential of this opportunity is explored by ensuring consistent, reliable and efficient service delivery, along with an ability to scale up to meet future growth.
In which ways can the government support shipping lines?
The development of infrastructure in line with demand and a regulatory environment that encourages growth are the areas where support is required.
In the context of infrastructure, the development of the East Container Terminal to add more deep draft capacity, which is required by ultra-large vessels, is essential. We also see potential opportunities to develop landside logistics infrastructure, which will complement the transhipment business.
On the regulatory side, key issues relate to the lack of freedom in assessing surcharges for local businesses as well as restrictions on agency ownership structures in Sri Lanka. Simplifying customs procedures – and digitising all transactions related to exports, imports and consolidation of businesses – is also essential to realise Sri Lanka's potential as a maritime hub.
How is the industry faring in the face of global economic changes such as fluctuating freight charges?
Over the last 18 months, the container shipping sector has witnessed major changes compared to previous years. In 2016, the industry faced a scenario of slowing global demand and a contraction of growth in many geographical zones; and at the same time, supply grew substantially with many large container ships being delivered.
This resulted in freight rates dropping to unsustainable levels and subsequently, carriers have reported losses across the board.
In the second half of 2016, we witnessed the bankruptcy of Hanjin Shipping, as well as a spate of merger and acquisition announcements that have changed the competitive landscape in container shipping.
Over the last two years, we have also witnessed the formation of three major vessel sharing alliances – i.e. 2M, Ocean Alliance and THE Alliance – where shipping lines are pooling ships to develop common services, and offer advantages of scale and geographical coverage to customers.
With improved demand growth and lower supply growth, we have witnessed a more favourable situation this year although the industry still has a fair distance to go when it comes to delivering shareholder value. In the next few years, there are many geopolitical factors to watch out for and I am convinced that we'll continue to see changes in the shipping industry as well.
And what are your predictions for 2025?
Global shipping industry growth will be very much in line with increases in world GDP, which I expect will rise albeit slower than in previous years.
I believe that there will be further industry consolidation in the container business, which will enable players to create a more consistent and predictable environment for customers and shareholders. We must also expect the digitalisation of shipping to get into full swing and the overall logistics scenario to change with many technology companies entering the business.
What is your mantra for success?
I believe in hard work and perseverance. I like challenging myself, always going the extra mile and maintaining a positive attitude.
Describe yourself in one word…
Enthusiastic
Zeeshan is the country manager – Maersk Lanka & Safmarine for Sri Lanka & Maldives
– Compiled by Ruwandi Perera