RUPEE DEPRECIATING RAPIDLY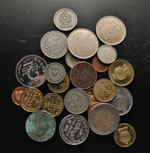 The Sri Lankan Rupee will soon depreciate to around 160 against the US Dollar, according to Dinesh de Silva, Chairman of the Ceylon Chamber of Commerce's Import Section.
He urges the nation to have necessary measures and controls in place to prevent this situation that threatens to further dampen exports and international trade.
Currently hovering a little above Rs. 150, the exchange rate is at a dangerous position, he says, adding that this is fuelled by fluctuating interest rates, and the heavy dependence on imports for essential goods, food items, fuel, construction materials and raw materials.
De Silva emphasises the need to attract more foreign investment while being competitive in the export market. He also highlights the changes necessary in the case of regulations such as the Import and Export (Control) Act, Customs Ordinance, and exchange control and tax laws.