TOURISM INDUSTRY

Reyhan Morris
THE COST OF TRAVEL BANS
Why Sri Lanka must focus on markets that aren't sensitive to travel bans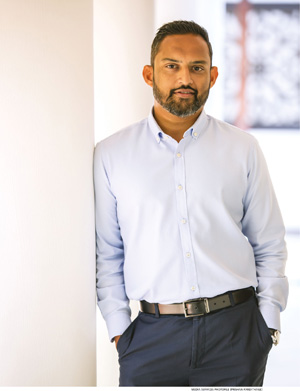 The global tourism industry today
Booming, experience driven and expanding aggressively.
Strengths of the local tourism industry
The people and communities of Sri Lanka, the country itself and everything it has to offer – from sandy beaches and wildlife, to history and culture.
Barriers to industry growth in Sri Lanka
Political instability, an unfavourable economy and the recent shocking terrorist attacks.
How the local tourism industry should move forward
Given the recent events, we must focus on markets that aren't generally sensitive to travel bans such as India, the Middle East and Australia because they tend to bounce back faster.
What more the industry should do
It should pay more attention to foreign independent travellers and direct bookings for an effective path forward.
Other major areas of focus
Efforts should be made to identify and study the recovery processes of other cities and countries that have faced similar situations – such as Bali, London and Turkey.
What more can be done
Focussing on an immediate independent global security audit is imperative; and all stakeholders must work collectively to ensure better security for guests.
The future of the local tourism industry
There was great potential but due to the Easter Sunday attacks, it will take longer to reap the benefits and produce results.

Opportunities in the local tourism industry
With the opening up of the east, tourists have more options during the southern region's traditional off-season. This will facilitate year-around tourism.
Three weaknesses of the tourism industry
Inconsistency in offerings, insufficient infrastructure, and the high cost of utilities and taxes, resulting in higher prices compared to regional partners.
Main threats to the tourism industry
Political instability and the recent terrorist attacks.
The local market in a nutshell
Constantly evolving; but with reference to my previous comment, at a slower pace than we'd like… unfortunately.
The global market in a nutshell
Heavily experience driven and constantly evolving. 
Three new prospective customer segments
Transformational, wellness and experiential travellers.
Evolving consumer trends or behaviours
Tourists are more focussed on new experiences rather than being in a hotel room and backpacker communities are evolving at a surprisingly rapid pace.
Other matters of importance
Dependency on third party recommendations is undoubtedly paving the way for the likes of TripAdvisor and influencer marketing.
Local vs regional comparison of the tourism industry
Our prices are higher compared to regional neighbours, and there's a higher level of political and ethnic instability in this country.
But there are pros…
Sri Lanka was ranked No. 1 among Lonely Planet's top destinations to visit in 2019.
Productivity is affecting industrial and economic growth
Yes 
Corruption is affecting industrial and economic growth
Yes
The future of the global tourism industry
It's shifting to a transformational market where people desire new experiences that affect them mentally or emotionally rather than merely visiting a particular site or area.
Competition drives innovation
Yes
Sri Lanka's competitiveness in a few words
Competitiveness is at its peak because of a large number of big players emerging in the tourism industry locally and even internationally.
Trending here in Sri Lanka
The multiple small-scale hotels and resorts popping up around the island almost daily, which are facilitated by the likes of Airbnb and other online travel agencies.
Impact of the digital age on Sri Lanka
Despite being reactive rather than proactive, Sri Lanka successfully shifted to a more digital approach [to promoting the island] rather than resorting to traditional methods.
What this means
Relying on mechanisms such as content and influencer marketing, and real-time updates, has improved Sri Lanka's ability to cope with complex consumer requirements. 
Impact of social media on the world at large
The emergence of social media successfully facilitated little or no gaps in communication, reaction rates and the results of awareness based initiatives.
For example…
Compared to newspaper and magazine advertisements, the rapidity of the results of digital campaigns is the main differentiating factor – and their ROIs are measurable.
The tourism industry in five years' time
Globally, sustainability will play a pivotal role in five years.
This emergence will also result in…
Consumer choice – therefore, environmental contribution will have to be considered all around starting from governments to airlines and reputable chains, down to smaller players.
Mantra for success
Lead through empowerment; lead by example. Trust and empower.
– Compiled by Lourdes Abeyeratne
Reyhan Morris is a Director and the CEO of Asia Leisure