HEALTHCARE SECTOR

Compiled by Lourdes Abeyeratne
REMOTE MEDICAL DIAGNOSIS
Heshan Fernando probes the role of technology in health management today
Q: What benefits does the telemedicine sector offer both practitioners and consumers?
A: Telemedicine enables doctors to evaluate, diagnose and treat patients at a distance using telecommunications technology. This is not new – doctors have been diagnosing and treating patients through consultations over the phone for decades.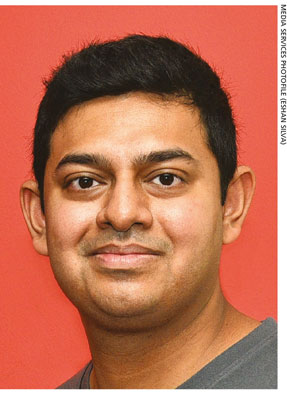 This approach has undergone a striking evolution in the last decade and is becoming an increasingly important part of global healthcare infrastructure. Not only has technology been implemented in novel ways but there are also new integrations across the value chain.
For example, you can now connect with doctors in Sri Lanka for video and audio consultations over the phone, obtain medical advice and receive a prescription, and then proceed to order medicines to be delivered to your home or for a mobile lab to collect your samples for testing.
Practitioners can offer better continuity of care and services to patients who were previously beyond their reach. In a world where patients demand greater access, telemedicine systems enable doctors to offer convenient methods to stay in touch in a way that they have control over sickness. This results in better health outcomes and satisfied patients, leading to a stable and growing client base for doctors.
For consumers, expert care becomes more accessible and affordable. Being able to remotely contact doctors without travelling and sans wasted hours in waiting rooms saves time and money.
Beyond the obvious conveniences, availability means that doctors can be consulted more often even for small concerns – for example, when one is coming to terms with a newly diagnosed chronic condition, first learning to care for a newborn, or managing the treatment of cancer for yourself or a loved one. This has a qualitative impact on healthcare outcomes.
Q: The sector is experiencing rapid growth globally – to what do you attribute this?
A: The primary reason that telemedicine services are available in countries across the globe – including the United States, Britain, India, Singapore and Japan – is that it's proven to improve clinical outcomes.
Both private and public sector stakeholders are exploring and innovating with new models to incorporate technology into the delivery of healthcare for this fundamental reason. Growth is rooted in impact.
The deployment of telemedicine by providers has also become possible on a mass scale due to the proliferation of smartphones with high-speed internet capable of high quality video transmission. This has presented the possibility of delivering remote healthcare to patients in their homes or workplaces as an alternative to in-person visits for both primary and specialty care.
This is bolstered by changing attitudes regarding the effectiveness and benefits of remote healthcare delivery among doctors and patients.

Q: Is any data available to support the efficiency and effectiveness of platforms such as telemedicine?
A: This is an area that's the subject of many ongoing studies at the moment and findings related to structured telemedicine systems are positive.
An example of this is that the American Medical Association has found that over 75 percent of regular doctor visits could be handled effectively through video or audio consultations.
Furthermore, in a peer reviewed meta-analysis of 93 clinical studies entitled 'Interactive telemedicine: effects on professional practice and healthcare outcomes' by Cochrane – a highly  regarded British charity that organises medical research findings – telemedicine was found to lead either to similar outcomes as face-to-face visits or better care for a variety of medical conditions.
Q: What are the main challenges facing the telemedicine sector in Sri Lanka?
A: The challenges are the same as in any country.
But the most significant challenge is to change mindsets to recognise that healthcare can be delivered effectively over the phone, which requires having to overwrite years of programming that you need to physically visit a doctor upon falling sick. This barrier is overcome when one experiences his or her first video consultation.
In fact, many studies have concluded that telemedicine reaches the same or better outcome as in-person visits in most cases.
And this is also helping to change mindsets.
It is only a matter of time for telemedicine to become the norm. With state regulatory agencies and professional groups of doctors becoming involved with the sector, we're confident that telemedicine will experience growth in Sri Lanka in a manner that ensures high quality care.
The interviewee is the Cofounder and CEO of oDoc