SUSTAINABLE BUSINESS
CHANGING EXPORT MODELS
Kiran Dhanapala examines the critical role of sustainability in exportation
The justification for sustainability hinges on three critical factors: doing the right thing, capturing new opportunities and mitigating new risks. Companies assign a weight to each factor depending on whether their sustainable business perspective is based on purpose, opportunity or risk avoidance.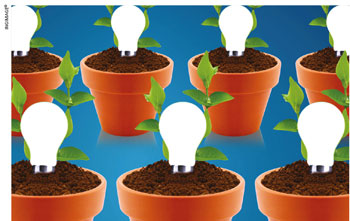 Exporters must increasingly differentiate themselves to access markets and increase market penetration. This includes embedding sustainability as a business strategy.
Sustainability is changing traditional business models. Change is imperative as noted by 90 percent of companies in a 2018 global survey that studied the transformation of business for a sustainable economy. It includes recognising that business purpose attracts customers.
A 2013 Economist Intelligence Unit (EIU) survey of 285 senior executives mostly in the Asia-Pacific, Europe and North America looked at new business models.
It found that 66 percent believe that embedding environment, social and governance (ESG) goals lead to long-term (five to 10 years) financial performance; 70 percent feel that an ESG strategy leads to long-term growth; and 48 percent deem ESG practices to be a source of competitive advantage.
Yet, 52 percent say immediate financial goals are more urgent and 44 percent note the lack of a business case. This is also reflected in Sri Lanka where a business case and robust sustainability plan tend not to analytically underpin sustainability efforts.
Sustainability yields particular benefits for exporters such as growth from innovation and developing new products, and an ability to reach new customers and markets. They also benefit from improved returns on capital by greening sales and marketing, and developing sustainable value chains and cost reductions.
Usually, sustainability credentials are viewed as a non-tariff barrier for developing country suppliers to developed nations markets. From an economic theory angle, certifications fill an information deficit in markets offering buyers more information. Consumers may care about and value the 'sustainability attribute' of a product, and often pay more for this.
Sustainability certifications are voluntary labels for products in global supply chains that fulfil specific sustainability criteria. Voluntary sustainability standards (VSS) may be environmental or social, or reflect both. They respond to motives of different stakeholders, and have direct costs of obtaining certification and indirect costs of transitioning production to comply with standards.
These certifications began with organic agricultural production in the 1960s but took off in the 2000s. A recent multi-UN agency report cites "almost 500 eco-labels in 199 countries and 25 industrial sectors." They vary by issue focus, costs, credibility of organisational bodies and verification systems.
Global product certification has increased substantially. The total trade value of specific certified agricultural and forestry products was approximately US$ 32 billion in 2014. This number is growing, presenting market space for potential exports.
Certifications must support organisational sustainability goals and the business case. They're expensive and criteria change – so substantial anchoring in a business case will be more productive.
The UN Forum on Sustainability Standards 2018 report notes that VSS are catalysts for sustainable development with their effects being direct and indirect. It sees potential complementarities vis-à-vis Sustainable Development Goals (SDGs).
For example, decent work (SDG 8), responsible production and consumption (SDG 12), and life on land (SDG 15). Moreover, the report notes that VSS must proactively support suppliers especially in developing countries with increased transparency.
The UN report says developing country participation in national level multi-stakeholder forums can help shape VSS. Support for micro, small and medium enterprises (MSMEs) is needed with transparent and credible local standards, and other national endorsement schemes.
A US International Trade Commission study proves that certifications help developing country producers grow or maintain market share in developed countries.
It forms conclusions based on food and agricultural products – specifically Marine Stewardship Council (MSC) certified seafood and Roundtable on Sustainable Palm Oil (RSPO) certified palm oil – to conclude that certified products may affect trade in three ways: by improving market access; changing the product mix or import sources that consumer countries rely on; and affecting the product trading price.
Developing country businesses (especially MSMEs) find VSS challenging due to lack of support and high costs.
The Export Development Board (EDB) has promoted awareness of Fairtrade certification for SMEs and other exporters, and provides support. More information on how developing countries can use VSS to their advantage is needed.