DIPLOMATIC MISSION
Compiled by Savithri Rodrigo
TIME TO DIVERSIFY EXPORTS  
Tung-Lai Margue urges Sri Lanka to diversify its export portfolio
The Head of Delegation of the EU to Sri Lanka and the Maldives describes his job as being "a manager with expertise in both internal and external dimensions." He eschews the notion of endless cocktail parties and glamorous lifestyles led by diplomats.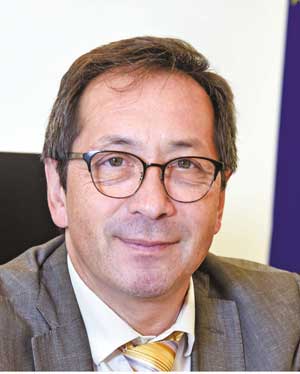 Multiple duties include managing large sums of money for development aid, and improving cultural ties and trade relations. This is in addition to the competencies of handling a multilingual, multiethnic, local and expat team.
Born in Luxembourg, Tung-Lai Margue's work at the EU since 1979 has bestowed on him a wide purview of African, Middle Eastern and Asian affairs, thanks to heading several delegations and travelling extensively.
Indeed, he has put his degrees in international relations, common market and European community law, and international and community law, as well as a European Baccalaureate in Economic and Social Science, to good use. Margue is also a laureate of the Faculty of Law of Aix-en-Provence.
It is apparent that both his artist wife Fabienne and he find their interests in art, music and history fuelled here in Sri Lanka.

Q: How do you view Sri Lanka today?
A: Despite the country showcasing amazing promise and prowess, the incapacity of political parties in general severely affects the economic and social fronts.
Sri Lanka has many promising economic drivers such as tourism and exports because it has a good image in 'Brand Sri Lanka.' This brand is the panacea for attracting foreign investors but there has to be political stability in the long term rather than only for the moment.
Q: So what has improved and what hasn't, in your view?
A: There is more strategic vision in terms of what needs to be achieved. In becoming an attractive transport, financial and technological hub, steps must be quickly implemented to achieve the objectives.
However, what concerns me are the lack of transparency, corruption and how business is conducted in Sri Lanka, in both private and public sectors. This is not good for business confidence.
The Commission to Investigate Allegations of Bribery or Corruption (CIABOC) has done a good job but it's not enough. There's much more to be done to change mindsets. If people are made to understand the benefits of transparency and denounce corruption, investors will be willing to take more risks.
Q: Could you update us on the latest developments between the EU and Sri Lanka?
A: The primary development is the regaining of GSP+, which has an immediate and positive impact on the economy with a tangible increase in exports.
Unfortunately, there's too much focus on conventional exports – e.g. apparel, rubber, tea and gems. Sri Lanka must diversify its exports to optimise potential. For example, the European consumer is partial to green labels and Ayurvedic products have great promise.
We're trying to add SMEs to the equation by extending trade facilities through UN partners. Our focus is also on culture and people to people engagement.

Q: Going forward, what should the EU and Sri Lanka be aware of globally?
A: Climate change is the common factor impacting the whole world. The EU is a partner to the Paris Agreement and there's a strong convergence of interest on this issue in Sri Lanka.
We are trying to encourage more environmentally-friendly approaches primarily because your country, which is so rich in nature, doesn't always protect the environment as it should. It's a matter of prompting the people's conscience and building on that.
It took us [the EU] a long time but we must start to defend the environment and be active in promoting climate change objectives that have been defined by the Paris Agreement.
Q: Any further plans for Sri Lanka?
A: There are many development projects particularly in the area of good governance and reconciliation, and intensifying integrated rural development – an initiative we have already started while keeping Sustainable Development Goals (SDGs) in mind.
We've made preliminary contact with relevant authorities on improving the judicial system to facilitate fair access to justice for a more efficient system prompting speedy resolutions. Sustainable agriculture is another focus area where we intend contributing to the entire cycle from production to warehousing, efficient transport, marketing and exports.
And we will continue our engagement on cultural and heritage projects in which the EU has been involved for several years.
Q: Where would you like to see Sri Lanka in 10 years' time?
A: I see Sri Lanka's strategic vision of being a technological, transport and financial hub becoming a reality – provided that all actors including the private and public sectors pull in the same direction. They will also have to be conscious that more transparency is needed and find common ground to fight corruption.
Q: What does the EU consider the most immediate challenge facing the world?
A: Apart from climate change, it would be migration. It is essential that the root causes of migration are tackled because it's also linked to climate change.
We are also at risk of witnessing increasing attacks on multilateralism. This is a matter of concern for the EU, as the world needs to have international rules not only on trade matters but in human resources too.
We're supportive of the UN's actions, as it is important that the world plays by a common set of rules.