POST BALANCE SHEETS
BULGING BOTTOM LINES!
Sri Lanka's leading listed companies are set to overcome the national obstacle course and rake in substantial profits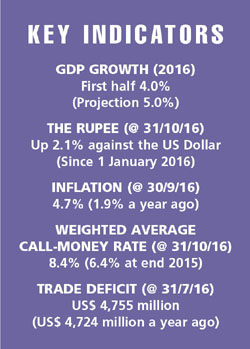 The Sri Lankan economy grew by 2.6 percent year-on-year (y-o-y) to Rs. 2.1 trillion in the second quarter of 2016, according to the Department of Census and Statistics. As in previous quarters, the highest contribution to GDP came from the services sector (55.8%), followed by industry (26.6%) and agriculture (7.7%).
As for the nation's external economy, the Central Bank of Sri Lanka reveals that "the external sector performance improved in July… with a reduction of the trade deficit, increased tourist earnings and higher inflows to the financial account. The trade deficit contracted in July due to the reduction in imports which outweighed the reduction in exports."
During the first seven months of 2016, Sri Lanka's Balance of Payments is estimated to have recorded a surplus of US$ 356 million compared to a deficit of 1,229.6 million dollars in the corresponding period of 2015.
BUSINESS SENTIMENT The LMD-Nielsen Business Confidence Index (BCI) remained largely volatile in calendar year 2016. After recording sustained losses in the preceding two months, the index surged by 17 basis points (to 155) in March followed by another period of negative results until August. The BCI then registered steady increases until October, only to surrender the cumulative gain in these three months in November.
In the most recent edition, the unique index recorded a massive drop of 21 points (to 144), with corporate resolve seemingly shaken in the run-up to the budget proposals presented on 10 November.

Nielsen's Managing Director Sharang Pant explains that "while there is visible improvement on key infrastructure project execution and clarity on policy from the government, the environment and policy is still not seen as being conducive for investment growth."
Two early indicators gave the thumbs downs for the budget proposals, with the stock market coming under pressure under the weight of higher corporate taxes and the Sri Lankan Rupee losing value in mid-November.
CONSUMER CONFIDENCE The Nielsen Consumer Confidence Index (CCI) meanwhile, continues to climb higher. The CCI rose by seven basis points (to 64) from the previous month in November, albeit that the increase in the Value Added Tax (VAT) rate is expected to impact consumption patterns going forward.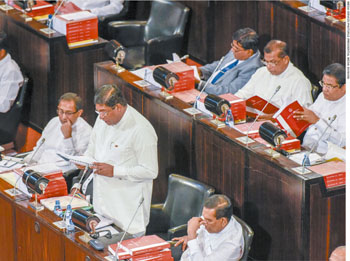 BUDGET PROPOSALS Direct taxes in virtually all sectors including exports have increased as a result of the recent budget proposals, with the state compelling businesses to pay more tax, which is likely to impact future corporate earnings. Hardest hit will be some of the nation's largest listed entities, including the banks and telcos.
On the contrary, tax concessions for new listings are to continue and the indications are that share transactions would continue to be exempt from the forthcoming Capital Gains Tax. Measures have also been proposed to develop market activities and attract more foreign investment.
INTERIM RESULTS A glance at the latest interim results of the LMD 100 Leaderboard reveals a healthy uptrend in financial year 2016/17, with aggregate turnover of the top 10 listed entities increasing by 14 percent y-o-y (to in excess of Rs. 510 billion).
Cumulative Profit After Tax (PAT) also registered a hike in the double digits for the interim period ended 30 September 2016, climbing 38 percent (slightly over 47 billion rupees) from the corresponding period of the prior year to .
As in the prior year's edition of the LMD 100, nine of the top 10 companies have reported profits so far in financial year 2016/17. Meanwhile, two of the top 10 in the LMD 100 report that they've had to contend with a contraction of profits in their interim results.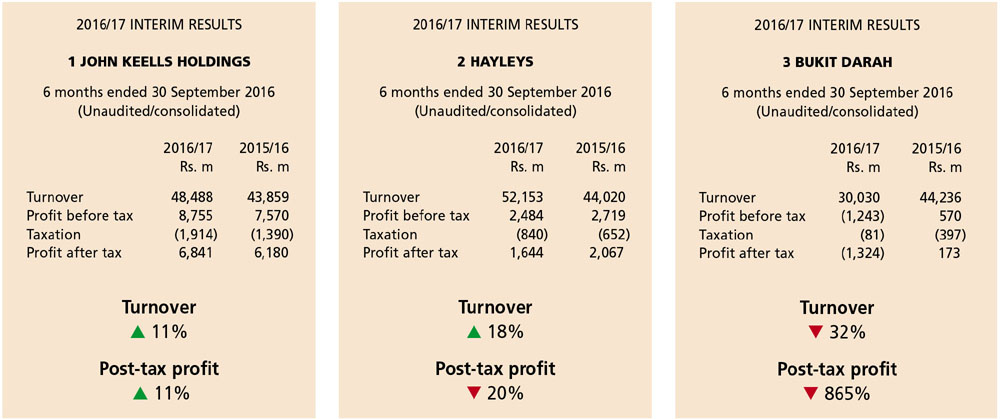 John Keells Holdings (JKH) witnessed an 11 percent expansion in turnover for the six months ended 30 September, reaching nearly 48.5 billion rupees. Its bottom line also registered an 11 percent y-o-y upside, with after-tax profits growing to Rs. 6.8 billion.
Chairman Susantha Ratnayake explains in a recent address to shareholders that the decline in profitability of JKH's transportation business in the second quarter of financial year 2016/17 is attributable to "the lower contribution from the group's bunkering business and to a lesser extent the ports…"
He notes that "the Port of Colombo witnessed a year-on-year growth in excess of eight percent, which underscores the overall potential and augurs well for capacity lead growth."
According to JKH's Chairman, the group's leisure segment was upbeat: "The city hotels sector and Sri Lanka resorts segment witnessed an increase in occupancy and average room rates across all properties compared to the corresponding period of the previous financial year,".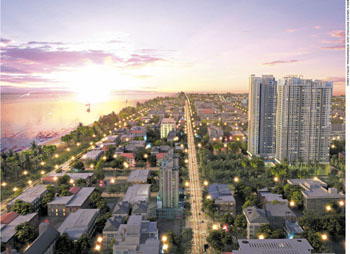 And its property segment saw the second residential tower of the Cinnamon Life project, comprising 196 apartment units, being launched as 'The Suites at Cinnamon Life,' with Ratnayake asserting that "pre-sales of both residential towers of the project continue to be encouraging."
In relation to the group's consumer foods and retail business, profitability of the frozen confectionery and beverage businesses was driven by double-digit growth in volumes and improved margins. The retail sector recorded growth in average basket values and customer footfall, contributing to year-on-year growth in same store sales and an incremental contribution from newly opened outlets.
Second-placed Hayleys reported 18 percent growth in turnover for the first half of 2016/17, to surpass Rs. 52 billion. However, its bottom line contracted by 20 percent y-o-y (to 1.6 billion rupees) in the six months to 30 September.
A statement issued by Hayleys reveals that "as was the case across the Sri Lankan plantation sector, crop losses due to adverse weather conditions and a government ban on weedicides resulted in the group's plantation segment revenue shrinking."
Commenting on Hayleys' performance, Chairman and Chief Executive Mohan Pandithage also notes: "While the systemic issues in the Sri Lankan plantation sector did have a negative effect on the bottom line, these effects were largely mitigated by strong performances across the Hayleys group – particularly with regard to the hand protection and construction material segments."
Bukit Darah's turnover declined by 32 percent from a year back (to Rs. 30 billion) in the six months ended 30 September 2016. During this period, it recorded a massive loss of Rs. 1.3 billion.
The group explains that the operating environment for its oil palm plantations business continued to be challenging, with multiple external factors impacting its operations – CPO prices remained volatile whilst crop production was on the low due to adverse weather conditions.
"However, with improved weather patterns, an increase in production is anticipated in the upcoming months as crop production generally tends to improve over the second half of the financial year, although it is uncertain as to whether a full recovery of the deficit is possible," it concedes.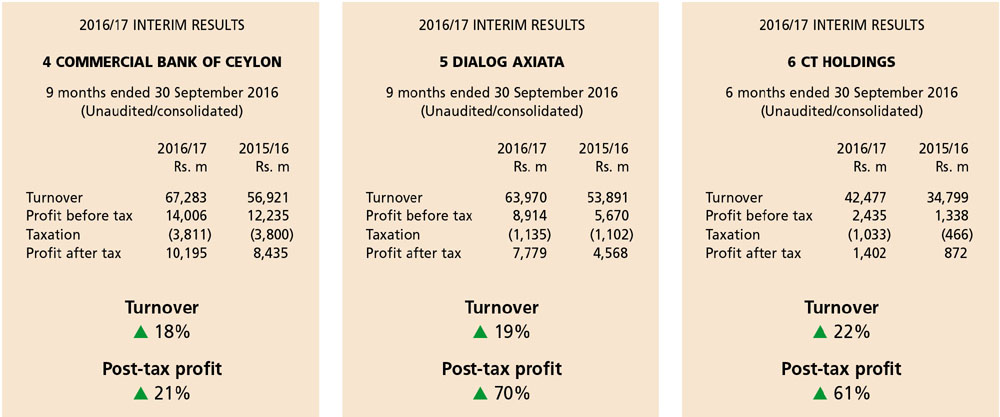 Commercial Bank (ComBank) reported a consolidated income of Rs. 67.3 billion (up 18% y-o-y) for the first nine months of calendar year 2016 while PAT appreciated by 21 percent y-o-y (to reach 10.2 billion rupees). And in September, the bank announced the commencement of operations of its banking subsidiary in the Maldives (Commercial Bank of Maldives) with a stake of 55 percent.
Telecom entity Dialog Axiata saw its top line expand by 19 percent in the period under review, reaching nearly Rs. 64 billion for the nine months to 30 September. After-tax profits were up by an impressive 70 percent y-o-y (to Rs. 7.8 billion).
The group continued its growth momentum across the mobile, digital pay television, tele infrastructure and fixed line businesses. Dialog was also a significant contributor to state revenues, remitting Rs. 23.7 billion to the Government of Sri Lanka for the nine months ended 30 September 2016.
Capital expenditure for the period (Rs. 12.7 billion) was allocated in the main towards investments in high-speed broadband infrastructure directed at strengthening its position in Sri Lanka's broadband sector.
CT Holdings generated a consolidated turnover of Rs. 42.5 million (up 22% y-o-y) in the first half of financial year 2016/17 while its half-yearly profit soared to 1.4 billion rupees (from 872 million rupees a year ago). The group's improved financials were driven by steady performances from the retail, FMCG and real estate sectors.
Its operational review notes that "a positive consumer environment coupled with increasing market presence and the strong equity of its brands holds group businesses in good stead. The management of all business sectors has also focussed on enhancing business efficiencies while growing market share."
In a matter of two years, the group's investment in the banking sector is also said to be gaining ground on achieving profitability and "the encouraging trend recorded provides strong optimism for the banking sector in 2017," according to CT Holdings.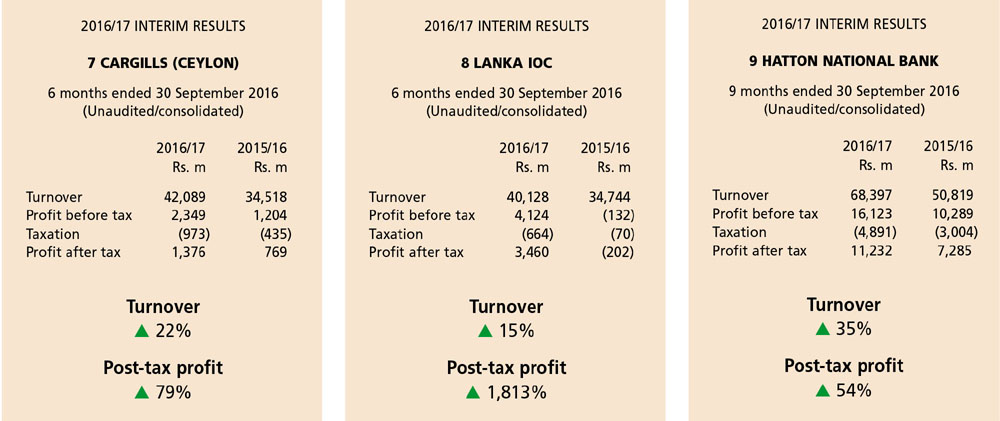 Group entity Cargills (Ceylon) also posted positive results in the interim period to 30 September, with turnover rising by 22 percent y-o-y (to Rs. 42 billion) and PAT reaching almost 1.4 billion rupees – versus a profit of 769 million rupees in the corresponding period of 2015/16.
This performance was supported by healthy growth across its retail, FMCG and restaurant business segments.
As for Lanka IOC, the top ranked energy company returned to the black in the first half of financial year 2016/17, recording an after-tax profit of nearly Rs. 3.5 billion (against a loss of 202 million rupees in the corresponding period of the prior year). It also reported a higher turnover (up 15% y-o-y) of over 40 billion rupees.
In the nine months ended 30 September 2016, Hatton National Bank's (HNB) top line grew by 35 percent y-o-y to surpass Rs. 68 billion. Meanwhile, its tax-paid profits surged by a more impressive 54 percent from the prior year, to exceed 11.2 billion rupees.
Core banking operations are said to have contributed strongly to HNB's results while the bank notes that "relentless efforts in process efficiency and cost optimisation have resulted in continuous improvement in the cost-to-income ratio."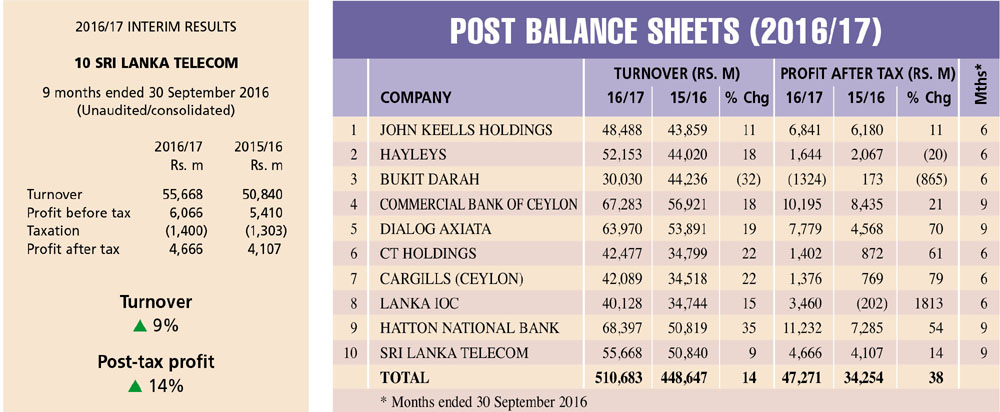 And lastly on the 2016/17 Leaderboard, Sri Lanka Telecom (SLT) reported a turnover of nearly Rs. 55.7 billion (up 9% y-o-y) for it first nine months in 2016/17 while PAT upside amounted to 14 percent (y-o-y) or 4.7 billion rupees.
A statement released by SLT notes that the growth "was largely driven by an increased demand for data and broadband-related products that were introduced to the market through LTE coverage expansion and fibre optic-based ultra-high-speed broadband for higher data volumes."
BUSINESS SENTIMENT All indications are that the nation's leading listed entities are set to rake in substantial profits in financial year 2016/17 even though their revenues aren't likely reflect as much upside. That said, this honeymoon may well be short lived as Budget 2017 takes effect the year after when bottom lines will be squeezed to some degree by the higher tax regime.
As far as the podium goes, we expect there to be a close run to the finish line, with the top three likely to comprise the nation's two leading conglomerates (a simple extrapolation suggests that Hayleys could well reclaim its top spot of last year) and a bank – with ComBank's dominance set to be challenged by HNB.