POLITICAL CHICANERY
POWERFUL PLUNDERER
Criminals out of power are vulnerable to investigation as seen in Najib Razak's case – Rajika Jayatilake reports
Power is a deadly phenomenon that robs supposedly responsible people of every shred of decency and honesty. As American political satirist P. J. O'Rourke observed: "Giving money and power to government is like giving whiskey and car keys to teenage boys."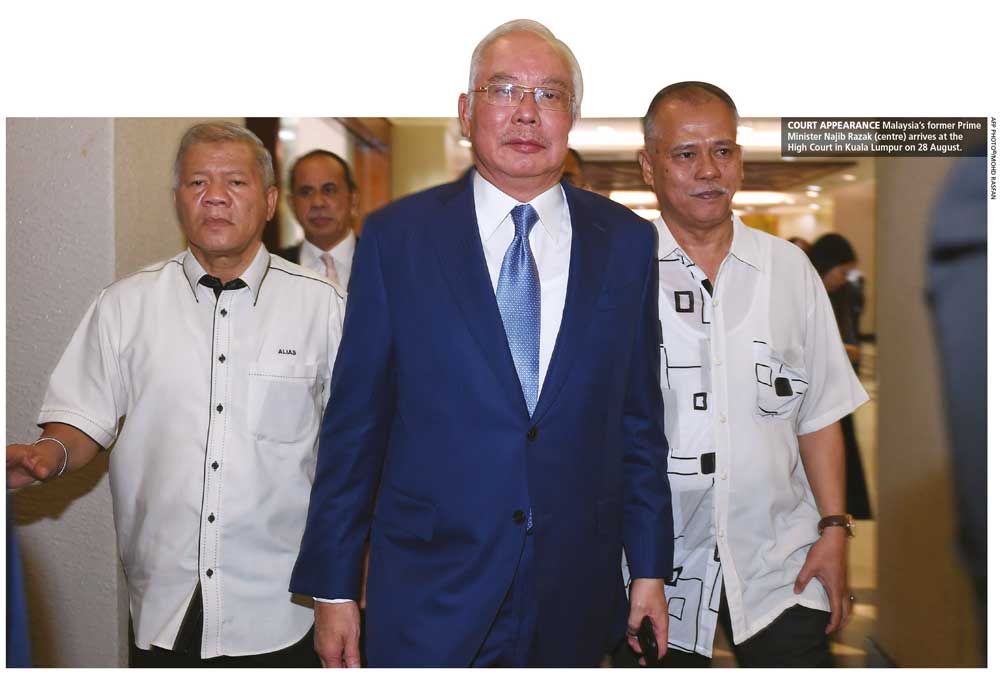 But what political criminals are most unprepared for is that once they're no longer in power, their misdeeds are exposed and the stolen property is nakedly displayed for the world to see.
It's such a situation that former Malaysian Prime Minister Najib Razak finds himself in. He grew up surrounded by power and privilege as the son of Malaysia's second prime minister Abdul Razak Hussein. Armed with a college degree, he worked briefly in the corporate sector before entering politics upon his father's death.
As Najib climbed the political ladder, he was looked upon as a rising star by Malaysia's largest political organisation the United Malays National Organisation (UMNO), which focussed on ethnic Malays.
But when he became prime minister in 2009, Najib wanted a multiracial, multi-religious nation under the banner '1Malaysia.' And to promote this concept of a united nation, he founded 1Malaysia Development Berhad (1MDB). The aim was to transform Kuala Lumpur into a financial hub, boost the economy through strategic investments and transform Malaysia into a developed nation.
Nothing was seen amiss until 2015 when 1MDB failed to honour several loan repayments amounting to US$ 11 billion to banks and bondholders.
On the heels of this, the Wall Street Journal (WSJ) reported that Malaysian investigators had traced almost 700 million dollars from 1MDB that had been routed through a US bank and deposited in the PM's personal bank accounts. In the meantime, the US Department of Justice (DOJ) charged that US$ 4.5 billion had been siphoned out of 1MDB between 2009 and 2014.
Najib rejected accusations of money laundering but simultaneously fired four ministers and his deputy prime minister to silence the accusers. He then sacked the attorney general (who was ready to charge him for corruption) and tried to suspend the Malaysian Anti-Corruption Commission's investigations.
By then, several other countries including the US had launched investigations into the brewing scandal. The main red flags were money laundering, and the acquisition of luxury real estate in America (valued at US$ 150 million), yachts and branded goods, as well as jewellery.
Meanwhile, Najib's stepson Riza Aziz was financing the Hollywood movie The Wolf of Wall Street along with a close family friend – Malaysian businessman Jho Low. The money for this too came from 1MDB.
In July 2016, the DOJ filed a lawsuit against Malaysia to recover more than US$ 1 billion in assets that had been embezzled from 1MDB. And the former Deputy Director of the FBI Andrew McCabe said: "The Malaysian people were defrauded on an enormous scale."
Meanwhile, Swiss authorities froze several individuals' bank accounts, and investigations were underway in Hong Kong and Singapore, as well as Malaysia.
Yet, the prime minister survived the cascading scandal and in 2016, the new attorney general cleared him of all charges. Nevertheless, nagging questions persisted on the plunder of state coffers, provoking political unrest in Malaysia with political opponents, his own party, a global network of nongovernmental organisations and the United Nations Convention against Corruption demanding his resignation.
Added to that, mass street protests underlined the people's anger against the then prime minister.
Despite all this, Najib was on the cards to win the Malaysian general election last year. But the turn of events was stunning. With over 76 percent of the 14.3 million eligible voters in the country casting their vote, his Barisan Nasional coalition won only 79 of the 222 seats in parliament. The opposition coalition led by Dr. Mahathir Mohamad won 121 seats.
Without power, he had no protection and within days of his defeat, Najib and his wife were banned from leaving the country. Police raided their properties and confiscated a cache of luxury goods worth US$ 273 million. This has been described as the biggest plunder in Malaysian history and all apparently linked to 1MDB funds. Police also seized 72 suitcases stuffed with cash and jewels.
Najib immediately claimed that the items were mostly 'gifts' given to his wife Rosmah and daughter. Rosmah had been compared to Imelda Marcos for her recklessly lavish spending on items such as a 27.3 million dollar pink diamond necklace.
Without the shield of power, the couple stand exposed before the world as the former prime minister faces five corruption trials. There are 40 charges of criminal breach of trust, money laundering and abuse of power against Najib Razak while Rosmah faces 17 charges including money laundering. Both have pleaded not guilty.
Currently, Malaysian and US prosecutors are trying to recover Malaysia's wealth – allegedly plundered by the very people who were entrusted with its protection.
As Aesop once said: "We hang the petty thieves and appoint the great ones to public office."