COVER STORY

THE PRESIDENTIAL ELECTION
RIVALS FOR A RIVEN NATION STATE
Wijith DeChickera profiles the front-runners in a presidential contest that is flooded by personalities over principles
A record 35 aspirants will ask punters to head to the polls on 16 November. But conventional wisdom says only two major contenders will vie for the prize with a third likely forcing a preferential count – it is unlikely that any party will gain 50 percent of the votes plus one to bag the trophy outright.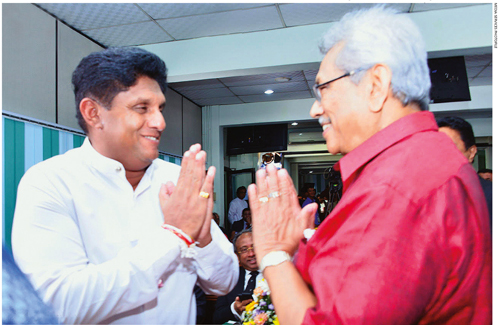 NEW DEMOCRATIC FRONT This is the 'green' alliance led by the United National Party (UNP), and backed by the Sri Lanka Muslim Congress (SLMC), Jathika Hela Urumaya (JHU) et al.
The UNP is a centre-right pro-capitalist party founded in 1946, traditionally favouring liberal conservative politics and neoliberal market oriented economics. Its candidate, Deputy Leader Sajith Premadasa, is a populist much like his father former president Ranasinghe Premadasa and the UNP's founding prime minister D. S. Senanayake.
That may be good news for his party to give the Rajapaksa endorsed opponent a run for his money or power but could be bad for people looking towards principles over personalities…
Premadasa has long been heir apparent and the 'prince who mounted a palace coup.' However, if the usual cabal of UNP cronies inherit governance again – with 'Mr Clean' presiding over a plutocratic cabinet – there might ensue another five years of trickle-down largesse for the hoi polloi but tacky lucre on tap for powerful friends in high places.
SRI LANKA PEOPLE'S FRONT The breakaway political grouping of the Sri Lanka Freedom Party (SLFP) – commonly known as Sri Lanka Podujana Peramuna (SLPP) – has drawn members of the 'blue' allied United People's Freedom Alliance (UPFA) loyal to ex-president Mahinda Rajapaksa who is its present leader.
Despite its obscure origins, the SLPP made an impact on mainstream politics by sweeping the local government elections in February last year to win most of the 340 local bodies. This was a protest vote against lacklustre performance by the then 'yahapalanaya government.'
Although another routed the rest of the field at the 2005 and 2010 presidential elections, garnering 4,887,152 (50.3%) and 6,015,934 (57.9%) votes respectively, there's no guarantee his younger brother could convert those past romps into personal victory even with SLFP backing.
Despite panoplies of business cum professional support, there's a plethora of moral, ethical and legal issues hanging over Gotabaya Rajapaksa's head. The outcome of the cases may prove academic given the clout (perhaps literally) the erstwhile strongman bureaucrat carries. A question about the future therefore, is whether his mantra of discipline might degenerate into despotism bolstered by a militant 'saffron brigade.'
NATIONAL PEOPLE'S POWER Led by the People's Liberation Front a.k.a. Janatha Vimukthi Peramuna (JVP), this band of 'red' brothers includes the National Front for Good Governance.
With communist-socialist roots, it has gone from a Marxist-Leninist agitator fuelling the 1971 and 1987-89 armed insurgencies against the state, to a more progressive reformist outlook.
Contesting the presidency in 1982 (Rohana Wijeweera garnered 273,428 or 4.2% of votes) and 1999 (Nandana Gunathilake with 344,173 votes or 4.1%), it opted out for 20 years. However, the JVP was perceived as being instrumental in challenging Mahinda Rajapaksa's 2010 candidature while championing the then General Sarath Fonseka.
Other candidates who may prove to be dark horses include former army commander General Mahesh Senanayake on a civil society ticket.