THE ECONOMY
OPTIMISM CONTINUES TO TREND DOWN
The downward trend in sentiment continues on the back of below par economic growth

Department of Census and Statistics (DCS) data notes that GDP growth slowed to 3.1 percent in 2017, which reflects a new low since 2001. This is attributed to the contraction of agriculture sector growth, and relatively weak expansion in industry and services compared to the previous year.
However, Central Bank of Sri Lanka Governor Dr. Indrajit Coomaraswamy has noted that the inflow of foreign exchange could aid the country in achieving a growth rate of five percent this year.
A recent analysis by the Asian Development Bank (ADB) indicates that a recovery of the agriculture sector could contribute to economic growth over the next two years if weather conditions normalise. The ADB forecasts growth of six percent and 5.6 percent, in 2018 and 2019 respectively. This recovery is expected to benefit the industry segment as demand improves.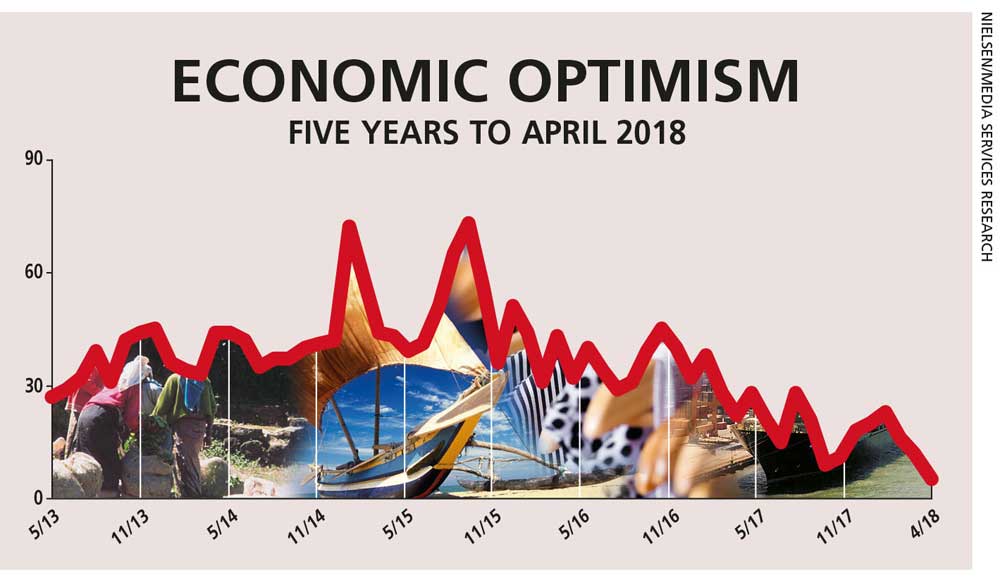 The report adds that policy changes are needed to reform state owned enterprises (SOEs); and it notes that as part of the ongoing IMF programme, oversight and financial discipline are expected to be enhanced in the five largest SOEs.
Further, it stresses the importance of continuing such reforms due to the potential efficiency, and fiscal and distributional impacts, of an underperforming SOE sector.
THE ECONOMY Optimism regarding the economy continues to dwindle as a mere five percent of respondents (vs 11% in March) expect an improvement over the next 12 months. What's more, 47 percent (up from 44% in the previous month) expect the economy to deteriorate during this period.
In his analysis of the survey results, Nielsen's Managing Director Sharang Pant observes: "The overall GDP performance disappointed… the rupee has started to decline again and interest rates are moving up. The new taxes have come into effect… All these – coupled with political instability – have raised anxiety levels and sentiment has dropped."
One survey respondent states that "with the general economic flow in Sri Lanka and how politically unstable our country is," he cannot say that either his business or the economy will improve in the coming months.
BIZ PROSPECTS Business prospects are expected to remain the same however, with 57 percent and 48 percent of corporate executives surveyed expecting sales volumes to 'stay the same' in the long and short terms respectively.
A tourism industry representative asserts that "more effort needs to be made by the government to ensure economic stability so that there will be increased investments in the industry."
INVESTMENT The investment climate is deemed to be 'fair' or worse by an overwhelming majority (97% – up from 93% in March) of respondents. Pant notes that "business leaders are still sceptical about the investment climate as a fallout of the general situation in the country."
"We have witnessed a reduction in foreign investments, and even local investors are in two minds whether to invest due to high uncertainty about both the economy as well as the government," states one corporate executive.
WORKFORCE When it comes to employment, a notable majority (84% – up 3% from the previous month) of businesses are looking to maintain their current workforce over the next six months while 14 percent expect to increase staff numbers.
– LMD