NDB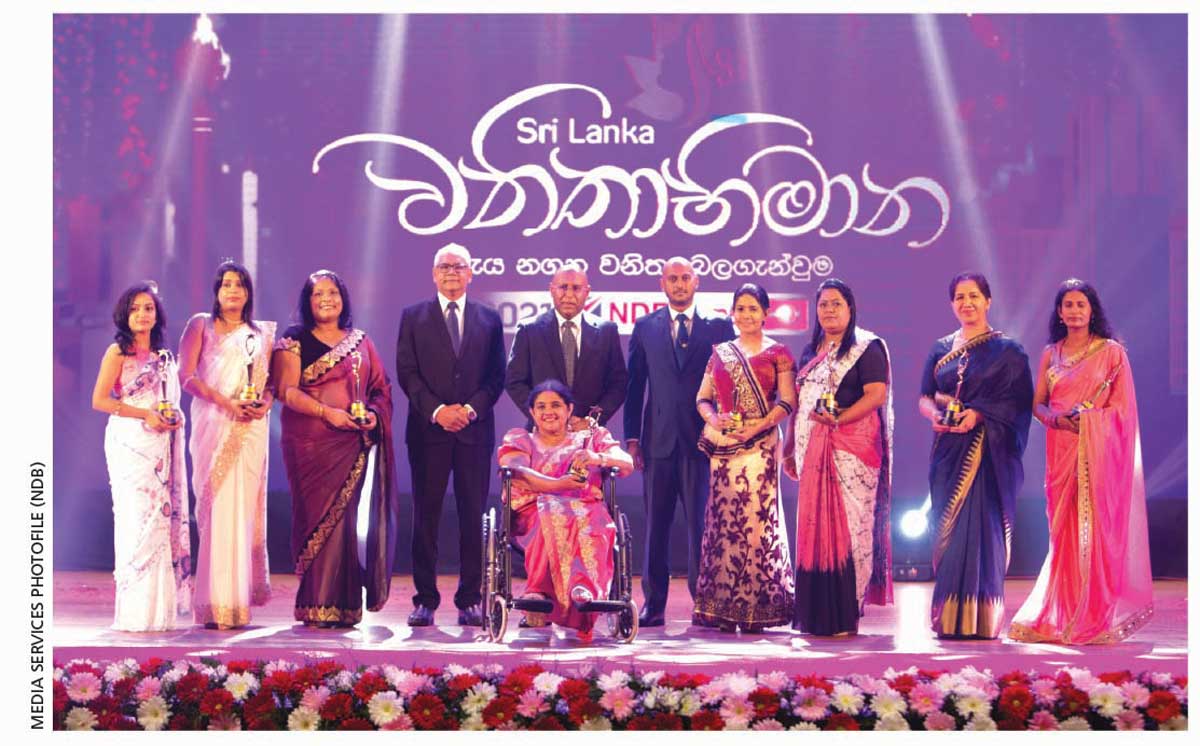 Q: Could you share with us some of the recent accomplishments of the bank?
Sanjaya Perera (SP): NDB has been blazing a path of growth over the past five to six years. Proving its strength and stability, the bank was named the most awarded corporate for 2021. The latest feather in our cap is winning the Best Bank Sri Lanka award for 2022, awarded by Global Finance at a ceremony at the National Press Club in Washington, D.C.
This accolade complements the other awards won and completes the triple titles of Best Bank in Sri Lanka awarded by leading global publications: Global Finance in the US (2022/2021), The Banker in the UK (2020) and Euromoney (2022).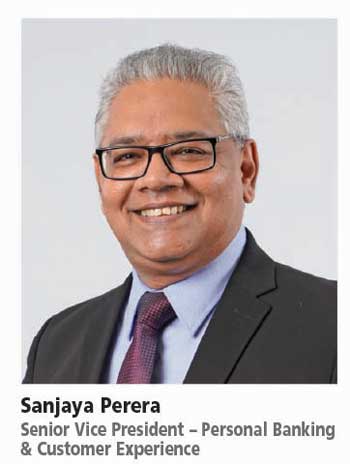 Although our strong performance as a bank wins us many awards, our true accomplishment is our resilience against the tumultuous environment we operate in, thanks to the agility of our staff and management.
Q: How is NDB contributing towards helping its customers navigate the crisis?
SP: Although NDB is now a commercial bank, we began as a development bank in 1979, and we still carry that expertise and philosophy.
As a bank committed to developing our customers, and through them the wider community, we are focussed on developing entrepreneurs – especially exporters, to increase the country's foreign exchange revenue. In addition to lending, we advise and support our clients on financial and other business aspects as well.
NDB also caters to a wide array of individual customers, including high net worth clients, and provides a personalised, quality and professional service regardless of the difficult times we're facing as a country.
Q: How is the bank catering to the changing needs of today's customers?
SP: We have been at the forefront of introducing digital banking channels to customers while retaining our personalised human touch when delivering a differentiated experience.
The NDB NEOS app, which is one of the best in the country and the region, enables customers to complete all their banking transactions without stepping into a branch. The app's success is seen through the volume of transactions it facilitates. Although NDB Bank has 130 branches, 80 percent of our transactions are done through NDB NEOS.
Q: How important is the empowerment of women in Sri Lanka today?
Lasantha Dasanayake (LD): Women's empowerment means enabling them to make their own life decisions, irrespective of age, social class, economic status or location.
In Sri Lanka, women have been positioned as 'keepers of traditional culture' rather than as essential contributors to the country's economic development. With a female population of over 52 percent, it is imperative that we actively empower women to contribute to the economy especially due to the current economic situation.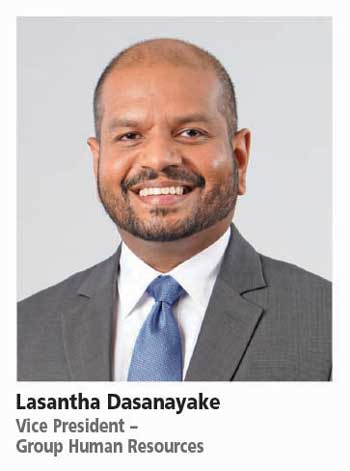 Q: Can you share some of the bank's initiatives to foster financial inclusivity among women?
LD: NDB has recognised the need to encourage women to build strong professional careers or become successful entrepreneurs, and our efforts are not limited to the Western Province.
The bank has launched several initiatives to create better opportunities for women – from employees to customers, and those caring for families while building successful ventures. The NDB Banking on Women (BOW) initiative and NDB Sri Lanka Vanithabhimana recognition programme are flagship interventions.
NDB BOW was formed in partnership with the International Finance Corporation (IFC), and strives to fill gaps in accessibility to quality financing and advisory support for women, from homemakers to entrepreneurs. Through this initiative the bank hopes to provide a holistic solution to its women customer base whether they are entrepreneurs, salaried employees or housewives.
NDB's Sri Lanka Vanithabhimana, which was launched in partnership with Sirasa NewsFirst in 2020, is a national level awards platform that celebrates women and their achievements across multiple categories ranging from entrepreneurship to environmental management.
The programme also offers financing and advisory support to participants, identifying scalable business ventures and creating opportunities to expand market access. Now in its third year, NDB's Sri Lanka Vanithabhimana has been extended to professional women in 10 subcategories including law, marketing, finance and public service.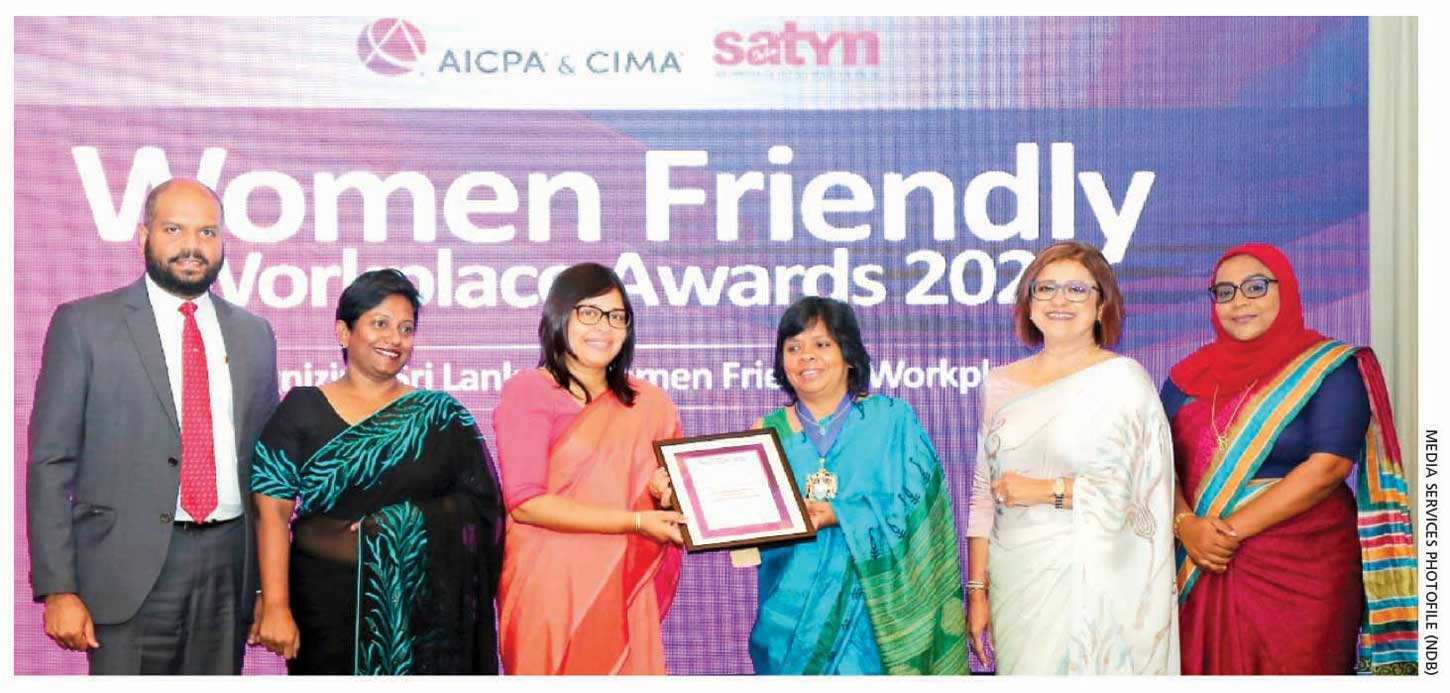 Q: How is NDB empowering women within the bank?
LD: As an equal opportunity employer – diversity, equity and inclusivity are etched into NDB's DNA.
We were the first corporate in Sri Lanka to obtain the EDGE certification for women's representation at organisational level, pay equity, effectiveness of policies and practices to ensure equitable career flows, as well as inclusiveness of our culture.
The bank is also engaged in programmes such as the SheWorks Sri Lanka partnership spearheaded by the IFC. We have several women-friendly initiatives and policies such as extended maternity leave, flexible working and time options, anti-harassment policies as well as whistleblowing policies that foster a progressive culture at NDB.
NDB has been recognised as one of the top 100 Best Workplaces in Asia by Great Place to Work® and also received several accolades as a women-friendly workplace in the last few years.
– Compiled by Ruwandi Perera
___________________________________________________________________________
INTERVIEWEE DETAILS
Sanjaya Perera
Senior Vice President – Personal Banking & Customer Experience
Lasantha Dasanayake
Vice President – Group Human Resources
___________________________________________________________________________
COMPANY DETAILS
Telephone
7448448
Email
contact@ndbbank.com
Website
www.ndbbank.com
___________________________________________________________________________