'NATURAL CAPITAL' TOURISM CAMPAIGN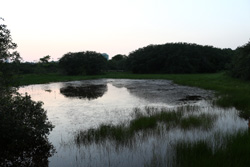 A tourism promotion talk on the 'Natural Capital of Sri Lanka' focussing on birds and mammals was held at the Sri Lankan High Commission in Australia, gathering a number of Australian wildlife enthusiasts. The event was organised by the High Commission as part of its tourism promotion initiatives, together with Aarunya Vacations – a Sri Lankan tourism promotion company based in Canberra.
The presentation was made by ecologist and nature photographer Rahula Perera on the wildlife and natural beauty of Sri Lanka.
Speaking at the event, High Commissioner Somasundaram Skandakumar stated that the High Commission hopes to hold similar events of this nature in the future, concentrating on different aspects of the Sri Lankan culture and tourist attractions.