INTERNATIONAL MARINE CONFERENCE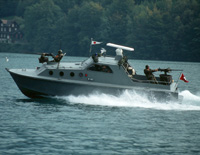 The Galle Dialogue 2017: International Maritime Conference will be conducted on 9 and 10 October in Colombo. This year's conference is held under the theme of 'Greater Maritime Visibility for Enhanced Maritime Security,' and looks to provide a common platform for stakeholders of national and international repute to discuss and deliberate issues related to maritime security.
Held for the eighth consecutive year with the participation of 38 countries, this event is set to enable participants to confer ways and means to augment 'maritime visibility' through constructive deliberations. It is anticipated that such an approach will pave the way to enhance maritime visibility, and address maritime security threats and challenges through a proactive strategy.