MORE TOURISTS FROM CHINA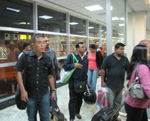 Sri Lanka is expected to receive more Chinese tourists in the coming six months with projected growth of 10.2 percent versus the 29 percent growth witnessed in the year to date. More than 20,000 Chinese tourists are reported to have arrived in Sri Lanka in the last month alone.
The island has witnessed steep growth in its overall visitor numbers at double the rate of tourist arrivals to the Asia-Pacific region. The Sri Lankan Government expects the country to attract at least three million tourists by the end of this year and is targeting four million by 2020.
In addition to tourists, the island also anticipates an increase in foreign investments from China and other nations. President Maithripala Sirisena reportedly stated that the next three years (2017-2019) would be 'investment years' for Sri Lanka with special concessions given to foreign investors.