MASTERCARD
A FIVE POINT STRATEGY FOR SRI LANKA TO LEAPFROG ITS DIGITAL ECONOMY
A global understanding that an inevitable shift in the way people transact has been set in motion. The findings of a study conducted by Mastercard in early 2020 revealed that 79 percent of people worldwide and 91 percent in the Asia-Pacific region prefer the use of contactless payments.
Where does our digital economy infrastructure stand?
Sri Lanka remains optimistic, given its relatively developed digital landscape with more than 60 percent of the population owning mobile phones and a large number accessing the internet.
Sri Lanka's ICT-BPM workforce is expected to reach 300,000 from 125,000 in 2018, which would then be supporting a US$ 3 billion industry in 2024 from the current one billion dollars.
In addition, Sri Lanka has identified 'Building a Technology-based society' as a key national initiative in its National Policy Framework (NPF) 'Vistas of Prosperity and Splendour.'
In order to make maximum use of established infrastructure, Sri Lanka must filter out and select optimum strategies, which would act as a catalyst to grow the market and focus on key areas to leverage expedited digital economic growth.
Empower the SME and MSME sectors for dig­i­tal business and e-commerce
Both banks and fintechs have introduced homegrown and international solutions to the market, which seek to push towards digitalisation inclusive of remote payment acceptance systems through payment links, e-invoices, and payment gateway integration into ERP systems and websites.
Therefore, it is vital to increase awareness of such solutions to this segment, which could lead to better reach and efficiency while saving costs.
Adopt open loop technology for public transport payments
In Sri Lanka, where transport systems are reliant on cash transactions for payments, a shift towards digital payments is deemed to be essential.
Enabling open loop transit will allow tourists to use public transport conveniently by using their existing bank cards, instead of buying separate cards on arrival. Sri Lankan banks also issue only cards with contactless payment capabilities across all major card networks.
Sri Lanka could leapfrog in transit payment solutions as it will completely remove the burden of setting up separate card issuing kiosks and reload machines, which will make the lives of people more convenient.
It is essential to build low-cost acceptance infrastructure that will enable local merchants to accept and receive digital payments seamlessly without too many disruptions.
Expand low-cost acceptance methods via Software Point of Sale (SoftPoS) and LANKAQR
SoftPoS is a revolutionary new technology that allows merchants to accept card payments directly on their phones or devices without the need for any additional hardware. Businesses with large rider fleets are expected to benefit immensely from SoftPoS technology.
LANKAQR enables customers to make payments directly from their bank accounts or cards, to merchants or service providers, using payment apps of LANKAQR certified financial institutions.
If all leading international and local payment networks are recognised by LANKAQR acquirers, consumers will not be confused as to which funding source to use and users will be able to make payments at LANKAQR merchants with EMVCo supported mobile applications.
In the case of larger merchants, LANKAQR should be first implemented with merchants where customer traffic is at a lower level. This is due to the fact that other payment methods such as contactless cards may be convenient for quicker checkouts.
Move towards open banking
The movement toward open banking – which harnesses the use of open application programming interfaces (APIs) that enable third party developers to build applications and services around a financial institution – looks to ensure that making and receiving payments is secure and simple, and matches expectations of service while guaranteeing consumer protection.
An open banking framework would provide a governance structure to facilitate customer-consent based online sharing of financial data with service providers using open APIs.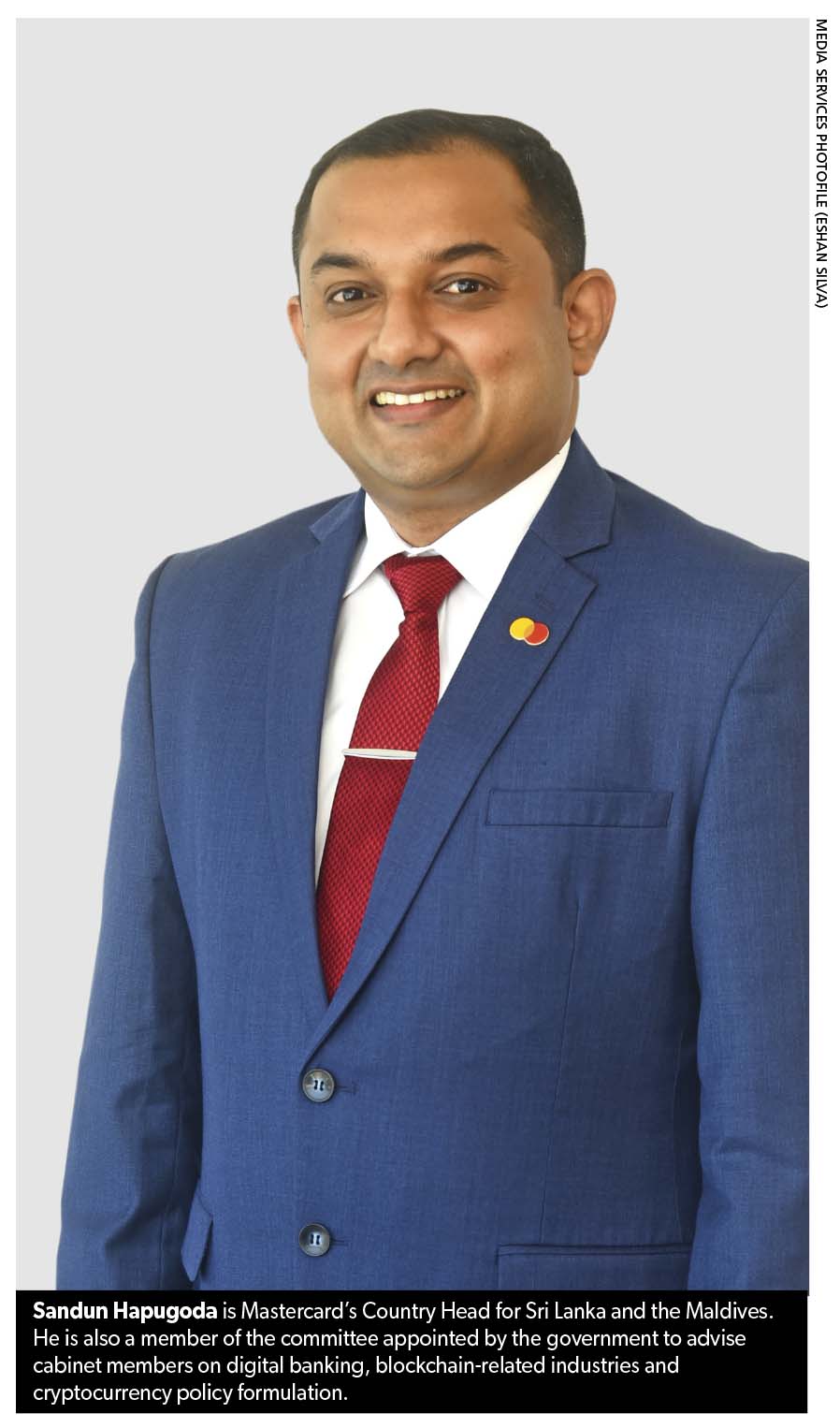 Harness blockchain as a tech enabler
Blockchain technology has taken the world by storm in recent times. Functioning as a system of recording information in a manner that makes it difficult or impossible to change, hack or cheat the system, security is one of its paramount features.
Sri Lanka too needs to become competitive in this global space. The technology has the potential to function as a source of forex income for the country if Sri Lankan entities are enabled to sell their digital arts and other digital assets globally as non-fungible tokens (NFTs).
If foreigners are allowed to make payments in stable crypto currencies to merchants by bringing in a formal mechanism for acquiring them, Sri Lanka could avoid crypto-based transactions and settlements taking place outside the country while the service or product is consumed within it.
It is clear that global cashless digital eco­nomies of the future are picking up the pace. In just over a few decades, digital payments, which were once rare, are now a standard practice across the world.
In this landscape, the question for Sri Lanka is no longer about whether we should adapt to a digital economy but rather, how we can make our digital economy more inclusive, better and secure while ensuring that a consistent growth rate across the nation's digital economy is achieved.
Sandun Hapugoda is Mastercard's Country Head for Sri Lanka and the Maldives.He is also a member of the committee appointed by the government to advise cabinet members on digital banking, blockchain-related industries and cryptocurrency policy formulation.
Telephone 7598519  |  Email Sandun.Hapugoda@mastercard.com  |  Website www.mastercard.com