MARKETING EDUCATION
SURVIVAL THROUGH EVOLUTION
Ruchitha Perera says that marketers must be upskilled to meet new challenges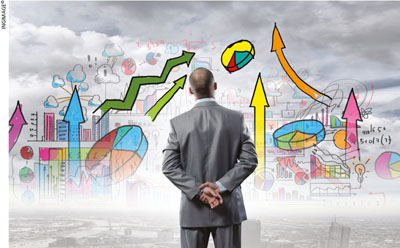 The increased emphasis on marketing as a core business function to create, communicate and deliver stakeholder value comes as no surprise. But what's bewildering is the lack of such an emphasis on the marketer.
Organisations take pride in their learning and development (L&D) initiatives but there's a glaring gap between taught skills and the level of competence of marketing practitioners.
While robotics will undoubtedly continue to replace traditionally popular careers by transforming them into professions that collaborate with machine learning, it is unlikely that marketing as a profession will become obsolete even though it's increasingly becoming over-reliant on technology.
On the other hand, with adequate knowledge, the right calibre of marketers will be the answer to meet evolving business demands. So it's time to nurture a new breed of marketers who can combine technology, emotional insights and knowledge. The need of the hour is a realignment of the relationship between marketing and the marketer.
Let's consider some important attributes…
Marketing education will play a significant role in remodelling the new marketer. Marketing was historically considered a profession that didn't require formal training but this notion has changed.
Modern marketing education should up its game and incorporate practical knowledge as part of its offering to give more bang for the buck and ensure that the new marketer is competent. Marketers should choose education options that progress towards continuous professional development (CPD) to keep abreast of knowledge and update their skills.
The rapidly evolving local and global economy will soon set apart those who have the ability to seamlessly convert theory into utility, which is one of the great divides in marketing. For instance, relying purely on marketing definitions, strategy tools and the marketing mix won't produce successful businesses.
Application of theory will only develop textbook marketers, depriving organisations of building cutting-edge customer value.
It's surprising that training programmes focus a considerable amount of time on teaching theory, which will prove futile if it's not practically executed. Though I don't dismiss the relevance of marketing literature, theory alone won't suffice for the development of agile marketers in the future.
Another path to success would be to develop the marketer's ability through agility to interpret evolving competencies. A marketer must convert his or her skills into marketing competencies of the future, incorporating AI and emotional intelligence, and mixed reality.
And let's not rule out the importance of soft skills competencies that blend with key marketing capabilities – they comprise communication, social and digital technologies, and so on. Though social platforms such as Twitter, LinkedIn and Instagram are widely used, they lack practical relevance and insights, and limit the appropriate validity.
Marketing competencies should embrace emerging technologies in a changing world. According to Gartner, AI driven digital marketing insights, customer data platforms, blockchain for advertising, and real-time multi-channel and e-commerce marketing will be sought after trends.
Modern marketers must find ways to be curious but also agile – and learn rapidly, and develop and execute the latest technological trends.
Global marketers are presently experimenting with mixed reality (MR), which is the blending of physical reality and the digital world. There are plenty of useful MR applications for local marketers to delve into.
Marketers must also be aware of in demand careers and be ready to carve out their own piece of the pie by showcasing their core competencies. Global trends suggest careers in event marketing, content marketing, experiential marketing, real-time marketing and search marketing as growth areas that will provide sufficient scope and future opportunities.
Without a doubt, these specialist areas will yield the highest remuneration, enticing marketers to differentiate and make full use of their career options.
As the COVID-19 crisis continues to upend people's livelihoods, changes in customer behaviour have impacted the skills and expertise in the marketing fraternity. Therefore, marketers must develop insights into reinforcing positive new beliefs, promote the values that shape emerging customer habits, sustain new habits
using contextual cues and align messages to customer mindsets.
In a truly digital world, newer marketing generations must be mindful that the demand for agility and speed is far greater now because of the 'new normal' that has been forced upon us.
As professional marketers, adapting and upskilling are a must. Being proactive and able to sniff out trends (and capitalise on them) need to be in our DNA – and this must be instinctive. To survive, we must evolve – indeed, a tough challenge for the modern marketer.