LMDTV
"Many policies are generally driven by political intentions," MAS Holdings' Director Corporate Affairs Rajitha Jayasuriya asserted in her assessment of the pitfalls in tackling corporate governance in Sri Lanka.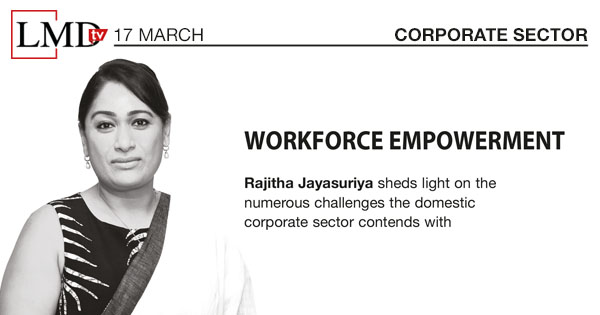 Adding to this, she continued: "It is very rarely that corporates or the public are consulted about the intentions or needs of the country or people when policies are drafted and implemented."
As such, Jayasuriya believes there's an inability to stand by decisions – especially in the public sector – due to concerns about being reprimanded or the implications of continuing along such a path. Adding to this, she noted that public sector employees aren't well remunerated, which in turn leads to corruption.
In her view, there are a number of issues to be addressed from a corporate governance perspective.
These include questions regarding empowering people; remunerating public sector workers; and implementing good structures in terms of legal, corporate governance and national policies that will help the people and the country. And finally, she questions how people can be empowered to work to uphold these policies.
"With the downfall we witnessed in the corporate sector in the late 2000s, many companies understood the importance of governance," Jayasuriya explained, adding that most businesses took steps "to introduce good policies, structures and robust policies around corporate governance."
However, she stressed that there is room for improvement as the importance of ethics and transparency must be emphasised, as well as empowering people to speak up when they witness transgressions.
As for gender inclusiveness in the corporate context, Jayasuriya pointed out that over the last decade or so, there have been concerted efforts to promote female leadership and inculcate a culture that encourages women to remain in the workforce.
Some of these efforts include the introduction of sponsorship and mentorship programmes, and changing workplace standards in the context of flexible working hours and childcare facilities.
"Traditionally, we are taught that men are the hunters, and women represent the segment of the workforce who stay at home, bear children and are caregivers," she observed, adding that people are almost programmed to think of the two genders as having different roles in life.
As such, she insisted: "We have to empower children to think beyond any limitations that society places on them – and encourage them to be who they want to be irrespective of [their] gender."
While stating that such a goal is an uphill journey, she acknowledged that most corporates have taken this on to raise awareness about gender biases, adding: "It is encouraging that we are taking strides in changing this mindset."
However, Jayasuriya is of the opinion that not enough is being done to entice women to join the workforce.
When it comes to lessons that could be learned from the apparel industry – which employs a large number of women – she highlighted the principle of treating people with respect.
"From that comes equality, the empowerment of women, and enabling both men and women to speak up and follow the courses they want in life," she maintained, elaborating that "nothing will hold them back if we can build that confidence and respect early in our journeys."
According to Jayasuriya, fostering an inclusive culture could also help attract gen Z to the workforce and engage them: "If organisations can be dynamic, change with the times and understand the value this generation offers, which is basically unfettered thinking because they've grown up in an environment where they have access to information at their fingertips."
Summing up her thoughts on changes needed in the corporate landscape, she explained: "We have to create the right culture and bring in this type of thinking – so that we can be dynamic, move with the times, and be more current and relevant."