LMD TV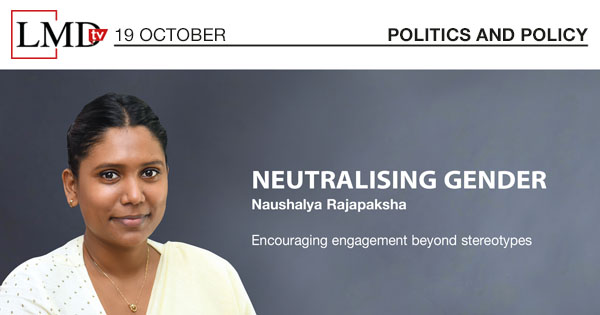 Founding Director of Yeheliya Foundation Naushalya Rajapaksha, in conversation with LMDtv, acknowledged that the interim budget was an important step that had to be taken to establish a new economic policy and adopt a new order.
But she observed that the budget contains few references to women, despite the fact that they make up 52 percent of the nation's population.
She explained: "In terms of women, I believe that more emphasis should have been placed on education – especially with regard to uplifting women and their empowerment, particularly in the areas of water sanitation and sanitary facilities."
"We are speaking about this in a country in which we don't have a cabinet ministry allocated to women. We don't have a cabinet ministry to represent the majority population in the country. In that context, I understand why some women's issues could have been overlooked; but this should be addressed as Sri Lanka has undertaken international obligations to do so," she remarked.
With regard to the open dialogue she helped facilitate with the aim of improving female participation in governance and identifying barriers women face when engaging in parliamentary politics, Rajapaksha observed: "We not only identified the barriers we might face but also identified solutions."
She pointed out that there is no transparency in handing over nomination papers. Despite constituting the majority of the country's population, women are represented by fewer than 12 female lawmakers in a parliament of 225. She also admonished Sri Lankans for engaging in welfare politics.
"A politician should be somebody who can take good policy decisions – so we don't necessarily need great speakers. We need good people with substance to come forward," Rajapaksha stressed.
The women's rights activist questioned mainstream media's responsibility in the objectification of women. She highlighted how gender roles are defined and said: "According to advertising, it is the woman in Sri Lanka who makes a cup of tea; it's a woman's responsibility to ensure that the house is clean and free of germs; and it's a woman's obligation to care for the children, from bathing a baby to changing diapers and everything."
Referring to the tax proposals in the 2022 Interim Budget, Rajapaksha warned that "young professionals are looking to migrate, causing a brain drain in the country, because they feel that the proposed tax hikes are like the final nail in the coffin for their careers."
She asserted that "instead of always trying to take back, especially from young professionals who did not leave the country amidst the economic crisis, they should be empowered to stay in the country."
"Instead of these tax hikes, the government should seek ways in which to recover the proceeds of political corruption in the country, and strengthen existing laws and the legislative framework to improve asset recovery," she urged.
At present, Sri Lanka has no holistic law on asset recovery and there's no indication as to the progress made by the presidential task force, which was established to draft legislation with regard to the proceeds from crime.
Commenting on LMD's Refresh Sri Lanka campaign in her capacity as a spokesperson for women and young people, Rajapaksha emphasised the importance of utilising digitalisation to communicate the message effectively. And she said that it could be a platform from which to remove barriers for women wishing to influence policy.
She continued: "If you can speak of topics that are not spoken about enough, and distil existing societal misconceptions regarding gender and stereotyping of women, such conversations will bene­fit the removal of these barriers."
"We must encourage women to come forward to voice their opinions and concerns, and know their rights. We need a society where we no longer have to use the term 'women leaders' but simply say 'leaders'," she said, in her closing remarks.