LMD TV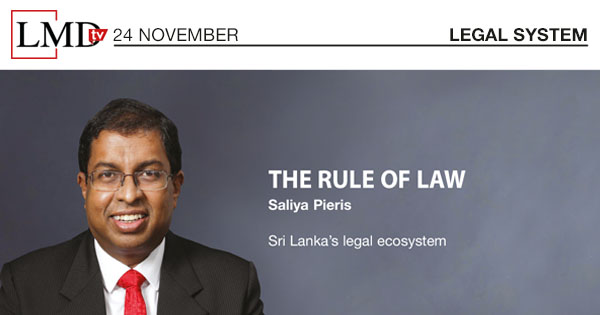 "Service digitalisation is an ongoing process, and there is a huge automation and digitisation project being planned by the Ministry of Justice," remarked Saliya Pieris, in conversation with Ashwini Vethakan about the legal ecosystem in Sri Lanka.
And the President of the Bar Association of Sri Lanka (BASL) explained that "in time to come, the courts will be fully automated. Many virtual trials have been held due to the pandemic."
He reiterated that today, the Supreme Court takes up matters virtually. Provisions have been made in the Coronavirus Disease 2019 (Temporary Provisions) Act, and the Supreme Court and Court of Appeal rules this year to enable digital hearings.
Delving into environmental issues, he mentioned that some organisations have filed action challenging circulations relating to the protection of elephants, forest conservation and so on.
"We have had certain landmark cases – one was the Eppawala phosphate case heard many years ago; the court outlined and set out the doctrine on the need for sustainable development. There have been many cases where the courts have intervened in respect of protecting the ecology," he explained.
On the subject of data protection, Pieris remarked: "I think we still do not have proper rules in place. There is a proposed bill and hopefully, it will see the light of day. Our legal regime has to be strengthened in relation to privacy laws too."
As for the controversial topic of human rights practices in Sri Lanka, he revealed that "the Bar Association has addressed this issue on the need to curb custodial torture and death, [which are] hugely concerning areas for many. Daily, we hear of reports or sometimes see videos of police officers beating up people."
Similarly, he stressed that the need to protect the right to dissent is absolutely important: "One needs to ensure that the freedom of peaceful assembly, speech and expression is protected. Further, when you talk about human rights, the rule of law is imperative. The authorities must ensure its existence, encompassing equality, equal protection and applicability of the law to everyone."
"And the rule of law should be contrasted with the rule of men. The former safeguards consistency and objectivity, whereas it's harder to protect fundamental rights in countries governed by whims and fancies of a person or persons. This is why the preservation of the rule of law is so important," Pieris emphasised.
Deliberating on hate speech on social media, he stated: "Even though we have the ICCPR (International Covenant on Civil and Political Rights) Act as the applicable statute, sometimes it is used selectively by authorities. And its provisions are rather draconian – especially the one relating to bail. There are sections in the penal code relating to harassment but we do not have comprehensive laws relating to hate speech on social media as such."
This is something that has to be looked into, giving due consideration to freedom of expression. Of course, the liberty to express freely ends where another person's rights are affected, and results in incitement of violence and hate. Whatever restrictions are imposed, they must be reasonable, he added.
Pieris stated: "First and foremost, there is respect for the rule of law within Sri Lanka's legal system and people are entitled to their fundamental rights. On a practical note, our system is inherently slow and there are extensive delays in justice being met. This aspect clearly needs improving."
In conclusion, he summed up his thoughts as follows: "On reforms, I would say that some of our laws are rather archaic and need to change; those relating to divorce are clearly such an area. Currently, a reformation process is being carried out, initiated by the Ministry of Justice. The legal system must be such that an average person should feel that he or she gets justice speedily if they seek recourse in the system."