LMD TV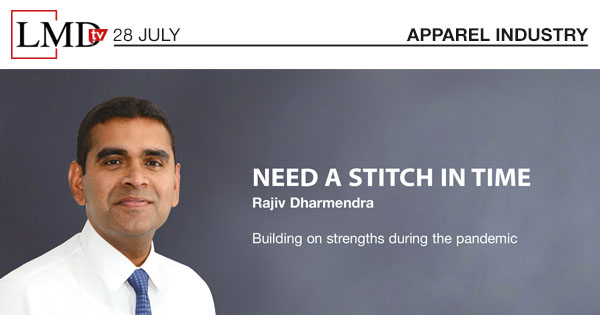 "As far as the apparel industry is concerned, there is always a focus on the triple bottom line," MAS Intimates CEO Rajiv Dharmendra said, as he discussed the industry's efforts to play a part in Sri Lanka's battle against the pandemic.
He continued: "These values have been ingrained throughout the 18 month episode of this pandemic as we have focussed on stabilising lives and livelihoods, and continued to invest in the planet, which has certainly been the way forward for the industry to ensure we sustain a level of profitability that will enable us to continue as we have."
When it comes to the apparel industry's operations during the pandemic, Dharmendra stated that attendance and productivity among the workforce fell to as low as 15 percent in some cases with factories being shut down for prolonged periods in others.
In the light of this, the industry took several measures to ensure that operations continued as he noted: "Convincing colleagues, putting protocols in place and providing a safe environment is how we ensured the industry remained steadfast."
"As an industry, we were open in terms of permitting colleagues from medical organisations, support systems and religious disciplines to see our working environments, which were safe, physically distanced and hygienic to allow our colleagues to carry out their functions," he explained.
Despite the challenges faced over the years, Dharmendra pointed out that the labour force has been adaptable: "The industry employs around 500,000 people in Sri Lanka. We have always remained agile and resilient when it comes to human capital, which has served us well even during the pandemic."
"Initially, when global markets closed, we faced an issue with demand," he revealed, continuing: "But when they reopened – spurred by vaccines being made available to consumers – it was up to us to keep our manufacturing and supply chains operating and nimble to be able to react."
While the industry as a whole was impacted by the second and third waves of the pandemic, the larger manufacturers in the country were able to mitigate the fallout because their factories are dispersed across the region and globally.
Dharmendra elaborated on its strengths during this period: "Sri Lanka's apparel industry – which plays a prominent role in our economy as well as being a frontrunner in the export sector – has always invested in creating value. This has helped differentiate us from regional and global competitors."
Discussing the industry's focus on sustainability, he remarked that "even before the pandemic, the new generation of consumers – gen Z – had great importance where sustainable garments are concerned. While they may not necessarily possess the purchasing power of the two preceding generations due to their age and income levels, they have great influence."
According to Dharmendra, the focus on sustainability has increased since the outbreak of the pandemic as a result of the efforts of groups such as the International Union for Conservation of Nature (IUCN): "The overall need for garments has not changed but buying responsibly and what is being bought has certainly been influenced."
In his view, the industry is prepared for this shift and supply chains have kept pace with these initiatives.
Expressing his views on the potential withdrawal of GSP+ concessions, Dharmendra stressed that the loss of the facility would pose a major challenge due to a substantial share of the apparel industry's exports being destined for European markets.
However, he is of the opinion that a focus on value addition and improving productivity will enable Sri Lanka to remain competitive, in addition to its regional manufacturing capabilities.
Dharmendra concluded: "The loss of GSP+ does not only impact the apparel industry as others have markets in Europe too. We must be conscious about how we tackle the issue and the government has to play its part in this."