LMD TV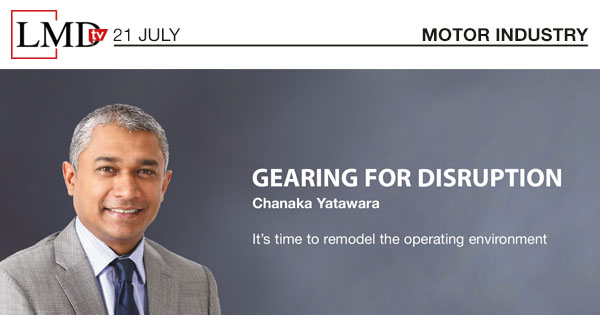 "Sri Lanka is a small country but almost all global brands are represented here," noted Group CEO and Executive Director of United Motors Lanka Chanaka Yatawara, as he outlined the landscape of the local motor industry.
"While this is a small nation, we have a very competitive marketplace but the motor industry is quite volatile," he elaborated, noting that while 2015/16 was a competitive year with importers selling about 85,000 vehicles, this figure fell to 14,000 last year when the import ban came into play.
Despite this, he acknowledged that the industry has enjoyed many opportunities in good years in addition to the difficult operating environment it's experienced recently.
Yatawara pointed out that many automobile manufacturers rank among the Fortune 500 companies and as such, must operate in line with the mindsets of governments in developed countries.
Given this, he offered his perspective on the global motor industry's move towards sustainability: "What we know is that the fossil fuel era will end very soon. By 2025, I believe that most countries in Europe, the US, China and other parts of the world will shift towards more sustainable and renewable energy powered vehicles."
"We'll see the adoption of electric and hybrid platforms – and as Sri Lankans importing to Sri Lanka, we will have to fall in line," he maintained.
Elaborating on the broader impact of such a mindset, Yatawara noted: "Sustainability goes beyond merely products and relates to our activities. For example, CSR could be broken down into what we do to help communities, educate them and build awareness. This is an ongoing process into which we put a great deal of effort; and it'll gather steam as it goes along."
The global motor industry's shift from fossil fuels led to disruptions that continue to impact operations. This includes the move towards electric platforms and intelligent vehicles with sophisticated computer systems.
With tech giants such as Apple and Google involved in the technology side of vehicles, Yatawara expects self-driving vehicles to be the next phase of disruption with many traditional manufacturers following suit.
Another major disruption observed in recent times is the change to the old model of ownership with the emergence and growth of ride sharing services.
A major challenge for the local motor industry is the imposition of import restrictions. In view of the estimated 7,000 direct employees and hundreds of thousands of indirect workers it employs, Yatawara is hopeful that the ban on vehicle imports will be lifted – even if this occurs in stages.
Commenting on the availability of talent, he affirmed that many people who enter the industry are skilled with private sector and semi-government institutions providing the necessary training. However, a challenge in the context of human capital is the loss of talent to other countries due to the higher salaries they offer.
As for the industry's outlook in a post-pandemic world, he remarked that policies that facilitate vehicle imports, as well as reasonable taxes and duties, will nurture a healthy environment for businesses to operate in.
Shedding light on the major threats obstructing the growth of the industry, Yatawara cited affordability as a major limitation: "With Sri Lanka's GDP and per capita income rising – in line with the Central Bank's forecasts, hopefully – this should improve."
The second major obstacle faced by the motor industry relates to policy inconsistency, in his view: "The government's decisions will either limit you or enable you to scale up operations."
Summarising his take of the motor industry's prospects, Yatawara concluded: "There is demand in the industry. We have the finances and facilities through banks and financial institutions to support people's purchases; but we should be able to import at reasonable duty levels. With this combination of factors, I believe the industry should move along."