INSIDE STORY
EXCLUSIVE
Kusal Mendis
SRI LANKA'S BATTING SENSATION
Ruwandi Perera and Rohan Morais spoke to Sri Lanka's young batting star – ahead of his departure to represent Sri Lanka at the ICC Champions Trophy – whose innocent humility off the field is as appealing as his aggressive talent at the crease

They followed the star, to see him and pay homage… Since time immemorial, the recognition of an individual who is destined to attain greatness has prompted people to gather as much information as they can about him or her.
This might well be a psychological manifestation of one's desire to be associated with someone who could play a small role in their own way, which will be recorded in the annals of man—-kind's history.
So here goes…
Twenty-two-year-old Kusal Mendis hails from the bustling Greater Colombo suburb of Mora-tuwa and is the eldest of three siblings. The young cricketer expresses his deepest gratitude to his father who greatly influenced his career since its early stages. Kusal is also grateful to the coaches who have chiselled away any technical flaws that he may have grappled with to mould him into the complete batsman he is today.
The same goes for his character…
Here's a well-mannered and simple lad who like his calm and collected captain Angelo Mathews seems to have a good head on his shoulders. This augurs well for Sri Lanka's answer to filling the gaping void left by cricketing greats Kumar Sangakkara and Mahela Jayawardene – they were after all the mainstays of the national side for nearly two decades, batting at numbers three and four.
And the young lad's career has taken off with a bang…
In a short but burgeoning career thus far, Kusal Mendis has attracted immense attention with his batting exploits on the field. As an aggressive right-handed wicket-keeping batsman for Prince of Wales' College, he capped off a successful school cricketing career by being awarded the coveted Schoolboy Cricketer of the Year award in 2013.
On completing his education, Kusal played professional cricket at club level by representing the Bloomfield Cricket and Athletic Club. Thankfully, the national selectors were quick to identify the youngster's natural batting talent, and his entry into the Sri Lankan team was fast-tracked.
Having made his Test debut at home against the West Indies in 2015, Mendis' ODI career took off a year later against Ireland in Dublin.
Let's then follow the budding star…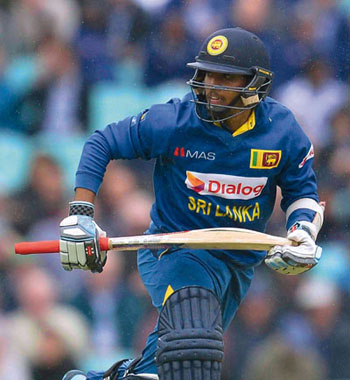 It would not be too far from reality to say that he could already be on the selectors' radar as a future captain of the national side. Indeed, Kusal Mendis captained Sri Lanka's youth team at the 2012 Under-19 Cricket World Cup in Australia, like skipper Angelo Mathews and Dinesh Chandimal have done before him.
As the ICC Champions Trophy unfolds in England and Wales, the expectation of Kusal Mendis to perform remains high among both the national selectors and cricket-crazy public of Sri Lanka. The calmness with which he walks in to bat, his cool demeanour during the most trying overs in a game and the modesty with which he carries himself are the prefect ingredients… they have the makings of greatness.
Chief selector Sanath Jayasuriya too remains proud and confident of the youngster's skills, reminding the cricketing world that Mendis has plenty of time – given his age – to hone his skills further through experience and exposure to playing on different surfaces across the world of international cricket.
Of course, it helps when such experience is complemented by talent – and thankfully, the youngster oozes with it.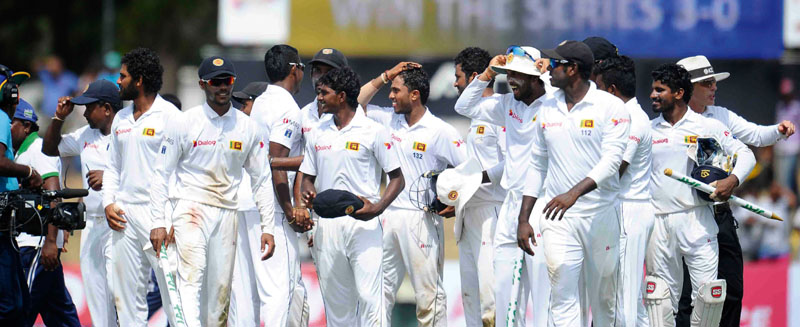 And his short track record has the hallmarks of greatness written all over it…
During the home Test series against the then-world champions Australia last year, even international commentators covering the TV broadcast recognised and commented on the rare skill encoded in Mendis' DNA, much like that of all the great batsmen who have played the game – i.e. his ability to pick the line and length of a ball early.
Knowledgeable followers of the game would agree that a batsman's worth has rarely been equated with only the number of runs he scores. More importantly, his style and temperament, the circumstances under which he scores runs, the strength of the opposition and pitch conditions play a part in assessing his worth – because they are what affect the result of a game of cricket.
Kusal Mendis' century in Pallekele last year was one of the most stylish and technically correct innings witnessed by cricket fans in a long time. There couldn't have been a more critical situation for a young batsman – with only a handful of Test appearances under his belt – to walk out to the crease with his team stuttering at six for the loss of two wickets against the mighty Australians and the ball beginning to turn on a wearing third-day pitch.
It was his faultless 169 that helped Sri Lanka win the game – an innings that was hailed by cricketing pundits as legendary.
Balapuwaduge Kusal Gimhan Mendis will undoubtedly continue to bring great joy to cricket fans here in Sri Lanka and beyond – he has what it takes to make his mark as yet another Sri Lankan batting great.
And what's more, the young man has time on his hands.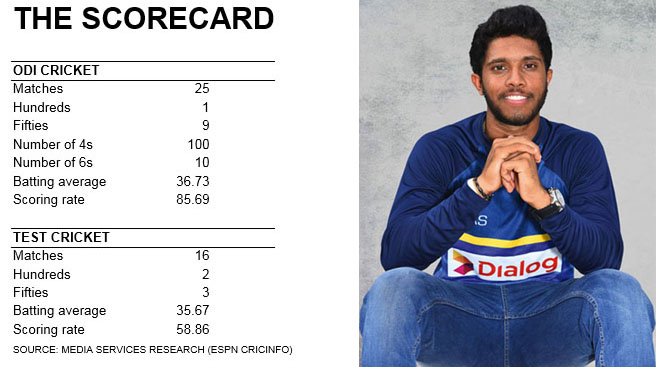 Q:  Who would you say was the most influential person in your cricketing career?
A: It was my father who encouraged me from the time I was a child because he had big dreams for me. He used to take me to the Tyronne Fernando Stadium in Moratuwa and help me practise, and that inculcated my passion for the game.
He then sent me to the Jayalath Aponso Cricket Academy when I was around seven years old. As I recall, my father had to sacrifice his own work as a carpenter many a time to ensure that I got to practices on time.
My father and uncle both played for clubs in their time, and I suppose that sort of family history has had an impact on me.
Q: How have the likes of cricketing icons Mahela Jayawardene and Kumar Sangakkara influenced you as a newcomer to the team?
A: Although I've met both Mahela and Kumar a couple of times, I haven't really had a chance to converse much with them. But they sent me their good wishes and regards through Angelo Mathews, saying that they've noticed me playing.
That in itself is a great honour since I'm still a very young player – so being recognised by these legends is remarkable.
I have been lucky to have had the opportunity to talk to, play with and learn from seniors like Angelo Mathews, Dinesh Chandimal and Upul Tharanga even before joining the team.
All these encounters have encouraged me in my cricketing career.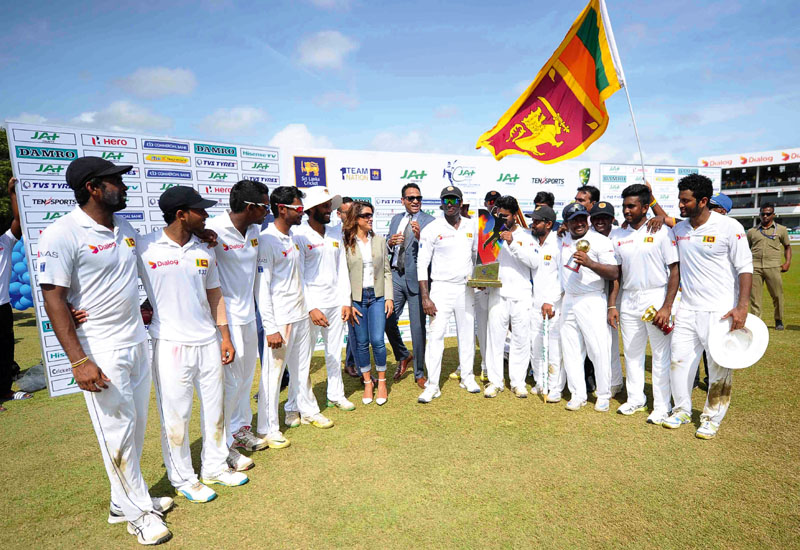 Q: As a young cricketer, how do you view the Sri Lankan team today?
A: The team has been great especially for a young and new player like myself. I love the fact that they don't pressurise the younger players because that helps us perform better.
The seniors always support us and take on the bulk of the responsibility during a game, and this is a strength to us as we can learn the ropes. They never push us off the deep end. And even off the pitch, the seniors involve us even in simple things like going out for a meal.
Q: What is your take on the ICC Champions Trophy?
A: As a team, we are practising hard for it. And having played ODI and T20 series in England less than a year ago is a good foundation.
When I was at school, the cricket board (Sri Lanka Cricket) sent me to England on a six-month scholarship. So I have played there before with the help and encouragement of Asitha Jayaweera who captained Royal College in his days as a schoolboy cricketer. Having prior experience playing in English conditions gives me hope for the upcoming series.
I hope we can play good cricket as a team especially considering our recent performances. The past performances of a team are not what count – it's about how we perform on the day.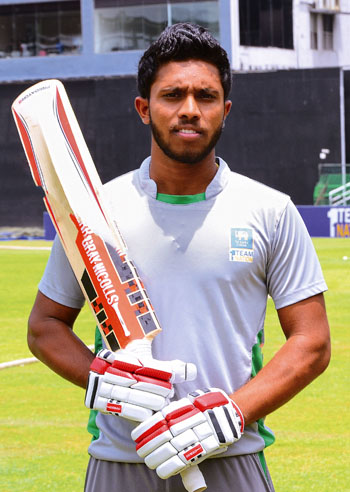 Q: Who would you say are the most challenging bowlers you've faced in your international career to date?
A: Australia's Mitchell Starc and England's Jimmy Anderson. Starc maintains his speed consistently at 140-145 kmph so facing him when you're tired is very challenging. Anderson is a tough bowler to face at any time.
Q: What's been your proudest moment on the cricket field so far?
A:  'Proud' is a big word for me – if I were to share my happiest moment in cricket, it would be the day I was selected for the national team. Although I'd been dreaming of it, I never thought I'll be selected so soon to represent my country. Being selected to be among [a squad of] 15 Sri Lankans to play international cricket makes me very happy.
Q: Who is your manager and what is he like, Kusal?
A: My manager is Asanka who was introduced to me by Dhammika Prasad. He resided in London but is back in Sri Lanka now. Asanka is more a friend than a manager since he treats me as an equal. He lifts my spirits when I don't perform up to expectations. Having a Sri Lankan manager is great since I can discuss anything freely.
Q: And what's your fitness routine like?
A: If there aren't many tours, we have more fitness training that includes running and sessions at the gym. If we're in the middle of a tour, it's usually only gym training. I usually train with the team or a few players and the gym instructor.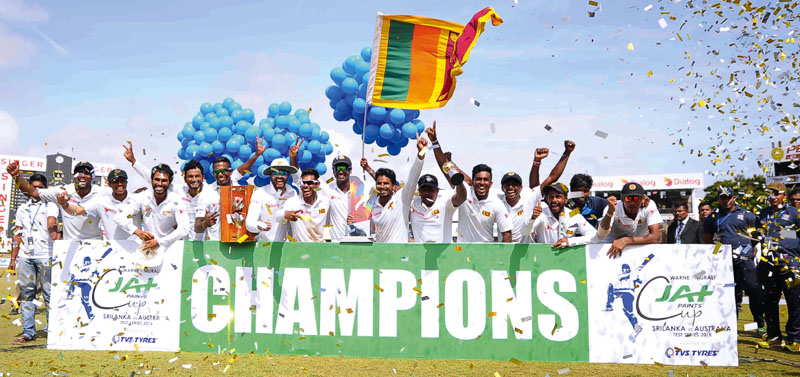 Q: Your goals for your cricketing career and life thereafter are…?
A: In terms of my cricketing career, I want to continue doing what I'm doing, and improve every day until I reach my potential and maybe beyond.
I haven't really thought about life after cricket. But I'm sure I will never fit into an office! Having said that, I suppose I'll have to do something when I eventually retire – so maybe it's time to begin thinking about that!
Q: If you were given a choice about your place in the ODI format batting order, in which position would you prefer to bat and why?
A: For now, I have mostly batted at No. 3 or 4 so I'm most comfortable there, having played in these positions in Under-19 cricket as well. I think I will play in these positions for a while longer.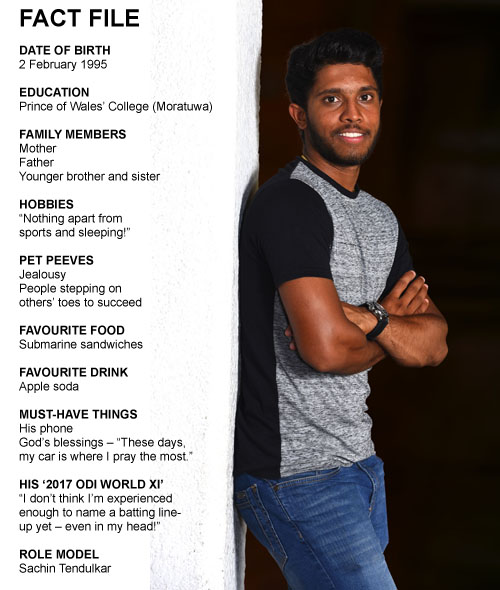 Q: How are you and your family coping with the media glare surrounding your potential, Kusal?
A: The media has not exactly 'glared' at me too much for it to be troublesome yet!
My family is very supportive and proud of my achievements so far. I think they're happier than I am. They may not show it all the time but they're very happy for me. On the other hand, when I don't perform well, they make sure I get the message – especially my mother who demands explanations!
Even my uncle, who is also a coach, continues to support me as do my other relatives.
Q: How do you handle the attention from your many fans?
A: Our fans are cricket lovers who have a passion for the game. Even if they complain about us when we don't win, it's because they have a passion for the game and this encourages us.
As players, we depend on the encouragement of fans, and I am humbled by the love and support we receive.
Q: So who is Kusal Mendis off the pitch? What is he like?
A:  I am involved in very few things in life apart from cricket – if I'm at home, most often I sleep and sometimes go out with friends. My family complains that I never have time to even go on a trip – I suppose I sleep too much at home!
Apart from cricket, I play badminton and table tennis – my mother played the latter when she was young.
As a person, I'm always smiling – this is something my teammates keep telling me. I like being positive – I'm not a person who points out others' mistakes and hurts them.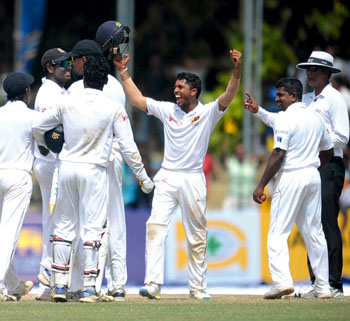 Q: Can you share something with us that very few people know about you?
A: Well, I am scared of cats – or rather, I become giddy and nervous around them!
Q: And finally, your message to Sri Lanka's young and emerging cricketers is…?
A: Don't be discouraged if it takes time for you to be selected to represent Sri Lanka. And don't be overwhelmed if you're selected sooner than you expected. What is important is to practise hard, day in and day out.
Be proud to play for your country and you will surely succeed. Finally, don't try to go the distance alone – always be a team player.